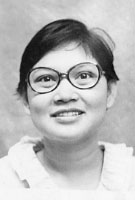 Sister Adelaida Valde, MM
Born: December 9, 1934
Entered: June 25, 1967
Died: August 23, 1981
We are gathered here today – Ada's own family, friends, and co-Maryknollers – to celebrate her entrance into New Life in God on August 23, 1981 and, in retrospect, to reflect on what she meant to us; how she meaningfully touched us and the many people she knew in Hong Kong, the Philippines, and here at Maryknoll Center.
We could easily come up with a lengthy list of adjectives to describe Ada Valde. They would be too many to enumerate here. The ones that stand out in my mind and in the minds of many of her friends are: her gentleness, simplicity, joyousness, acceptance of each person and her endless self-giving to her family, her Sisters in Maryknoll, and the people with whom she worked. As a true daughter of God, she had a special gift of appreciation for God's creation, as shown in her meditative flower arrangements; her delight in the simple things in life; her love of singing, good food, and birthday celebrations.
Both Ada's family and her Maryknoll Community meant so such to her. Her final wish was that both families would be together, surrounding her in her last moments so that each would know and experience the love they had for her.
Adelaida Valde was the second eldest of five children of Lorenzo and Simeona Valde. She was born in Lucban, Quezon in the Philippines on December 9, 1934. She grew up within a very warm and supportive family. Ada, as she was known to us, was a graduate of the University of Santo Tomas and received her degree in Pharmacy in 1957. After graduation she worked as a medical technologist and a quality control analyst for a drug company. During those years and until she entered Maryknoll, she helped her parents to educate the younger members of the family. She joined Maryknoll in 1966 as an aspirant; then in 1967 began her novitiate training in the Philippines. She was assigned to Hong Kong in her senior novitiate year and in 1970 made her First Promise of Fidelity. Ada joined the 1974-75 Reflection Year group here at The Center and in 1977 made her Final Commitment in Hong Kong. Her medical training was well used at Maryknoll Hospital in Hong Kong where she worked both in the Pharmacy and in the Laboratory. She also found time during her years there to run a hostel for student nurses. For the past 5 years, Ada worked in hospital pastoral ministry and in her 'free time' spent hours of listening and being present among the Filipina housemaids in Hong Kong.
Ada made plans for Renewal this year and came to The Center in June with the intention of attending the Mission Institute. However, health issues prevented those plans. A new phase of Ada's life had begun. Her own personal "Agony in the Garden" these past 2½ months, her witness in faith, courage, and her "fiat" will always be a source of inspiration to us all.
Ada's own reflections on the death of her father in 1979 tell us something of her attitude toward life, of which death is an integral part: "For me, Tatay's death was a long meditation on life. Before this experience I used to think that resurrection is one moment. Now, I think of it as living on in people whose hearts and lives we have touched at one point or another.
Messages on the many cards and letters Ada received during her brief illness tell of how she was already living on in the hearts of those whom her life had touched.
A newly-ordained priest from Hong Kong, whom she had supervised during his pastoral ministry experience at Maryknoll Hospital wrote: "…after my ordination this is my first letter I write. I thank God because of you…your laughing face, your cheerful spirit, and your big eyes filled with joy already appear in my heart. Dear Ada, we, the Chinese, love you very much, especially I. When you are face to face with God, you can see me, but I can't – you can see all the Chinese but they don't know. Please pray for my Chinese to receive the Gospel."
A Maryknoll priest-friend in Hong Kong has so eloquently expressed what Ada's witness was to us and to the people she touched: "…without a doubt, Ada, you have made your family and relatives very happy and now they will miss your personal joyfulness and love. Moreover, you have made scores of people happy in your ministry at the hospital. I will certainly miss your kindness and hospitality whenever I go there. Meaning? Your life has been a superabundance of kindness and generosity to all who knew you."
To you, Ada, bridge-builder in your mission life in Hong Kong, reconciler, and unifier among your family and friends: you will continue to be all around us always with your spirit of joy and your beautiful smile. Receive the reward which the Lord has prepared for you from all eternity!
We extend our deepest sympathy and love to Ada's mother, her sisters and her brothers. You are in our hearts and in our prayer.
The celebrants of our Eucharistic Liturgy this morning are: Maryknoll Fathers John A. Cioppa, principal celebrant, and John E.Bergwall.