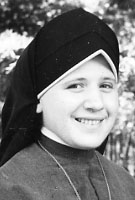 Sister Adele Marie Magona, MM
Born: December 29, 1914
Entered: December 8, 1936
Died: December 26, 1967
Sister Adele Marie (Jeanette Mary Magona) was born on December 29, 1914. Sister entered Maryknoll on December 8, 1936 and was professed June 30, 1939. During those years at the Motherhouse Sister's duties varied from work in the office and multigraph department to art work (with Sister Marie Pierre) for which she was gifted, as well as time spent "on the road" in promotion work. Sister also did catechetical work with the children at Barrytown, New York.
On October 14, 1946 Sister Adele Marie entered the Cloister where she gave herself in the various duties, alternating with kitchen work, art work, sewing and sacristy, but most important, she gave herself to prayer – for Maryknoll and the world.
Sister Adele Marie's body will be laid out in the Cloister parlor. The funeral Mass will be on December 28 at 10 o'clock with Fathers Heffernan, Manning, Halbert and Turner as con-celebrants. Then the body will be taken to our Motherhouse chapel were a Mass will be offered at 11 o'clock before placing it to rest in God's acre near our beloved Mother Mary Joseph and our own dear Sisters.