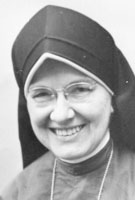 Sister Agnella Kraus, MM
Born: October 26, 1898
Entered: October 15, 1929
Died: October 30, 1986
To generations of Maryknoll candidates: sisters, brothers and priests, Sister Agnella reflected a touch of home. Under her watchful eye, we young sisters did what our mothers would never have believed possible; we rose before dawn, crossed the Maryknoll compound and in the Seminary kitchen began to make cauldrons of cereal, prepare vegetables and create wonders for dinner. Many hours later when the meals were over, without protest we washed an enormous number of pots and pans.
Through it all we were inspired by Sister Agnella. Her sense of purpose was very evident. In the midst of a busy day, she taught us to find those prayerful moments. She knew how to have fun. Coffee breaks were an event, a time to relax, eat more than a little and gain strength for the next task. Priests, brothers and sisters were offered hints by her for appropriate behavior during those rare moments when our paths might cross!
During the Novitiate, many sisters spent more time with her than with any other person. We knew that she loved us and she was in truth a model for us of caring, devotion and hard work. Her whole life was given in service of Maryknollers.
Agnes Kraus was born in Kingston, New York on October 26, 1898, the daughter of Wenzel Joseph Kraus of Bohemia, Austria and Katherine Zeiler of Germany. Three sisters and a brother have predeceased her.
After a year of high school and a year of business college in Kingston, Agnes worked for a while and then entered Maryknoll on October 15, 1929. She made her First Profession on January 6, 1932 and her Final Profession on January 6, 1935.
Following Final Profession she was assigned to Los Altos, California to cook for the Maryknoll seminarians. It is interesting to note that at the time of her entrance she indicated on the application form that she could cook "a little". In 1935 she returned to the Center where she then spent the next nineteen years managing the Seminary kitchen and later working in the Motherhouse kitchen. From 1957 to 1963 she served at St. Teresa's and was Assistant Superior during part of that time.
Her hope to go to China was never realized but in 1963 she was assigned to Punahou, Hawaii where for seven years she did cooking and home visiting. After a year at our convent in the Bronx, it was clear that a medical condition required a lessening of work and she moved to Bethany where she remained until 1978 when she returned to the Center. In 1984 she moved to the Maryknoll Nursing Home. These later years offered an ongoing challenge.
That mindfulness of others was central to Sister Agnella' s life is crystalized in a decision she formalized in 1980 to will her eyes and her body to science. In her letter of request to the Central Governing Board she says, "I thank God for the privilege of being a Maryknoll Sister, and I thank Him also for the love and happiness I have had in my religious life with all of you."
We thank you, Sister Agnella, and we celebrate your new Life which began October 30, 1986, four days after your 88th birthday, when you died at Phelps Memorial Hospital. Today, all of us gather to offer the Resurrection Liturgy with Father Robert Sheridan of Maryknoll, our Celebrant.