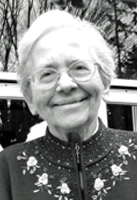 Sister Agnes Cazale, MM
Born: January 30, 1923
Entered: September 7, 1943
Died: April 8, 2014
In 1993, Sister Agnes Cazalé celebrated her Golden Jubilee as a Maryknoll Sister. She was chosen from all the jubilarians in the Diocese of Hong Kong to reflect on the meaning of the Jubilee Celebration. The event took place at the Cathedral of the Immaculate Conception. Recalling Our Lady's response to the angel Gabriel, Sister Agnes said, "Perhaps initially, like Mary, we too did not fully understand the mystery of our call or what that call would require of us along life's way, but like Mary, we set out, many years ago, on a journey of faith and love…."
Sister Agnes Cazalé came to the end of that journey peacefully on April 8, 2014, in Maryknoll Sisters Home Care IV, Maryknoll, NY.  She was 91 years old and had been a Maryknoll Sister for 70 years, a devoted missioner, dedicated catechist and educator in China for over 50 years, Sister Agnes Marguerite Cazalé was born on January 30, 1923 to Philip and Henrietta Marguerite Lassus Cazalé in New Orleans, Louisiana. Her father, Philip, was a renowned architect in Louisiana where he built churches, schools and designed many of New Orleans famous mausoleums. He was exceedingly generous to the church and to Maryknoll. Before his death, the Holy Father named him a Knight of St. Gregory. Agnes had one brother,  Joseph, and five sisters. Her parents, her brother, Joseph, and her sisters, Mildred, (Sr. M. Damian), Frances, (Sister Mary Cosmos) both Dominican Sisters and Magdalen Cazalé Hooper have all predeceased her. Her sister Rita Cazalé Lechnar of Uniontown, PA and Sister Ursula Cazalé, a Daughter of Charity in St. Louis, MO. survive her. Neither sister can be with us here today.
Agnes graduated from Dominican High School, New Orleans in 1939. From 1939-1942, she enrolled in commercial courses at the LaSalle University Extension, Chicago, and at the Allen School of Commerce in New Orleans.
On September 7, 1943, Agnes entered Maryknoll at the Motherhouse in Maryknoll, NY, from Our Lady of Lourdes Parish, New Orleans, LA. She received the religious name, Sister Maria Petra, at her Reception on March 7, 1944, made her First Vows on March 7, 1946 at Maryknoll, NY, and her Final Vows on the same day in 1949, in Wuchow, Kwangsi, South China.
Reflecting on her call, many years later, she wrote, "At first, I thought it was I that had chosen to become a religious, but life has taught me that the initiative was entirely God's and I have come to realize that the life to which God has called me is a life of deep and beautiful mystery, for God has called me to live as Mary lived, in faith, to love as Mary loved, in service and dedication and to accept in hope, as Mary did, all the events that come my way on this journey of faith and love."
Following a year of service in Maryknoll Seminary kitchen and Maryknoll Sisters Center laundry, Sister Agnes received her assignment to China in 1947, and began her study of Chinese.  Chinese did not come easy to Agnes, but with persistence and determination, she succeeded so well that she eventually won the reputation of being amazingly proficient with a perfection of the Chinese tones seldom achieved by any foreigner. She also studied Chinese culture before beginning her work in catechetics in Wuchow, Sz Wong, and Loting.
The victory of the Maoist Regime in October 1949 soon had disappointing repercussions on the work of the missioners. Forced to leave China in 1951 after seven months of house arrest, Sister Agnes came to Hong Kong. Thousands of refugees, at the same time were fleeing the Communist regime and seeking refuge in Hong Kong. With the exception of three years, from of 1958-1961 when Sister was sent to work in Toufen, Taipei, Taiwan, she worked in Hong Kong's refugee resettlement areas of Tung Tau Village, Wong Tai Sin, King's Park in Homantin, and Tai Hang Tung in Shek Kip Mei and Chai Waan doing home visiting, teaching  and attending to a variety of needs.
"This was the most satisfying period of my missionary life," she wrote in 2003. "I was able to serve the refugees doing pastoral work, social work and counseling….I was able to visit with the refugees, listen to their stories and assist them in a variety of ways—spiritual, material and psychological.…My years with the refugees will always be a highpoint in my life."
In 1968, Sister Agnes was recalled to the Maryknoll Center to complete her college work. She earned a Bachelor of Arts degree from Mary Rogers College in 1971. Returning to Hong Kong, she resumed her work with refugees until 1973 when she was assigned to a completely different work. Until 1977, she served as Director of the women's section of the Adam Schall Hostel at United College, Chinese University of Hong Kong. During these years, she also served as the region's administrator. Recalled, once again to the Maryknoll Center for congregational service, she served in the Development Department as a promoter until 1981.
Toward the end of her contract as a promoter, Sister commented with her good friend and promoter companion, Sister Helen Carpenter, "We have come to appreciate the value of reverse mission. We have something to share with our American people…As promoters we certainly see the generous financial and prayerful support our American Catholics give to us and how much they affirm us in the work in which we are all involved." She ended by exclaiming, "It has been a great experience!"
While in the USA, she took the opportunity for further studies. In 1982, she received a Master's Degree in Pastoral Counseling from Iona College in New Rochelle, NY. She also received a certificate in Spiritual Direction. Upon returning to Hong Kong, she worked as a counselor for the nursing students at Our Lady of Maryknoll Hospital. She also counseled students at Maryknoll Convent School. Upon learning of her death, one of the women she had counseled e-mailed immediately saying, "Sr. Agnes is forever a great sister, a great friend and a great life teacher for me." When the Maryknoll Sisters General Assembly of 1978 passed the resolution, "That we further study and plan for a   possible Maryknoll Sisters' presence in the People's Republic of China," it mandated that the Hong Kong Region, because of his geographical proximity to China and facility of communication, set up a task force to carry out this resolution. From 1982 until 2005, Sister Agnes was a member or the Coordinator of the China Task Force, which facilitated the presence of 16 Maryknoll Sisters who taught in various Chinese universities.
Following her return to Hong Kong Sister held a number of important posts for the Maryknoll Sisters. She served in regional administration from 1991-1997. She was appointed Supervisor of the Secondary Section of Maryknoll Convent School in 1991.  In this capacity, she was instrumental with Henrietta Ip and former students in setting up the steering group whose work would eventually culminate in turning the sponsorship of Maryknoll Convent School over to the Maryknoll Convent School Foundation.
In 2005, due to illness, Sister Agnes returned to the Maryknoll Center. She had served on the Board of Governors of Our Lady of Maryknoll Hospital as executive secretary since 1984 and on the Hospital Authority Governing Committee from 2001-2005. In response to her resignation from the Hospital Authority Committee, William Ho, the Chief Executive wrote, " On behalf of the Hospital Authority, I would like to thank you most sincerely for your significant contribution to the work of Our Lady of Maryknoll Hospital. Your participation in the HGC meetings and hospital functions has been instrumental in ensuring effective governance of the hospital." When she tended her resignation to Lydia Huang, the chairperson of the Maryknoll Convent School Management Committee, before returning to Maryknoll NY, Lydia Huang wrote, "You have given years of loyal and dedicated service to the school which has benefited greatly from your wisdom and loving care. We will remember you with gratitude."
At the Maryknoll Center, on January 6, 2006 Sister Agnes was assigned to the Chi Rho community, then transferred to the Eden Community in October 1, 2008. During her time in Eden, she took as her prayer ministry, Maryknoll Planned Giving.
Sister Agnes herself summarized her life. She wrote, "I treasure my call to the Maryknoll Sisters Congregation, my companions in community and mission…sharing life with other Sisters in the same vocation, I experience friendship in prayer, in community and in our goals for mission. I also experienced in working among the Chinese, an understanding of another people, their culture and traditions….I have learned more than I have taught over these many years and appreciate the friendships I have made among the Chinese people. Friends who never forget you!  No. I have nothing more to add." But she did add another line, she wrote, "Having said, 'yes' all I can say now is "Thank you, Lord."
We welcome Father William Lechnar who will preside at our Liturgy of Christian burial.