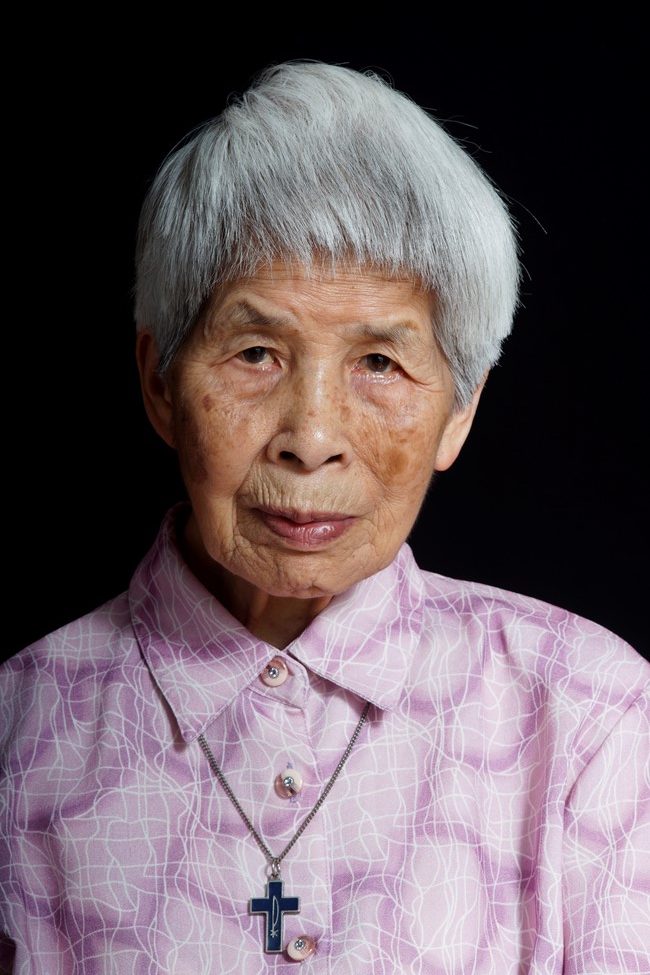 Sister Agnes Chou, MM
Born: October 3, 1928
Entered: May 2, 1962
Died: June 11, 2021
Sister Agnes Chou died in Maryknoll Sisters Residential Care at 5:45 am on Friday June 11, 2021, the Feast of The Sacred Heart of Jesus.  She was 92 years old and a Maryknoll Sister for 59 years.
Agnes Chou On Yi was born 3 October 1928 in Kung Ch'eng, China to Chow Yu Meng (a teacher) and his wife Meng Liang Chan. They had two other daughters and two sons, all of whom predeceased her. However, multiple descendants have considered her the matriarch of the family clan.
In 1935, Father Joseph Regan, MM, a young Maryknoll Missioner, baptized the family into the Catholic Faith.  Chow On Yi was given the Baptismal name Paula.
In 1943 Paula (Chou On Yi), at 15 years old, entered the religious Community of the Sister Catechists of the Blessed Mother in Kweilin, Kwangsi, and was professed there in 1946. Sister Agnes was sent to Macau with two other Sisters, Joan Ling and Rose Chin, to complete their Secondary Education at St. Rose of Lima Secondary School run by the Franciscan Missionaries of Mary, a community who helped young Sisters from China complete their secondary education. Agnes, Rose and Joan were living at that time in a rented apartment with Sister Moira Reihl, MM.  However, in 1951 under the Chinese government, all Religious Communities were disbanded and the religious Sisters sent home. As these three Sisters could not return to China nor sent home to their families, Sister Moira Reihl brought them to the Maryknoll Sisters Regional House in Kowloon Tong. The Sisters were given the choice of becoming liaised or of applying for another religious community. Each of them individually applied to Maryknoll.
On 2 May 1962, Agnes entered the Maryknoll Sisters Novitiate in Quezon City, Manila, Philippines. She was professed there on 19 March 1964.  She made her final commitment on 19 March 1970 in Hong Kong. Agnes was then assigned to do Catechetical Work in the Chai Wan and Kung Tong areas of Hong Kong. In 1971, Agnes received her Bachelor of Arts Degree from Chu Hai College in Hong Kong.
Agnes then went to the United States with the concept of obtaining a passport that would allow her to work and live in the United States.
From 1972 until 1979, Agnes did Pastoral Work in Chicago, Chinatown Parish with migrants from China and Taiwan.   Chinatown was not an easy assignment.  Sister JoAnne Bastien was especially a great help. Agnes made many friends from among the parishioners, which last until today.
During that time, Agnes applied for her American citizenship and passport. After obtaining her citizenship, and her renewal in 1979, Agnes did Social Work in the Chinatown Health Clinic, Chinatown, NY and Pastoral/Social Work/Refugee Assistance from 1981-1985.  From September, 1985-1989 she worked in the Chinatown Head Start and Asian Family Services.
In 1990 Agnes returned to Hong Kong and worked in the Catholic Institute for Religion and Society caring for the needs of professional woman living there.
At the urging of Sister Joan Ling, who had gone to China to visit her own and Agnes' family, Agnes went to visit her family for the first time since she went to Macau in 1951. Having made the initial visit to the family, Agnes was able to make regular visits each year particularly at the Lunar (Chinese) New Year. Later failing health made it impossible for Agnes to return for home visits; modern technology, and the able assistance of Sisters Joanna Chan, Susan Nchubiri and Arlene Trant kept Agnes in close contact with surviving relatives with phone calls and "We Chats".
Having made her first foray into China, she began an apostolate of service to groups with Hanson's Disease whose disfiguration did not allow them to rejoin society even if the marks of the disease were invisible.  She regularly brought clothing, food and money to help alleviate their suffering and to bring outside news to them.
While in "retirement" at the Kowloon Tong House on Boundary Street in Hong Kong, Agnes used her farming skills to transform the minuscule grounds with flowering plants and vegetables for use in the convent. A green thumb was one of her many talents. In 2017 Agnes returned to the Maryknoll Sisters Center for retirement.  There she found herself in the sewing room helping to repair and outfit the Sisters living in Residential care.
Sister Agnes requested to be cremated; her ashes will be interred in our Maryknoll Sisters Cemetery.
Today we welcome our Maryknoll, Father Tim Kilkelly who will preside at this Mass of Christian Burial.