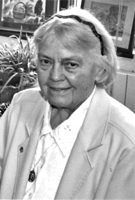 Sister Agnes Christine Welscher, MM
Born: July 16, 1934
Entered: September 2, 1952
Died: April 12, 2014
Early Saturday morning, April 12, 2014 our Sr. Agnes Christine Welscher died peacefully at the Maryknoll Sisters' Center in Maryknoll, NY.  Agnes was just three months shy of her eightieth birthday and had been a Maryknoll Sister for over sixty-one years.
Agnes Marion Welscher was born in Brooklyn, NY on July 16, 1934 to Joseph Welscher and Margaret Hempfling Welscher. Her parents, her stepfather, Harry Naeder and her nephew Patrick Connelly have predeceased her. Sister Agnes Christine had a very happy family life and was blessed with a beloved younger sister, Rosemarie.
Agnes and her family were parishioners of Our Lady of Good Counsel Parish in the Brooklyn, NY diocese.  She attended Bishop McDonnell Memorial High School there, graduating in 1952.  During her High School years she had weekend and summer jobs in Woolworth's 5 & 10 and Pfizer's International Corporation. She entered Maryknoll at the Venard in Clark Summit, PA, on September 2, 1952.  She made her First Profession of Vows on September 8, 1955.  She made her Final profession on the same date in Chicago, IL in 1961.
Agnes studied at Maryknoll Teachers College from where she graduated with a B.E. in Education in 1960.  She had a keen mind and many talents, especially in art and music through which she expressed her love of life and beauty in nature.  She was especially dedicated to children and was an excellent teacher.  She was a lifelong learner who pursued both her personal and academic development throughout her life. After graduation she was assigned to teach at St. Theresa's Chinese Catholic School in Chicago's Chinatown.  In 1965 she rejoiced in her assignment to the South China Region. There she studied Cantonese and spoke it well. She served both as a teacher and Assistant Principal at the Maryknoll Convent School in Kowloon, Hong Kong; and later at Meng Tak Primary school for refugee children in the Chai Wan district.  In 1970 she attended the East Asian Pastoral Institute in Quezon City, Philippines receiving a diploma in Pastoral Training.  Agnes was assigned to the Eastern US Region in 1972 where she once again taught at St. Theresa's in Chicago's Chinatown and at the same time she earned an MA in Education at Loyola University with the support of her NY benefactor, Mrs. Virginia Loehlin.
From Chicago Agnes moved back to NY to be available to her mother.  During these years she continued taking courses, always keen to improve her educational skills and to teach. For three years she taught English as a Second Language in the Bedford Stuyvesant community in Brooklyn, NY.  Of herself she wrote at this time, "by calling, trade and choice, I am a teacher/catechist/preacher and Maryknoll Missioner."  Throughout her whole life, Agnes devoted all her energy and talents for the benefit of the children and adults to whom she ministered, chiefly in catechetical and adult religious education programs. For thirteen years, she served as Director of Religious Education in Westchester County – assigned to St. Columbanus Parish, Peekskill, St. Patrick's, Verplank, St. Patrick's, Armonk and St. John and Mary, Chappaqua.  In a 1989 letter of appreciation from the Catholic Lay Leaders Association of the NY Archdiocese Catechetical Ministry, they thanked her for the tremendous efforts and the contributions she brought to the field of religious education and in a very special way to St. Columbanus Parish. The letter went on to make special note of her generosity in sharing her time, talents, vision and encouragement.
All her life, and especially in these later years, a central theme and guiding light for Agnes was one of constant outreach to others: always available to all who needed a helping hand, a chauffeur for business or pleasure, a smile or a listening ear.  She was the essence of kindness, reaching out in a special way to our employees here at Maryknoll – kitchen, maintenance, health and other services. She often expressed her gratitude for kitchen staff even commending them in letters she wrote to Community leaders. Even as her own health began to fail over the past few years she never complained nor spared herself, continuing to be her usual giving self.  Characteristic of Agnes – and in keeping with her always clever wit and gift of story telling, she took one last mini-course recently here at the Center   – a  Humor Workshop –  where her own charm and humor regaled the other seekers of joy. Sr. Janice McLaughlin, who was also in this course, remarked that even when Agnes was quite ill and mostly confined to bed, she came to the classes; and as ever, managed to have everyone in gales of laughter with her ready quips and funny stories, especially the one about the book she bought twenty years ago and has yet to open.  The title is: Creative Procrastination.
Today we say good-bye to our special Agnes Christine with love and gratitude for her many gifts especially her wonderful appreciation for the joy of life.
We are happy to welcome our Maryknoll brothers Fr. Jack Sullivan who will preside at our liturgy of Christian Burial and Fr. Paul O'Brien.