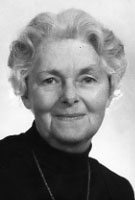 Sister Agnes Devlin, MM
Born: March 6, 1912
Entered: June 6, 1933
Died: February 19, 2003
In this morning's liturgy we hear St. Paul say "the time has come for me to be gone." We sadly recognize today that the time has also come for our beloved Sister Agnes Devlin to be gone from amongst us. She died quietly in our Residential Care Facility at 3:00 a.m. on Wednesday, February 19, 2003.
Agnes Anastatia Marie Devlin, born March 6, 1912, in the Washington Heights area of Manhattan, New York, was the youngest of four boys and four girls born to Joseph F. Devlin and Mary Ann Beader Devlin. Mr. Devlin died when Agnes was three, and Agnes described her mother as a deeply religious woman who, in the strength of her faith, continued to raise her family.
Agnes attended St. Catherine's elementary school and Academy, graduating in 1929. Following graduation she worked in the Globe Indemnity Insurance Company as a file clerk, and took pride in the fact that she continued to work there after the great economic crash of 1929 when all her brothers and sisters were out of work. She also spent two and a half years studying business at the Grace Institute night school.
When attending daily Mass in 1932, Agnes met Msgr. William Cashin (uncle of Sisters Helen and William Eugene Cashin) and was utterly surprised when he told her to go up to Maryknoll and visit. Her reply was: "No, I am going to be a social worker." However, on October 12th of that year her brother Paul and his wife brought her up to visit Bethany. The next day she attended a movie on the Martyrs of Japan at the Motherhouse. Agnes said the story touched her; she cried and decided to be a Sister. She entered Maryknoll on June 5, 1933 from St. Teresa's Parish in South Ozone Park, Long Island, where her family had moved earlier. At Reception she received the name Sister Gabriel Marie. She made her First Profession at Maryknoll, New York on January 6, 1936 and her Final Profession in Hong Kong in 1939, with Maryknoll Bishop Francis X. Ford presiding.
Sister Agnes was assigned to South China in 1937 and traveled there by ship with twelve other Maryknoll Sisters returning to their missions following the 1937 General Chapter. Upon arrival in Japan they learned that Shanghai had fallen and war had started quietly in China. Instead of going directly to Shanghai as planned, they headed to Manila and ran into a raging monsoon. Agnes told how the ship was extensively damaged and never sailed again. But they all survived and she eventually made great love for China and the Chinese people, and her ever constant study of the Chinese language.
In the city of Kweilin, Agnes did catechetical work and pastoral visiting especially among the refugees fleeing Shanghai. They had to spend a lot of time in the caves around the city due to the bombing. In 1945, the Regional Superior, fearing that all of China would be overtaken, arranged for five Sisters, including Agnes, to fly over the Himalaya mountains to Calcutta, India. But there, too, pre-independence and political activity was at a peak. Later the British Royal Air Force flew the Sisters from India back to Hong Kong where Agnes worked briefly before going to Laipo to teach in the Chinese Sisters' Novitiate.
In 1949 Agnes returned to the United States for a home visit and was on promotion for a few months. When she was to return to Hong Kong in 1950, her visa was suddenly revoked because of uncertainties in China at the time. This led to her many years of mission work in both Boston and New York Chinatowns. In Transfiguration Parish in Manhattan she was affectionately referred to as the "Mayor of Chinatown." She could not walk down the street without everyone greeting her. The Chinese people loved her and the fact that she spoke their language. They would often come to the house to consult with her.
Agnes was assigned to the Maryknoll Center in the early 1970's to work in the library. During this period she attended a workshop for Literacy Volunteers of America and received her certificate as a tutor. She began tutoring at the Ossining library and was never deterred if her students could not get there for classes. She simply drew on her mission experience and went to teach them in their homes. Agnes also worked in a literacy program in Sing Sing Prison for many years. Her file contains many Certificates of Recognition for Outstanding and Courageous Volunteer Service that she received during the 1980's. Here once again it was Chinese prisoners who won her heart and when she was no longer a volunteer in the prison, she kept up correspondence with them.
The Sisters who lived with Agnes over the years speak of how much Agnes loved her large family and talked about the different ones over the years. We welcome Sister Agnes' family and friends. We want you to know that we share in your loss and offer our sympathy. We are mindful of our Sisters in Cambodia-Thailand – Sister Agnes' Prayer Ministry.
We thank Maryknoll Father Carroll Houle for joining us and presiding at this Liturgy of Christian Burial.