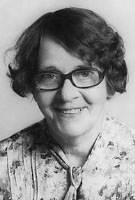 Sister Agnes Imelda Brennan, MM
Born: July 13, 1908
Entered: June 4, 1932
Died: October 30, 1991
Today, All Saints Day, we celebrate the Liturgy of the Resurrection with our sister and friend, Sister Agnes Imelda Brennan. She died peacefully in the Maryknoll Nursing Home at 10:15 a.m. on October 30, 1991.
Agnes Mary Brennan, born on July 13, 1908 in Roxbury, Massachusetts to Michael Brennan and Belinda Ann Scanlon was the youngest of 5 children. She attended grammar school at Lucretia Crocker and Jefferson in Roxbury; Girls' High School in Boston; and got her Teacher's Certificate at the Maryknoll Training School here at the Center in 1937. Later, after her first mission assignment in the Philippines, she attended Maryknoll Teachers College in 1945-1946.
Early on, when Sister Agnes Imelda was planning to join Maryknoll, she asked Father Meredith of Sacred Heart Rectory, Watertown, Massachusetts to write a recommendation. In 1929, Father Meredith wrote about her "spirit of sacrifice and a sense of humor." Today, friends and Sisters who knew her give her tribute for "being lots of fun", for her loyalty to Maryknoll, her thoughtfulness, graciousness, her wit and good sense of humor, and the qualities that Mother Mary Joseph described in a Maryknoll Sister. One Sister wrote, "She was full of fun yet expected us to do our duties well."
She had worked as bookkeeper for 6 years in Boston prior to entering Maryknoll on June 4, 1932 from Blessed Sacrament Parish in Jamaica Plain, Massachusetts. After her First Vows in 1935, she was assigned to the Philippine Normal School in Malabon in 1937 and there made her Final Vows on January 6, 1938.
Years later after the war broke out, Agnes Imelda, along with other Sisters in the Philippines, was taken to the Internment Camp from 1942-1945. A letter to Mother Mary Joseph on June 3, 1945 gives witness to the beautiful relationships that ensued. She wanted to write to the mothers of the GIs that she met while in the Camp.
She wrote, "One of the paratrooper's mother, sister, and niece, came to visit me. Her son was one of the famous ones to jump at Los Banos and he had written to his mother telling her about meeting so many missionary sisters and priests."
In 1945, Sister Agnes Imelda returned to the Motherhouse and served in New York Chinatown for one year after which she was assigned back to the Philippines in 1946. She is well remembered for being strict and good high school teacher and principal in Maryknoll College, Quezon City. She loved music and taught it in Chinatown and Jimenez. She also taught English, Religion, and Adult Education/vocational courses in Maryknoll College, Bislig, and Jimenez. She was bookkeeper for the Chinatown community and the Philippine Region.
Over and above the formal teaching, bookkeeping, and administration for which her students and friends remember her fondly, her Sisters in community recall how well she listened to them. She was "interested in people", "kindhearted" and "listened respectfully to them". One of the Sisters who was in language school in the early '80s described her as a Wisdom figure, a mother and friend with whom to share experiences and from whom to expect compassion. Another shared, "There was no concern that we couldn't discuss with her." She was also well loved and appreciated as a superior in 1951, second councilor in 1948 and 1963, and first councilor in 1965.
Agnes Imelda spent 47 of her mission years in the Philippines. Her seventh and final community and ministry in the Philippines was with the Sisters in Our Lady of Victory Training Center where she stayed for 3 years in ministry with the physically handicapped, "working miracles of rehabilitation of limbs and hopes" for young men and women. It was in 1985 that she became very ill. Later, she was confined in Makati Medical Center in Manila until she was accompanied back and admitted to the Nursing Home in November 1985.
Those close to her know how she has suffered from long-term illness during these recent years. Yet, the beautiful qualities of listening with compassion and thoughtfulness never left her. She had frequent visitors, her former students, in particular, who enjoyed visiting, chatting, and sharing Filipino food with her. Most recently on September 14, former Maryknoll students celebrated their Silver Jubilee with her. These students reminded her of lessons in English class which were lessons on life. During this two hour visit, Agnes Imelda reviewed her life in the Philippines, a life so full and so human, a life, we know, was characterized by zest for living which included chocolate cakes and basketball and baseball games.
I believe this New England Bostonian is with us today in a new and lasting way. Many of us have become better persons because of her life. Her qualities as a Maryknoll Sister gave us a strong testimony that fulness of life is what we live for. I have known her in the early '80s and I will remember her for her wit, her love of the Filipino people and culture, as a missioner, and her fidelity to Maryknoll.
We welcome our celebrant Father Peter Ruggere, M.M., who will lead us in this Liturgy of the Resurrection.