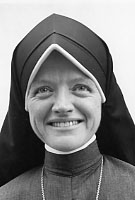 Sister Agnes Marie Roach, MM
Born: December 25, 1909
Entered: October 15, 1927
Died: February 12, 1993
We are gathered here today to "remember" and to celebrate the life of Sister Agnes Marie Roach. A time to cherish her life with us in Maryknoll that came quietly to an end on February 12th when Sister was called home by God; called to eternal rest after a long and grace filled life.
Mary Christina Roach was born in Cambridge, Massachusetts on December 25, 1909 to Catherine and William Roach. Before their marriage, her parents immigrated from Ireland and were to have a large family, Mary Christina being one of 5 girls with 4 brothers. After finishing her studies at St. Paul's grade and high school, she graduated from St. Joseph's Academy in 1927. That same year, at the age of 17, Mary Christina entered Maryknoll. Her interest in mission had been nurtured through her reading and her one desire was to "prove my love for God and to serve Him in the best manner possible." This small phrase was to characterize her entire life of mission. She received the name of Sister Agnes Marie at Reception and was first professed in 1930, making Final Profession in 1933. During this time her younger sister, Sarah Rita, entered Maryknoll and received the name Sister St. Mary.
These early years in Maryknoll were dedicated to study and Sister received a Teaching Certificate from Catholic University. Her first mission assignment in 1932 was to Hawaii, to the island of Oahu. She loved teaching and being with her students in several schools, St. Augustine's, Waikiki, St. Anthony's Kalihi, St. Ann's Kaneohe and finally Maryknoll School on Punahou Street. During her time at St. Ann's she was Superior and Principal of the School.
Ill health was ever present in her life and yet she continued teaching until 1960 when she returned to the Continental U.S.
After a period of renewal, Sister Agnes Marie was appointed Assistant Novice Mistress at Topsfield. She is fondly remembered by many who were novices at that time for her classes in Maryknoll History. Above all, her love of Mother Mary Joseph was the strong thread woven throughout her time there. She also studied Theology at Providence College in those early years of the 1960's.
In 1967 she was faced with another decision to study, this time at Mary Rogers College for her degree in elementary education, which she received in 1970. Her many artistic talents were greatly appreciated also as Sacristan during these years of study.
Always one to share her gifts with others, she began another career in the Promotion Department, first in the New England area and then here at the Center. Her presence here in these later years was of great joy for her as she was close to her family, and was able to spend more time with them. She spoke often of her visits home and the gifts she received from her family, all of which she shared so generously with the Sisters, ready always to have a party.
Sister Agnes Marie will always be remembered for her kindness and thoughtfulness for others. Margaret Dunn and Elizabeth Callanan remember this kindness when they first began to work here, she opened her heart and she smoothed the road for them. To spend time with Sister Agnes Marie was to come away renewed and energized for what lay ahead in their day, and they shared with me their gratefulness for Sister's gift to them of making God come alive in their lives.
As Sister Agnes Marie prepared for death she spoke these words to her friend and health care proxy: "Just let me go to God – I don't want any tubes or means that will delay me. All our life we live to be with him one day. Why would I want to delay? Just let me go to God".
Sister Agnes Marie loved Maryknoll very deeply and so today we, her Sisters, celebrate that journey to God with grateful hearts remembering her gifts of kindness, gentleness and thoughtfulness that she shared with all of us.