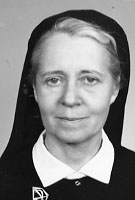 Sister Agnes McKeirnan, MM
Born: October 1, 1910
Entered: July 2, 1940
Died: September 5, 2011
"We will celebrate, your love, Yahweh
Age on age our words proclaim your Love
For we claim that love lasts forever,
Founded on your Faithfulness."
Psalm 89
These words found on the cover of Sister Agnes McKeirnan's Golden Jubilee booklet, represent her life. She proclaimed that love and faithfulness to her Lord, throughout her long dedicated life, in her own particular, professional, quiet, steady and private way. As she had lived, Sister Agnes died, peacefully and quietly, in Maryknoll Residential Care, on September 5, 2011. She was just 25 days short of her 101 birthday.
Agnes Cletus was born in Pomeroy, Washington on October 1, 1910, to Rose (Jaspers) and Joseph Michael McKeirnan. She had five brothers and three sisters. Her parents, four brothers and two sisters have predeceased her.
Agnes graduated from Pomeroy High School  in 1928 and earned a Bachelor and Master of Arts in English from the University of Idaho from 1928 to 1936. She received her Teachers' Certificate from Washington State. Essential to her was life-long learning. She attended Fordham University for Modern Literature, and the University of Hawaii for team teaching. At Hong Kong University, she studied Chinese Customs and at Chinese University, English Literature.
Sister taught for several years before entering Maryknoll Sisters Congregation on July 2, 1940. At her Reception she was given the name of Sister Rose Eileen. She made her First Profession of Vows in 1943, at the Maryknoll Sisters Center in New York, and her Final Vows on March 7, 1946 in Honolulu, Hawaii.
Sister Agnes was assigned to Hawaii in 1943, two years after the bombing of Pearl Harbour, during one of Hawaii's most insecure and traumatic, historical moments. She traveled the long trip by ship in constant peril from enemy submarines. In Hawaii, Sister Agnes joined the teaching staff at Maryknoll High School in the Punahou district of Honolulu, struggling to keep the students interested in their studies while they lived in constant fear of bombs tumbling down on them and their school. In 1955 she was assigned to St. Anthony High School in Wailuku, Maui,  where she taught the upper high level classes.
From 1960 to 1962 she taught at Chaminade College.  From 1963 to 1964 she taught Literature at Maryknoll Teachers College at the Center in New York, Sister was assigned to the Hong Kong Region. There she taught at Maryknoll Sisters School (MSS) and Maryknoll  Convent School (MCS).
Sister Agnes' favorite subject was literature, all manner of literature: essays, poetry,drama, fiction and non-fiction. She was renowned as a master teacher. No effort was too much for her to instill in her pupils a deep appreciation for the authors and poets who brought new insights into their lives. The horizons of hundreds of students, who sat in her classes, were broadened through Sister's creative and imaginative teaching methods. These were also appreciated and admired by her colleagues, in particular, Mrs. Lydia Huang, who later became the first lay principal of MCS's secondary section.
Her former students have returned from their college classes later in life to thank Sister for what they had  been able to accomplish with the help of her gentle but persistent nudge and her confidence in them personally.  In evaluating her teaching ministry Sister wrote three objectives: evangelization-faith commitment, Christian leadership and to stimulate 'thirst' for truth and knowledge.  In her teaching and her life Sister realized these objectives to an imminent degree.
In Community Sister was a very private person, always careful to do her share, always interested but not intrusive in the affairs of others, always a lady, never wanting others to fuss over her, yet genuinely delighted with any attention given her.  Periodically, what surfaced was her deep love of her large family, especially her brother, Father Michael McKeirnan MM, on whose advice she relied and in visits she obviously delighted. Of deep interest to her also were the activities of her nephews and nieces for whom she had a special and obvious affection.  At the celebration of her 100th birthday, at Maryknoll in 2010, surrounded by those she loved, Sister expressed to all her delight and appreciation for her family and community in gracious words of thankfulness for them and for her life.
Sister Agnes retired to the Maryknoll Sisters residence in Monrovia, California in 1994, where she remained until 2000 when ill health necessitated her return to Maryknoll Sisters Residential Care where she resided until her death.  During this period her prayer ministry was the Maryknoll Fathers and Brothers.
We are grateful and thankful to our nursing staff whose care and thoughtfulness were greatly appreciated by Sister Agnes.
We welcome and thank Father Wayman Deasy, MM who will preside at this Liturgy of Christian Burial.