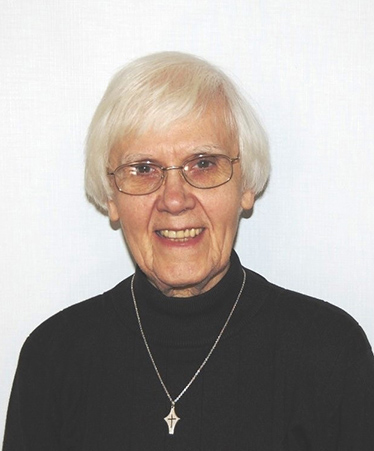 Sister Alice Wengrzynek, MM
Born: September 29, 1934
Entered: September 2, 1953
Died: April 30, 2020
On April 30, 2020, within the Easter season of joy, Alice Wengrzynek went home to God, and is now reunited with the family she loved so very much. Alice was 85 years old and had been a Maryknoll Sister for 67 years.
Alice (nee Alexandra) was born of Walter and Anna (Dziadkowicz) Wengrzynek on September 29, 1934 in Simpson, PA. She was the youngest of five children, four girls and one boy. Alice wrote: "My parents loved each of us — and we loved them!" Hers was a traditional and very happy family, and Alice as the youngest, was much loved and cared for. "Memories of my parents," she wrote, "bring back prayers of loving thanksgiving."
Alice attended Franklin School for a few years, but transferred to St. Rose Grade and High School in Carbondale, PA, to be with her older siblings. She graduated from St. Rose High School in June 1952.  On September 2, 1953, she entered the Maryknoll Sisters at the Venard, at Clark Summit, PA.  At her Reception she received the name of Sister Alice Rose.  Following the Second Vatican Council, she retained the name Alice. She made her First Vows in 1956 at the Maryknoll Sisters Center (Motherhouse). Along with many young sisters, she worked in the kitchen at the Maryknoll Seminary, but Alice had an added task: serving as part-time secretary to Bishop Raymond A. Lane, the former Superior General of the Maryknoll Society.
Alice was a person who studied in many and various ways — she took courses at Maryknoll Teachers College from 1958-1959 as a non-matriculated student. Then in 1960, she went to St. Joseph Hospital in Kansas City, MO where she studied to become an X-Ray Technician.  She obtained her diploma and registration in 1962 from the American Society of X-Ray Technicians.  She made her Final Vows in Kansas City, MO on March 7, 1962. After a short stint at the Maryknoll Fathers Junior Seminary at Mountain View, CA, Alice was assigned to Taiwan in 1963.
For the next five years, Alice did youth and pastoral work in St. Teresa's parish in Changhua, Taiwan.  In these years, she expressed in writing to Mother Mary Colman a desire to become a member of the Maryknoll Sisters Contemplative Community: "I am very happy here in Taiwan, Mother, and I love it here. The people are wonderful and it is a privilege to work with and for them. However, my desire to enter the cloister comes from a deeper love." (This desire was met when Alice briefly tried out the Contemplative life in 1976 and found out that God was calling her to active life.)
In 1968 Alice started her BA degree program at Mary Rogers College. At the same time she was the part-time secretary in physical plant until 1970. Her degree in Community Service was granted in June 1970. That same year, Alice was assigned to Hong Kong. For most of the first ten years, she served in a variety of positions that made excellent use of her secretarial and organizational skills. She was appointed Director of the Admissions and Medical Records Department of Our Lady of Maryknoll Hospital. She also worked as a secretary for the Maryknoll Fathers' Regional Superior and for the Asian Bishops Conferences, (FABC).  As always, she did an excellent job and made the very heavy load seem light.  She spoke of her work: "It is a joyful busyness, however, and I love it!"  In 1972, she took on the position of Executive Secretary for the newly appointed Hospital Administrator and the Board of Directors at Our Lady of Maryknoll Hospital. In this position, which stretched from 1972-1981,  she trained young women to assist her in the secretarial work which was a gift to many of Hong Kong's youth.
In 1981, Alice began a new work with Fr. Adam Gudalefsky MM: training mentally and physically challenged persons to be self-sufficient in their home environments. Together at the invitation of the Department of Education and the government, they conducted workshops in Hong Kong, Macau, China, Taiwan and India.
Alice returned to the Maryknoll Center in 1986 for Congregational Service. She was assigned to the Maryknoll Archives working on the extensive Hong Kong materials. When her mother was taken ill, Alice requested and received permission for Family Ministry to care for her mother from July 1988 to May 1989, when her mother died.
Alice returned to Hong Kong in 1990, doing pastoral ministry in the New Territories as well as serving as Secretary to Cardinal John Baptist Wu until 1992. She returned to the Center to take up the ministry of Secretary to two Community Presidents, first with Sr. Claudette LaVerdiere from 1991 to 1996. Sister Claudette said, "Alice did her work with consummate skill. She was undaunted by new challenges." She added, "Alice's ethics were beyond reproach. As secretary to the President, she was utterly loyal and regardless of inconvenience to herself, the good of the congregation was her primary concern." She then served as Secretary to Sr. Helene O'Sullivan from 1996-2002.  Helene wrote: "I did a lot of traveling to visit our sisters around the world. Alice would set up my trips and no detail was too small to be attended to. She took a tremendous burden off my shoulders and I was always amazed at her abilities. "
Having served the Presidents from 1991 to 2002, Alice requested to take a sabbatical program at the Weston School of Theology which she thoroughly enjoyed. Alice then returned to her work in Archives, staying with that ministry until she retired. She transferred from the China Region to the Rogers Community in March 2009, and then to the Eden Residential Care Community in October 2016, where she died during the Covid 19 pandemic.