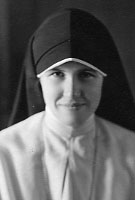 Sister Ancilla Marie Tansey, MM
Born: October 15, 1916
Entered: December 8, 1935
Died: April 7, 2000
In this Lenten season, as we relive the Paschal Mystery of the death and resurrection of Jesus, we gather to remember and to celebrate the life of Sister Ancilla Marie Tansey. Sister died quietly and peacefully the afternoon of April 7, 2000 in Residential Care at Maryknoll, New York.
Honor Mary Tansey was born in Newark, New Jersey October 15, 1916, the second of four children to Michael John and Adelina Loretta Murray Tansey. She received her early education at St. Charles Borromeo School and St. Vincent's Academy in Newark and, after graduation, continued her studies at St. Elizabeth's College, Convent Station, New Jersey. While Honor was studying at St. Elizabeth's, she and her father visited Maryknoll. When they arrived at Maryknoll they were met at the front door by Mother Mary Joseph and, immediately, Mother won her father's heart. Her father said to Honor: "If you're going to be with her, you could do anything she tells you to do." Mother Mary Joseph invited her to come to Maryknoll and Honor entered, at the age of 18, on December 8, 1935. Sister said this was her call to Maryknoll—and she responded!
At Reception, Honor received the religious name of Sister Ancilla Marie, the name she retained throughout her religious life. She made her First Profession of Vows June 30, 1938 at Maryknoll, NY and, a year later, after completing her undergraduate studies and receiving a Bachelor of Arts Degree in Mathematics from Mount St. Vincent's College, NY, was assigned to the Philippines, where she made her Final Profession June 30, 1941.
Sister Ancilla Marie took her father's words to heart and did whatever Mother Mary Joseph and the Congregation asked of her throughout her 64 years as a Maryknoll Sister. Her experiences and accomplishments were many and varied: She studied at the University of Santo Tomas in Manila and received a Master of Arts degree in Religion, she was involved in teaching and administration in secondary and post-secondary schools, she coordinated Christian Life programs, did spiritual formation work for lay persons and religious, was active in pastoral work, served as secretary of the Davao branch of the National Directors of Vocations of the Philippines, was Assistant Novice Mistress for the Maryknoll Sisters Novitiate in the Philippines, and assisted in the Regional Finance Office. Two events that deeply affected Sister's life were the three years she spent as a prisoner during World War II and the time when she, along with eleven other Maryknoll Sisters, parish workers and crew, survived sixteen hours of immersion in shark-infested waters off the coast of the Philippine island of Mindanao, after their outrigger canoe capsized. Singing and praying they encouraged each other to stay awake and to cling with tenacity to the boat.
Sister Ancilla Marie spent 53 years of her 64 years as a Maryknoll Sister in the Philippines. Her first mission was in Lucena City where she helped start a new school and later reopned the mission after World War II. For over thirty years she worked in Lucena and, in 1972, was awarded a prestigious civic medal by the Quezon provincial government for the significant contributions she had made to the cultural and economic development of the province. Previously she had been honored with a plaque from the Luzonian University as an outstanding educator.
In 1973, Sister was assigned to the southern province of Davao. She wrote: "This past year held much of the unusual for me as I set out to shed my old identity and forge a new one in an entirely different context." In Davao, besides teaching bookkeeping to high school teenagers, she initiated a rural Bible study program. "This is a long desired service," she wrote. "The people had been begging for Bible study and the parish priest sees this program at the heart of parish development." The program eventually developed into three core groups and about nineteen subgroups and extended to the barrios and sitios of the parish. In addition to Sister's full-time teaching position and her Bible study program, she reorganized the Catholic Women's League units of the parish.
Sister was an avid and enthusiastic educator and writer. At the age of 71, she summed up her fifty-two years as a Maryknoll Missioner as follows:
"About Me"
My days are spent in the ministry of education for justice and peace-building, both in the formal academe and in the informal forum of the parish development program. This has been my area of involvement for some forty-eight years. However, direct pastoral work began for me only in 1968 when the Christian Family Movement was developing in the provinces. Since then my days have been divided between institutional and pastoral concerns.
In the area of the institution, I am in charge of the Theology Department of the Maryknoll College of Quezon City as well as the Coordinator of the Christian Life Program of the high school sector. I supervise the activities of eight professors in the college and five teachers in the high school.
The first objective of the institution is to build a living Christian community on the campus, reaching out to maintenance, personnel, faculty, administration and students. Hence, to date, we have realized 16 units of the Christian Life communities. In addition, I am teaching 12 hours of Theology — ecclesiology and sacramental–per week with one evening of doctrinal formation with the novices of the Borromeo Sisters.
My evenings are given to parish community development programs, being chaplain for six units of the Christian Family Movement, and one of Pre-Marital Counseling. At the present we are preparing a seminar for the formation of lay chaplains for the above movement. Once a week I conduct a bible reflection group among local business men. Twice a month I share a spiritual theology class with the teachers of the Maryknoll Music Center. My adult catechesis class meets on Mondays.
My Maryknoll Community keeps me busy in the sacristy and bookkeeping. At the moment I am trying to give the community library some attention.
In short, I am a very happy, very busy Sister — so very glad that I entered Maryknoll some fifty-two years ago.
Sister was nicknamed SAM by her friends. The Sisters in the Philippines described their SAM as forever on the go–to cover the array of programs she was involved in, she needed the stamina and enthusiasm that always accompanied her. SAM enjoyed all her ministries and she believed there was no better forum for implementing awareness of justice and peace than through formal and informal education.
When Sister returned to Maryknoll in 1992 she wrote: "I have been deeply happy – so lovingly accepted by the Filipinos. I have learned so much from them. The learning began when I was 23 and I am now 75. I feel not so sure of my performance at this time. I am at the point that I feel "being" is better than "doing."
Upon returning to the Center, Sister Ancilla Marie remained active in community until 1996 when failing health necessitated a transfer to Residential Care. There, in addition to her prayer ministry for the Philippines she was committed to maintaining a close relationship with her family and friends.
Sister will long be remembered as an educator and friend. Last September the Teresian Daughters of Mary, a Congregation of the Archdiocese of Davao, honored her, their first Formator at their 25th Anniversary Celebration.
We offer our deepest sympathy to Sister Ancilla Marie's many family members who traveled from near and far to be with us today and to all her loved ones, relatives and friends, who are unable to be present. We thank you for sharing Sister with us and for the gift she has been and continues to be for each of us.
We also welcome and thank our Maryknoll brother, Father Gerald Nagle, who will preside at this Eucharistic Liturgy of Christian Burial as together we praise and thank God for the life of Sister Ancilla Marie.