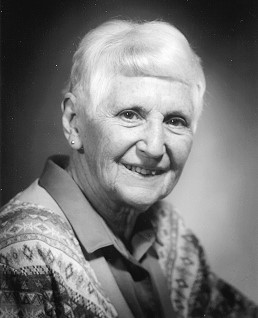 Sister Andree Normandin, MM
Born: June 2, 1922
Entered: October 5, 1946
Died: May 1, 2020
Sister Andrée Normandin died on May 1, 2020. Sister was just one month short of her 98th birthday and had been a Maryknoll Sister for 73 years.
Andrée Normandin was born in Montreal, Quebec, Canada on June 2, 1922 to George Normandin and Amelia (Collette) Normandin. Andrée was the third oldest in a family of four girls and four boys. When she was five months old, her parents moved to Massachusetts where she grew up and attended the parochial schools in Fitchburg, MA. After graduating from St. Bernard's High School in 1940, Andrée worked as a secretary for several years to help her mother with the younger children.
On October 5, 1946, she entered the Maryknoll Sisters Congregation from Sacred Heart Parish in Fitchburg, MA in the Worcester Diocese. At her Reception she received the name of Sister John Andrée. She made her First Vows on April 6, 1949 and Final Vows on April 6, 1952 both at the Motherhouse. Following the Second Vatican Council, she returned to her Baptismal name of Andrée.
From 1949 to 1951, Sister Andrée was assigned to Yale University to study Mandarin Chinese in preparation for an assignment to China. However, since China had just closed its doors to the world and to missioners in particular, Andrée worked as secretary to Father William P. North MM in the Maryknoll Father's Secretariat  from 1951 to 1954. In 1954, she received an assignment to Taiwan, which at the time was still part of the Maryknoll Sisters' South China Region.
Sister Andrée's first two assignments in Taiwan were to the Diocese of Taichung where she had to learn the Taiwanese-Guianese dialect, which is different from Mandarin Chinese. However, her study at Yale of Mandarin Chinese and her knowledge of the written characters continued to serve her well throughout her many years of ministry in Taiwan. In the Taichung Diocese, Sister Andrée did pastoral work in Puli, and then in Changhua where pastors sent young women to be trained as catechists by the Maryknoll Sisters at their Catechetical School located there. These budding catechists studied the Bible and delved deeper into the Catechism, pedagogy and Catholic ethics and morals. After each group graduated the young women went back to serve in their own parishes.
From 1961 to 1968, Sister Andrée was assigned to the mountain area of Wu She to work with the Aboriginal people and found herself returning to her Mandarin language, since the people did not speak Taiwanese. These were some of the happiest years of her life and Sister Andrée often shared how they touched her heart so deeply. She taught catechetical methods to young people who would then return to their villages and teach the children in summer religion classes. She also made many trips into the interior of the mountains to see how these young catechists were making out. For recreation, Sister Andrée taught international folk dancing and in turn the  people taught her their own native dances and songs. It was a mutually enriching exchange.
From 1968 to 1971, Sister Andrée taught English at Feng Chia and Providence University in Taichung City. She also supervised the Maryknoll Sisters hostel for young college women in Taichung. During this time the South China Region decided to divide into two separate entities – Hong Kong and Taiwan. Sister Andrée was named the first Superior for Taiwan, a great affirmation of her wonderful leadership qualities. Then she served as Taiwan's first Regional Coordinator, then also on the Regional Governing Board, and was elected Taiwan's delegate to the 1968 Chapter of Affairs. Wherever Sister Andrée was in mission, she generously contributed her talents to the Community and her gracious presence was always appreciated.
In 1971, Sister Andrée returned to the Maryknoll Center and attended Rogers College for one year. She then transferred to Seton Hall University in New Jersey where she earned a BA degree in Asian Studies—language, philosophy, literature, and history. Upon completion of her studies, she took courses in Clinical Pastoral Education at Central Islip Hospital. This prepared her for a new ministry of counseling in a hospital setting.
Returning to Taiwan in 1976, Sister Andrée first began a ministry to factory workers studying their needs and general working conditions. She then worked for the next 15 years with the Franciscan SMIC Sisters – known in Taiwan as the  "Sheng Kung" Sisters – in St. Joseph's Hospital, in Kaohsiung. There she contributed much toward Pastoral Care Ministry using both her Taiwanese and Mandarin languages.  It was during this time as Chaplain that she ministered one day to a grieving Buddhist family. She did not "force" the Catholic prayers on them but instead chanted the Buddhist prayers together with the family. They were so touched that she respected their religion and helped bring peace to their hearts. Not only did Sister help the patients in her care, she was also a great gift to the Sisters, doctors, nurses, and other hospital staff. She often gave classes to the nurses, helping them to improve their English as well as teaching them counseling skills, especially with terminal cancer patients and their families.
When Sister Andrée returned to the United States for renewal in 1990, she was due for Congregational Service. Her qualities of leadership were also recognized by the Maryknoll Sisters Central Governing Board who appointed her to be the Coordinator/Administrator of the Sisters' retirement home in Monrovia, CA,  a position she held for 7 ½ years.
After a time of transition and renewal, Sister Andrée returned to her beloved Taiwan in September of 1999 just in time to experience the terrible earthquake that killed over 2,000 people. Later recounting the devastation and suffering to a friend, she wrote: "All of these experiences are imprinted in our hearts forever." For the next five years, Sister Andrée devoted herself to clearing out the Regional files and writing the history of the Maryknoll Sisters in Taiwan (1953-2003). At the same time, she did HIV/AIDS counseling work. On October 1, 2004, Sister Andrée returned to the Sisters' retirement house in Monrovia, CA, this time as a resident.  In 2014, she returned to the Motherhouse, where she died.
Sister Andrée was loved by the Sisters and by all of the people with whom she so generously shared her gifts and talents. She was a valuable asset to any community. A Maryknoll Sister in Taiwan remarked: "Andrée is a wonderful missioner and a beautiful sister.  Her ideas, enthusiasm for mission and true community spirit make her an asset to any group." All who knew her hold deep gratitude in their hearts for Andree's years of life and ministry with them.