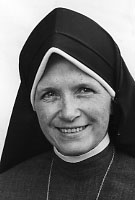 Sister Angelica O'Leary, MM
Born: January 23, 1904
Entered: August 31, 1921
Died: December 21, 1996
Today, we celebrate the Liturgy of Resurrection for Sister Mary Angelica O'Leary, whose presence graced our lives for a full 75 years. While Sisters Helen Cashin and Beata Marie O'Neill prayed by her bedside, at 4 o'clock on Saturday afternoon, December 21, 1996, Sister Mary Angelica slipped away, ever so quietly that it was some moments before her companions realized she had been granted blessed release from her many long years of suffering. On that Advent Day when the whole Church prayed, "Come Emmanuel, God's presence among us" (Acclamation), Sister Angelica's time of waiting for Emmanuel was over. She was 92 years old, just one month and two days shy of her 93rd birthday.
Regina Blanche Mary O'Leary was born on January 23, 1904, in Stites, Idaho, to John O'Leary and Agnes Fields. She had two brothers, John and Joseph, and one sister, Margaret. Having begun elementary school in Spokane, Washington, she completed it in Elk City, Idaho, and got her high school diploma from St. Joseph's in Slickpoo, Idaho.
As is true for so many of us, Regina found her way to Maryknoll from reading about the world of mission in the pages of The Field Afar (Maryknoll Magazine), copies of which she picked up in the office of her parish priest as she and her sister dusted the shelves. On August 31, 1921, when she was only 17 and the Congregation only a year and a half, after canonical recognition by Rome, Regina came east, irresistibly drawn to the fledgling Community of Maryknoll Sisters. She was here when the first group of Sisters left for China in November 1921. As Sister Mary Angelica, she was to follow in 1929.
Mary Angelica made her First Profession of Vows on April 19, 1924, at Maryknoll, New York, and took her Final Vows on the same date, three years later, also at Maryknoll, New York. After getting her R.N. at Providence Hospital in Washington, D.C. in 1929, she was ready to join those who had preceded her to China.
Sister Mary Angelica's first 46 years of mission life were very active, despite the fact that she was beset by illness practically from the beginning. In 1933, it was necessary for her to return to the United States for treatment. She recovered well and also added to her store of professional skills by doing a year's course in Laboratory Technology before returning to China in 1934.
Thereafter, Sister Mary Angelica served in a wide variety of assignments. In quick succession, she made extraordinary adjustments. For example, from Manchuria in 1946, she was assigned to the school for Japanese children in Seattle, then to Cochabamba, Bolivia, in 1950, and to Pusan, Korea, in 1954, serving as Regional Superior in each of these missions. Her next assignment was in 1958 to our TB Hospital in Monrovia, California, as administrator and then, in 1960, to Miaoli, Taiwan, where she worked with Sister Therese Grondin who was novice mistress in the novitiate of the Chinese Sisters of the Sacred Hearts of Jesus and Mary. A few weeks ago, Sister Therese asked Mary Angelica if she remembered their time together at the novitiate in Taiwan. Mary Angelica replied, "Not only do I remember it; I remember it with joy."
Sister Mary Angelica's last overseas assignment was to Hong Kong in 1962. There she did secretarial work until illness, which had persisted all through the years, finally gained the upper hand. She received treatment upon her return. In 1967, Sister left Hong Kong to go back to Monrovia, which by this time was a retirement home for the Community. She stayed in Monrovia until 1972 when her physical problems required more skilled nursing care, necessitating her return to Maryknoll, New York.
For many years, Sister Mary Angelica was a gracious presence in the skilled care facility on the on the 4th floor. She is remembered in Community most especially for her wonderful kindness. Sister Patricia Lowery, who relied on her as a Eucharistic Minister, speaks of Sister as the angel she was, keen to be of service in every way she could. Sister Angelica gave Communion in the chapel and also brought the Sacrament to Sisters' rooms when they were unable to participate with the others. When she herself could no longer manage, she took charge of the music for the liturgy in Residential Care.
Because she was relatively confined to the 4th floor, many among us did not get to know her as well as we might have. For this reason, the conversation she had with Sister Rose Corde McCormick the week before she died is a very precious legacy. To Rose Corde she recounted in vivid detail some of the most precious sensory experiences of her life. She loved crusts of hot oven-fresh bread with butter, Chinese food, olives and ice cream. In her treasury of memories she could see Glacier Peak back home in Idaho. As she described the snow-capped mountains, she could smell the wood fire and hear the coyotes and stampeding wild horses. How many of us can say we were ever in a 14-horse-drawn stagecoach? Toward the end of the conversation, Angelica seemed to peer deep into the past to admire the orange trees in spring blossom. With a most tender touch, God was preparing her for her eternal springtime.
In sympathy, we also remember Sister's family and friends.
We welcome our Maryknoll brother, Father Larry Burns, a longtime friend of Sister Angelica, going back to their days in Cochabamba. Fr. Larry has visited here many times and probably as often, has offered the Eucharist for Sister Angelica and the Sisters on the 4th floor. We are grateful that Fr. Larry could be with us to celebrate the Liturgy of Resurrection for our two Sisters, Mary Angelica O'Leary and Patricia Marie Callan. We rejoice in the goodness of their lives and confide them to God who promises fullness of life such as "eye has not seen nor ear heard" (1 Cor 2:9).