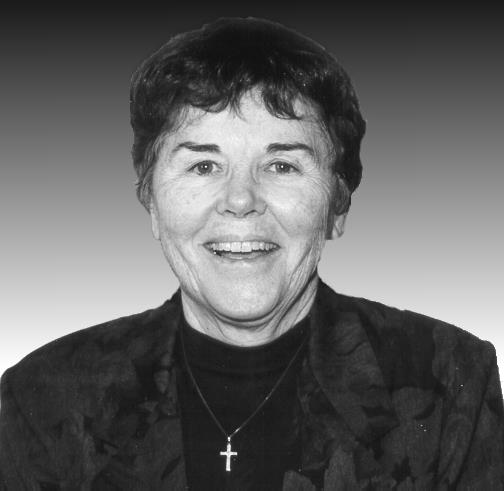 Sister Anita Smith, MM
Born: May 28, 1925
Entered: September 7, 1947
Died: September 4, 2017
Sister Anita Smith died on September 4, 2017 in Middlesex Hospital, Middletown, CT.   Anita had lived among us for 92 years and had been a Maryknoll Sister for almost 70 years.
Anita Marguerite Smith was born on May 28, 1925 in Hartford, CT to John Joseph Smith and Anna (Relihan) Smith.   She was the fourth child in a family of six girls and one boy.  Listening to Anita tell stories of growing up in this family, it is clear that this was a family that really enjoyed each other's company.   This family life nourished Anita throughout her life.
Her education was almost entirely in Catholic schools from first grade until graduation from St. Joseph's College in West Hartford, CT where, in 1947, she earned a Bachelor of Science Degree in Economics and Business Administration.
Desiring "to live out the love, the light and the values expressed in the Gospel and the social teachings of Jesus Christ," Anita joined the Maryknoll Sisters in Ossining, New York on September 7, 1947.  When she was officially received into the Congregation, following the custom of the times, she received the name, Sister Mary Theophane.  She professed her First Vows at Maryknoll, New York, on March 7, 1950 and her Final Vows on March 7, 1953 at Waialua, Oahu, Hawaii.
In 1950, Anita was sent in mission to St. Michael's School in Waialua, Oahu where she enriched the lives of elementary school students.  In 1959 she was assigned to Maryknoll Grade School in Honolulu and in 1965, was appointed superior of the Maryknoll Convent.
In 1972 she returned to the Mainland and earned a Masters of Arts Degree in Education Administration at Fairfield University in Fairfield, Connecticut.  She then returned to Honolulu to serve as principal teacher of Maryknoll Grade School until 1981.
After Renewal in 1981, Anita felt called to be involved in the mission of the Church as a Pastoral Minister.  She wrote: "The role of women in the Church was emerging and she wanted to be involved in that development within the local Church in Hawaii.  She believed she could further the mission of the Church by sharing in the core leadership of a parish community."  To prepare for this new ministry, Anita earned a Master of Arts Degree in Pastoral Ministry from St. Joseph's College in West Hartford in 1983 and then, together with her beloved sister, Rosemary, worked with runaway women at Covenant House in New York City.  In 1984, Anita and Rosemary went to Hawaii to start a new mission in Holualoa on the Big Island where she served as a pastoral assistant, shared a chaplaincy ministry with an ecumenical group of ministers and participated in a drug awareness program in the schools.
In 1990, Anita returned to the Center to assist for three years of Congregational Service in the Personnel Department where she also took responsibility for the Lay Staff.  Upon completing this service for the Congregation, she joined the new community of Maryknoll Sisters in Waterbury, Connecticut and did ministry at Catholic Family Services.  Upon learning that her sister Rosemary was terminally ill, Anita went to live with her sister Mary "in order to assist Rosemary in her illness."  When Rosemary died, Anita continued to live with Mary and worked with the Mercy Sisters at Trust House, a Learning Center for the disadvantaged in West Hartford, Connecticut.
In September 2002, while still living with Mary, Anita became an active member of the Eastern U.S. Region.  She participated in all community gatherings with energy and interest, genuinely happy for us to be together.  She brought a delightful sense of humor to all discussions and she had a knack for getting to the essence of the topic at hand.  And, consistently, her thoughts and opinions were framed by the horizon of Maryknoll values.
At this time in her life, she was an active member of the St. John Fisher Parish in Marlborough, CT until her health forced her to cut back on activities.
From her experiences of working in Connecticut, Anita became aware that while she had left Connecticut to go to the world, the world had now come to Connecticut.  She was just as open and eager to understand the culture of these peoples as she had been to understand the cultures of Hawaii, years ago.  But, her use of the Aloha greeting was second nature to her, so we knew that Hawaii was never far from her heart.
Anita loved the color orange and arranging flowers.  She was a crossword connoisseur and an avid reader.  But, most of all, she was committed to participating in the mission of the Church, however possible.
We give thanks to Maryknoll Father, John Martin, M.M. who has graciously come to lead us in celebrating a Eucharistic Liturgy, knowing that, in this Eucharist, Anita is among the "cloud of witnesses" who stand around this altar.