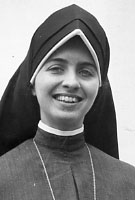 Sister Ann Brisolara, MM
Born: December 29, 1929
Entered: October 30, 1947
Died: January 19, 1975
On December 29, 1974, Sister Ann Brisolara celebrated her 45th birthday. She was euroute to New Orleans, Louisiana, her home, to visit her family. This was the beginning of her furlough.
In the afternoon of December 30, 1974, on a narrow treacherous stretch of road on the border between Mexico and Guatemala, Sister Ann suffered serious injuries in an automobile accident.  The complications from this accident are what led to Sister Ann's death on January 19, 1975.
She will be buried in Mexico – a land which through her missionary life, had but only very briefly been her home. After a Mass, concelebrated by the Maryknoll Fathers, she will be buried next to Bishop Escalante in the cemetery of the Missionaries of Guadalupe.
Audrey Brisolara was born on December 29, 1929 in New Orleans, Louisiana. She graduated from St. Joseph Academy in New Orleans in 1946, and attended St. Mary's Dominican College for one year. She entered the Maryknoll Sisters Valley Park Novitiate on October 30, 1947. At the time of her First Profession in 1950, she wrote: "I am happier at Maryknoll than I have ever been in my life." She made her Final Profession in 1953.
Sister Ann lived with intensity. She had an unusual ability for enjoying life and people and often seemed to be pouring out every ounce of her energy with her every activity.
In 1950 she was assigned to St. Anthony's School in the Bronx, and this first mission remained always first in her heart. In 1968 after she had been assigned to Middle America, she wrote: "With each newspaper or magazine I read about the injustices to the Negroes, about their problems there (USA), the need to help — all goes right to my heart and soul with such a yearning to be back there again working with them. I love those people so much and so want to be with them and help them." She returned to the Bronx that same year and remained until the Maryknoll Sisters withdrew from St. Anthony's in July of 1971.
She was then missioned to Bolivia, but in March 1972 she requested a transfer. Her love for the Black people caused her to write again: "My reason is simple; I want to work again with the Black people. Ever since I left them in July, I miss them so very much and realize to be truly happy I must work with them again." After she returned to the U.S. things didn't quite work out as she had planned. When Ann realized that she would not have a community of Maryknoll Sisters with her in the work, she wrote: "I don't want to be alone or apart from the Maryknoll Sisters. I realize that being a religious in Maryknoll and community mean more to me than my individual endeavor with the Blacks." And so she returned to Middle America where God called her to Himself.
She had lived long in a short time. Always searching, sometimes restlessly, and when finding, delighting with that sheer delight that life brings to those who love it. We can apply to her the words of William Saroyan: "In the time of your life, live – so that in that wondrous time you shall not add to the misery and sorrow of the world, but shall smile to the infinite delight and mystery of it."
The Eucharistic Liturgy, to be celebrated throughout the houses of the Congregation, will be celebrated at the Center for Sister Ann on Tuesday, January 21, 1975, the day of her burial in Mexico.