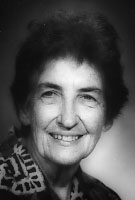 Sister Ann Dowling, MM
Born: February 3, 1933
Entered: September 2, 1956
Died: February 3, 2006
Sister Ann Dowling loved birthday celebrations. Last year Ann's family threw a birthday party for her in the auditorium of the Maryknoll Sisters Center, such a large space needed for the many who wanted to have fun with Ann. And this year on her 73rd birthday, February 3, 2006, around 12:30 a.m. in the Maryknoll Sisters Residential Care IV, Ann slipped quietly away into new life. We gather this morning to remember the life of this energetic, fun-loving Maryknoll woman and welcome to this special birthday celebration Ann's family and friends.
Two years ago during the Micronesia Regional Assembly in Majuro, Ann became sick and after medical examinations on Guam was advised to return to New York for further tests. Thus began the story of Ann's struggle with illness.
Ann Marie Dowling was born on February 3, 1933, in Jamaica, New York, the daughter of Marie Lorentz Dowling and John F. Dowling. She had four sisters and two brothers.
The family lived in Mineola, New York, where Ann attended Corpus Christi Grammar School and then Bishop McDonnell Memorial High School, in Brooklyn. In 1954 she graduated from State University of New York, Teachers College at New Paltz with a Bachelor of Science degree in Early Childhood Education.
Ann taught second grade for two years in Levittown, New York, before entering Maryknoll on September 2, 1956. Maryknoll Sister Colombiere was a school friend of Ann's mother, and so Maryknoll was well known to the family. At Reception she received the name Sister John Marian. Ann's First Profession of Vows was June 24, 1959, at Maryknoll, New York, and her Final Vows were made the same date six years later in the Philippines.
In 1959 she was assigned to Transfiguration Parish in Chinatown, New York, where she taught primary grades for five years. A second assignment took her to the Philippines, this time to teach in the high school department at Maryknoll College in Manila. One year later she moved to Palau, and in 1967 to Yap, both in the Western Caroline Islands. Ann returned to the Philippines for a year in 1969 when she was elected a member of the first Maryknoll Sisters regional governing board in the Philippines.
Ann's home from 1967 until her return to Maryknoll in 2004 was the tiny island of Yap. She was a teacher and principal at St. Mary's Elementary School and worked with Yapese women to assist the home-bound. In 1966 she received the Roland G. Will Alumnae Award from State University of New York Teachers College for distinguished service rendered in racial and cultural relations. At Yap High School Ann taught English, did substitute teaching and served as school counselor. After retiring she continued to teach grade school religion classes.
Yesterday at her wake service we heard poignant testimonies to Ann from those present. The following was written about Ann by a senior at Yap High School in the school newspaper: "If we want to go to college, we better go immediately to Sister Ann for help. Or if you have any problems relating to school or your lives, go to Sister Ann for help. Because she is a kind person that always helps us with everything. Let's get up and run to Sister Ann's office. She always says 'can I help you?' So we can stay cool and we have nothing to worry about." (Feb. 1998) Is this not an apt tribute to Ann!
Immediately upon her return to Maryknoll, New York, in 2004 and even prior to her assignment to the Rogers Community in March 2005 Ann entered fully into life at the Center. Always ready for a party and ever hopeful, Ann so wanted to be able to join her entrance group for their Golden Jubilee celebration this May. She helped to hostess the Congregational Services Christmas Party in December and had volunteered for the social committee of Rogers Assembly to be held next month.
In the early '80s while in ministry to her aging parents on Long Island, Ann volunteered in the then Maryknoll Nursing Home and on switchboard. Although half way around the world from one another Ann and her family cherished their strong family ties. They corresponded and had fun together when Ann would return to the States. They accompanied Ann lovingly during her illness.
During novitiate days Ann was described this way: "she responds immediately when asked to 'perform,' which she is asked to do often because of a flare for dramatics and an enjoyable humor. More hidden, under a light exterior, is a strong dedication and great generosity." She is "a character" about whom many stories will be told.
And, indeed, the stories are being told to this very day. Your spirit, Ann, lives on. "Kamagar," (Good Morning!) Ann, and thank you!
We extend our condolences to Ann's family, to the Maryknoll Sisters in Micronesia especially to Sisters Joanne McMahon and Marie May on Yap and to all who will miss Ann.
We welcome our Maryknoll Father Clyde Phillips who will concelebrate with Father Smith the Liturgy of Christian Burial.