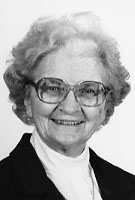 Sister Ann Elise Gallagher, MM
Born: November 8, 1915
Entered: December 8, 1939
Died: September 11, 2009
We welcome all gathered here to celebrate this liturgy for Sister Ann Elise Gallagher.
Sister Ann Elise died at 5:20 a.m., Friday, September 11, 2009, in Maryknoll Residential Care IV. She was ninety-three years old and had been a Maryknoll Sister for sixty-nine years.
"I am in mission wherever I am, whatever I am doing." When Sister Ann Elise wrote that, she described perfectly how she accepted and lived out each new assignment from the Bronx, New York, to the Philippines, to Yap and back again.
Elizabeth Ann Gallagher was born in East Boston, Massachusetts, on November 8, 1915, to Joseph F. and Elizabeth Ann (McKinnon) Gallagher. She had two sisters, Mary Todd and Frances Walter, and a brother, Bernard. Elizabeth Ann graduated from Sacred Heart Grammar School and in 1933 graduated from Fitton High School, both in East Boston, Massachusetts. After graduation she took two office practice courses. She also took a civil service course, including a study of fingerprinting, which prepared her for work on criminal records. She accepted a position with a WPA project as Work Supervisor of Police Records at the Boston Police Headquarters. Later, as a Maryknoll Sister, she continued her education, graduating from Maryknoll Teachers College in 1945 with a Bachelors of Science degree in Education and from Boston State College in 1971 with a Master of Arts in Education Administration. In 1974 she studied catechetics for a year at the East Asian Pastoral Institute in Quezon City, Philippines.
Elizabeth Ann entered Maryknoll from Sacred Heart Parish in Boston, Massachusetts, on December 8, 1939. At Reception she received the name of Sister Mary Ann Elise. She made First Profession on June 30, 1942, and Final Profession on the same date in 1945, both at Maryknoll, New York. Her first assignments, before being assigned in 1947 to Baguio in the Philippines, were teaching in Maryknoll schools in the Bronx, New York, and Boston's Chinatown. In 1950 she moved from her Baguio assignment to become the first principal of the Maryknoll grammar and high school in Lipa, Batangas. Sister returned to the United States in 1956 where she was principal and teacher in schools in Chicago's Chinatown and in St. Louis until 1960. In 1961 she returned to the Philippines as principal and teacher at St. James Academy, Malabon, Rizal. Then a one-year stint in Yap, Caroline Islands, again as principal and teacher, claimed her talents before she returned to the Philippines as Dean of LaSalette College in Santiago, Isabela. This assignment was followed by a year of teaching at Maryknoll College, Quezon City, where she was religion coordinator and gave in-service training to teachers while studying at East Asian Pastoral Institute. Her next ministry was in Lupon, Davao Oriental, where she worked in the public school system, holding education seminars for teachers.
From 1982-1986 she undertook a new ministry as community organizer in Navotas, Metro Manila, with the Philippine Agency for Community and Family. Leaving in 1986 once again for Mindanao she, with her music and by teaching, served at Our Lady of Victory Training Center for the Handicapped Youth in Davao City. Twice during all those many busy years Sr. Ann Elise took furloughs, making a retreat journey to the Holy Land during one of them.
After her last furlough Sister became one of a community of six retired Sisters who ministered in St. Mary's Parish, Waterbury, Connecticut. Sister's whole life, wherever she was, had been marked by her musical skills and her generosity in sharing them with others. In Waterbury she played the organ for the parish. With a good vocalist she went out as pianist, entertaining in nursing homes. She was a wonderful community person and the Waterbury Sisters remember her cooking skills and lovely generosity. In 2001 Sister Ann Elise returned to the Center and in 2003 she became one of the seventy founding members of Eden Community. There she was known for her wonderful smile, cheerful spirit and once more for her music. Her retirement never quenched her passion for music nor her urge to get up and dance to it. The Maryknoll Sisters Orientation program was her prayer ministry during these latter years.
During her many years and various assignments in the Philippines Sister Ann Elise's big heart ever impelled her to make major contributions to community life. She was totally engaged in regional meetings, assemblies, and in preparations for General Assemblies. Her music and her vibrant personality highlighted parties, vacations and any and all kinds of get-togethers. She was treasured by her students and alumni. Once, after she revisited Lipa, the Class of '55 wrote to her:
"Your visit was a beautiful experience, a mix of the old and the new. We had a taste of the past; as you played the piano, as we sang, as we had fun, as we had with you. But, of course, it was an altogether new experience, something to be treasured forever… thanks for the beautiful memory."
On learning of Sister's death many St. James Academy alumni wrote warm condolences and mentioned fond memories. All these many years later, learning of Sr. Ann Elise's death, one former student wrote: "It is a gift to be able to have a moment in your life that can warm the heart and put a smile on your lips at an instant of recollection."
As we make this, our final farewell to you, dear Sister Ann Elise, we remember you as one accepting each new assignment with an open heart, as one who appreciated God's beauty in every new place, and as one whose music gave joy wherever you were. We know you are dancing!
We welcome and thank our Maryknoll brother, Father Ernest Lukaschek, who is presiding at this Liturgy of Christian Burial.