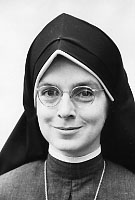 Sister Ann Maloney, MM
Born: November 11, 1922
Entered: September 7, 1945
Died:October 27, 2011
There is a passage in the gospel of Luke about a woman who had been bleeding for 12 years, who had touched the cloak of Jesus' and was instantly cured. This story reminds us of Sister Ann Maloney. The people to whom she ministered likewise felt her compassion and her healing touch. Ann's Healing Ministry included nursing, training Health Promoters, Visiting Political Detainees, supporting the rights of workers and reaching out to the poor, deprived, marginalized and oppressed.
Sister Ann Ruttle Maloney died peacefully on October 27, 2011 in Maryknoll Residential Care IV after a short illness during which many Sisters, Nurses and Nursing Aides had visited and cared for her. She was 88 years old and had been a Maryknoll Sister for 66 years.
Ann Ruttle Maloney was born in Covington, Kentucky, on November 11, 1922 to Marguerite (Ruttle) and John Joseph Maloney. She was the third child of six, with two brothers and three sisters. The youngest siblings were triplets!
Ann attended Blessed Sacrament grade school in Ft. Mitchell, KY, then studied at Villa Madonna Academy, also in Ft. Mitchell, and graduated from Sacred Heart Academy in Cincinnati, OH in 1940. She earned a B.S. in Nursing from Mt. St. Joseph in Cincinnati, and her RN from Good Samaritan School of Nursing, both in 1945. She also studied obstetrics at Margaret Hague Hospital, Jersey City, NJ. She later took a quarter of Clinical Pastoral Education at St. Luke's Hospital, Quezon City, Philippines, in 1973-1974.
Ann entered the Maryknoll Sisters in Ossining, NY on September 7, 1945 from Blessed Sacrament Parish, Fr. Mitchell, KY. At her reception she was given the Religious name of Sister Maura Magdalen. She made first Profession of Vows at the Sisters Motherhouse on March 7, 1948 and her Final Vows on March 7, 1951 in China.
Sister's first assignment was in 1948 to Wuzhou, China, where she was a language student for two years. In 1951, she was sent to Kiangmen and then to Toishan, China, where she worked as a nurse. Later that year, when the Sisters were expelled from China, due to the Communist take-over, she was assigned to the Philippines to St. Joseph's Hospital, owned by Victorias Milling Company in the midst of fields of sugar cane in Manapla, Negros Occidental. Working in general duty nursing, she was a very good nurse, noted for her kindness, loved and appreciated. In 1959, she was appointed temporary Administrator of Maryknoll Hospital, a T.B. and specialized hospital, operated by Maryknoll Sisters in Monrovia, CA where Ann later became the directress of nurses. Although Ann was open to new ideas and humble, she did not like being in charge.
In 1961 she was asked to study nursing education at St. Louis University in St. Louis, MO, but she eventually requested to be relieved of this assignment which she felt was beyond her. A Sister who was also studying with Ann at the time remembers that Ann was personally convinced that she was not qualified to fulfill important roles. She was humble and aware of her limitations.
Ann returned to St. Joseph's Hospital in Manapla in 1963, to work again as a nurse in charge of the Rehab unit. She was always very close to the employees and concerned for their needs, rights and families. While employees of the plantation had free treatment at the hospital, most of the field laborers who cut and carted the cane were seasonal and thus casual workers who could only use the hospital if they paid. During the early 1970s, workers were being encouraged to organize and strike for better wages and conditions. Sister Ann, who respected the right of workers to form a union of their own and to as for their rights, wrote to the head of the Milling Company to resign from St. Joseph's Hospital.
In 1972 she was assigned to Maryknoll Academy (Now Maryhill College) in Lucena, Quezon Province where she organized and upgraded the health services of the school clinic. The following years she worked at the Sisters' Region house in Quezon City assisting the Regional Infirmarian, being Nurse for the Maryknoll College's Child Study Center and in charge of Hospitality for the House. It was during this time that many who opposed the Marcos regime's imposition of Martial Law were imprisoned as Political Detainees. Ann, together with Maryknoll Sisters and other priests and sisters, were early members of the Task Force Detainees created by the Association of Major Religious Superiors of the Philippines. Ann visited detainees on Sundays at Ft. Bonifacio in Metro Manila and at other detention centers. Her presence and support were deeply appreciated by the political prisoners.
Ann transferred to Cotabato City in 1975. She was part of a team of 3 Maryknoll Sisters and 4 Muslims to set up the Community Extension Service of Notre Dame University in the Muslim area of the city. Ann's specialty was in the Community Based Health Program (CBHP) training health promoters in Muslim rural areas. Here she learned about herbal and alternative medicine, and interest that she continued to develop the rest of her life.
From 1980 she spent several years caring for her older sister and mother in Ft. Mitchell, KY. After this, she gave service to the Congregation in Health Services at the Center at Maryknoll for 3 years.
Returning to the Philippines in 1985, Ann expressed her desire for an assignment in Mindanao: to be a member of the Ruaral Missionaries and her favorite ministry: CBHP. She served in this work in Davao City and then in Buug, Zamboanga del Sur, a rural area. These years of working with the CBHP as  rural missionary, she considered the most satisfying of her mission life, especially serving the rural poor.
In 1992, after 23 years in the Philippines, Ann requested transfer to the Center. She was 69 years old and aware of her growing limitations and diminished of memory and vitality. She expressed her request with gratitude for many years of happy fulfillment in the Philippines. At Maryknoll, she provided nursing service in the Sisters' Nursing Home for six years. During this time, she also volunteered in the Hospice Program at Phelps Memorial Hospital in Sleepy Hollow, New York.
In 2000, Sister Ann joined one other Sister to work on the Red Lake, MN Indian Reservation and the following year they moved to the Fond du Lac Indian Reservation, Cloquet, MN with two additional Sisters, where she provided pastoral care to Ojibwe residents, co-volunteers and staff. Sister Ann's ministry was appreciated by all who knew her as a compassionate nurse, supportive to all she serves with gentleness and humility.
In April 2006, Sister Ann became a resident of the Maryknoll Residential Care Community where she resided until her death. Her prayer ministry was the Maryknoll Information Services.
Throughout her life, Ann maintained a warm relationship with her family. We welcome her family and also our celebrant, Fr. Ernest Lukaschek, who will preside at our Liturgy of Christian Burial.