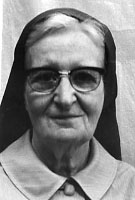 Sister Ann Mary Farrell, MM
Born: January 27, 1904
Entered: October 15, 1925
Died: September 1, 1987
In 1973 Sister Ann Mary Farrell wrote, "We all want to meet our Lord face to face. To do that we must die." In the afternoon of September 1, 1987, in the Maryknoll Nursing Home, that desire became a reality as Sister gently passed from this life into the presence of the resurrected Jesus.
Sr. Ann Mary was born in Freedom, Pennsylvania, on January 27, 1904, and named Louise at her baptism. Her parents, Rose Teresa Boyle and Joseph Michael Farrell, had emigrated from England and Ireland at the turn of the century. Louise entered Maryknoll in 1925. She had a brother, Andrew, and a sister, Catherine.
After graduating from Mt. Mercy Grammar and High Schools in Pittsburgh, Louise got her certificate from the Teacher Training School and taught for a year in the public school system. An attraction to the work of the missions from early childhood was nourished by her teachers and through family contacts with the Holy Ghost Fathers. These experienced missioners told "stories about alligators and serpents" many evenings to a wide-eyed audience around the supper table. When Louise was a senior in high school Father James Anthony Walsh, M.M., spoke convincingly to the students about the need for missioners in China and the fledgling group of six Maryknoll Sisters preparing to go there. The talk focused the natural enthusiasm of the 17 year old Louise, who related, "I always kept that idea in my head, that that was what I wanted to do." Four years later she began a journey that was to translate her longing into a commitment that included a half century of missionary labors in the Orient.
Along with 37 other postulants Louise spent her time of initial formation in study, religious exercises, household chores and assigned work at the Seminary kitchen and The Field Afar magazine. At reception she received the name "Sister Ann Mary" and made her First Profession of Vows in the spring of 1928. At the end of summer she was joyfully packing for Hong Kong.
Sister Ann Mary's skills as a teacher were needed and appreciated in Maryknoll Convent School in Kowloon which grew enormously in numbers and fame over the 32 years she devoted herself there in the classrooms and later as Head Mistress. Strict but just, she related well with students and parents. She was straightforward when the occasion made it appropriate but could also listen rather than confront. She hated prejudice of any kind, but especially racial prejudice. As a missioner, Sister Ann Mary exemplified a deep respect for cultural values and had definite ideas about what evangelization was and what it was not. She states: "We weren't looking for a great many conversions. We wanted our students to have Christian thinking… to analyze from a Christian viewpoint." Sister had a remarkable ability to create an atmosphere for excellence – not only in studies but also in thinking of others less fortunate and in character building. Many examples even then and in later years constitute proof of the success of her integrated approach to education and her love for the poor.
World War II brought violent change and disrupted the work of many years. Sister Ann Mary was sent along with many others to the Stanley Internment Camp, but was permitted to go to the neutral colony of Macau in late 1942. There, with two other Sisters, she cared for orphans until 1946 when it was possible to return to Hong Kong and reopen the school that had been stripped of furniture and equipment.
After getting a degree in English Literature in Manila, Philippines, Sister Ann Mary was assigned to Taiwan, where she spent a total of 9 years. She helped to set up a much-needed hostel for women students and taught English at the universities in Taipei. Outside of class time Sister set up discussion clubs for students who were being prepared as future consuls and ambassadors for Nationalist China. She relates: "They tossed around current political questions. We never talked religion – they were mostly Buddhist – but my aim was to give them Christian thinking in the fields in which they would work."
A new challenge was presented in 1962 when Sister Ann Mary was asked to go to Japan to initiate the Congregation's first educational  establishment there. She administered the building of a middle and high school in Yokkaichi on a plot of land in the midst of a tea plantation. Four years later, with buildings up and staffing in place, Sister Ann Mary turned the project over and returned to Taiwan.
It is significant that even though Sister never had the opportunity for formal language study and often needed the help of a translator, she was able not only to function professionally in three different Asian countries but had a deep impact on the people with whom she came in contact. She writes, "I just wish I were a better instrument. I accept this lack [of language], so put forth the other good talents the Lord has given me for this work!"
Another of those good talents was put to use for the two years in the U.S. Sister Ann Mary and a companion did promotion work for the Congregation and supervised the sales of liturgical vestments made from Chinese silk and produced in the shop directed by the Sisters in Hong Kong. This post-Vatican II period in the mid-60s was an exciting yet painful time of great change in the Church and in religious life. Sister Ann Mary lost no opportunity to learn and understand what this renewal was all about. She attended courses, lectures and workshops and even listened to tapes while she cooked. In a letter to Mother Mary Colman she reflects, "I am much in favor of the new movement in the Church and agree absolutely that both in our Community and in the Church mistakes have been made in the past – and I have made some of them myself. But why be upset and unhappy about these mistakes – and so critical? Just let us pray a bit more deeply and act with more love!"
A medical checkup during a visit to the Center in 1973 revealed that Sister Ann Mary was suffering from the beginning stages of Parkinson's Disease. She wrote, "I may go on some time before I would be incapacitated. Although I love the Motherhouse I would rather return to the missions and continue my apostolate." And so, Sister Ann Mary returned to her beloved Hong Kong where she took up her work again, this time with parents, religious of other congregations and seminarians. By the summer of 1977 however, unable to manage because of the advance of the disease, Sister was assigned to Bethany and later transferred to the Maryknoll Nursing Home. She remained alert and interested in all the events around her. Even when she became quite limited as her condition deteriorated, her concern for those she loved was communicated with much feeling and urgency. Visits from old friends brought back the spark to the surface and memories from the past ware savored in the present.
Perhaps the most fitting ending to this letter is to share Sister Ann Mary's advice to future missioners. [On reflection you will see how applicable it is to anyone, any place.]
"- Have a strong faith and trust in God.
– Have great patience and faith in the people.
– Take the risk of accepting people for what they are. They see us for who we are – no bluffing, we have to be genuine.
– People have a lot to teach us and to contribute. We must learn to listen before we start preaching.
– Love and cherish the people."
We express our sympathy to Sister Ann Mary's friends and family. And we express our thanks to all of those in the Nursing Home who cared for Sister Ann Mary so lovingly.
We welcome our brother in Maryknoll, Father Dick Albertine, who will lead us in this Eucharistic Celebration of Resurrection.