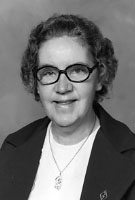 Sister Ann Miriam Coupe, MM
Born: January 6, 1917
Entered: June 15, 1935
Died: December 27, 2005
Shortly after midnight, early in the morning of Tuesday, December 27, 2005, our Sister Ann Miriam Coupe died at Maryknoll, N.Y., in Maryknoll Sisters Residential Care IV. Sister had shown signs of weakness the day before and a bedside vigil was begun. Among those keeping vigil was her good friend, Sister Teresa Leung, who was at her side for eight hours. She had only just left the room for a few minutes when Sister died. Sister Marian Teresa Dury was with Sister at the time of her death.
Sister Ann Miriam was born on January 6, 1917, in Cumberland, Rhode Island, and was baptized at St.Patrick's Parish in Valley Falls, receiving the name Veronica Mary. She was one of ten children born to Alice Anne Eastham Coupe and Herbert Coupe. Her parents and seven of her siblings have pre-deceased her, including her two Maryknoll Sisters, Sister Marie Estelle Coupe, who died in 1981, and Sister Eucharista Coupe who died in 1992. A Rhode Island newspaper clipping on Sister Ann Miriam once referred to the Coupe family as the "Famous Vocation Family," as five of the siblings became Sisters, and one a priest. Sister is survived by her two Mercy Sisters, her twin, Sister Magdalen Mary Coupe, R.S.M., of Cumberland, RI, and Sister Mary Olive Coupe, R.S.M. of Bristol, RI.
Young Veronica attended St. Patrick's Elementary School, after which she spent two years at Cumberland High School and two at St. Xavier's Academy in Providence, RI, where she graduated in 1934. She worked in a factory for a year before coming to Maryknoll, entering from the Providence Diocese on June 15, 1935. At the time of her First Profession of Vows on January 6, 1938, she received the religious name of Sister Ann Miriam, the name she retained for the rest of her life. She made Final Profession of vows on January 6, 1941. Between 1940 and 1941 she did a year of nursing studies at Catholic University in Washington, D.C. Sister Ann Miriam returned to Maryknoll, in June 1941, and took a position in the Field Afar office until 1945 when she was assigned to do catechetical work in California, serving at both Guadalupe and Stockton.
In 1950 Sister Ann Miriam was assigned to Hawaii and there found the love of her life in teaching, both at Kaneohe and Waikiki. In 1968 she returned to Maryknoll, and completed a Bachelor of Science degree in education at Mary Rogers College, before returning to teach again in Kaneohe in 1969. During her time in Hawaii, besides teaching elementary grades in Maryknoll Schools, Sister Ann Miriam took courses at Chaminade College and the University of Hawaii. She also dedicated herself to home visiting and to catechetical work on Saturdays. She was proud of the fact that two of her students had gone on to become priests. She particularly expressed her love for the people and the spirit of St. Ann's Parish in Kaneohe, and was concerned to see the decline in the number of the Sisters staffing the school there. Meanwhile, she knew she had been teaching a long time herself when she spoke of children of her former pupils who by then were students in her classroom.
Following thirty years of teaching in Hawaii, in late 1979 Sister Ann Miriam temporarily joined the Maryknoll Sisters Senior Region and took a thee-year position in charge of the laundry at Monrovia. In 1982 she returned to Maryknoll, N.Y., and took another thee-year position, this time in the Data Processing Office. By 1985, convinced that her mission days were not yet finished, Sister Ann Miriam requested assignment to Tohatchi, New Mexico, where she did catechetical work until 1988, when she transferred once again to Monrovia to join the retirement community there.
At Monrovia, Sister engaged in sacristy work, helped prepare liturgies, and happily taught catechetics once a week at Immaculate Conception Church. She was in charge of grade five public school children, and wrote that this age is such a beautiful time of life. She felt that the children touched her life by their simplicity and openness, teaching her to listen and be still. As she wrote from Monrovia, "I have placed more trust in God and God's loving care as the years have advanced."
In 2003, due to failing health, Sister Ann Miriam returned to Maryknoll and joined the Eden Community residing in Residential Care IV. As a member of the Eden Community, Sister Ann Miriam had two prayer ministries: Guatemala and the Center Chi-Rho Community. Also, among her friends she will be remembered as an avid bridge player with a sharp mind. She loved doing crossword puzzles, and was consulted as someone able to solve any spelling question that someone might have!
We extend a warm welcome to: Sister's Mercy Sister, Sister Mary Olive Coupe, and family members and friends. We are happy to have you all with us today.
We also want to welcome Maryknoll Father Daniel Dolan who will preside at the Liturgy of Christian Burial this morning.