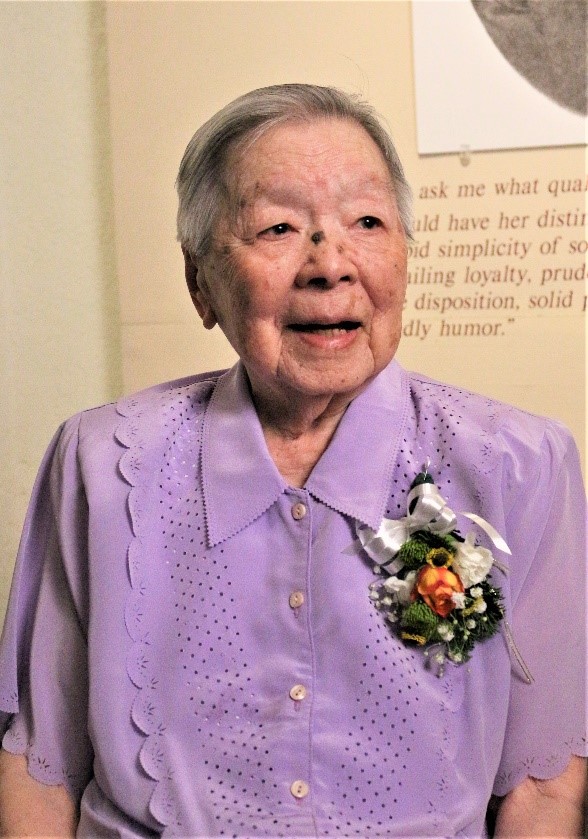 Sister Ann Teresa Kamachi, MM
Born: October 4, 1921
Entered: September 7, 1943
Died: July 24, 2023
Today we gather to celebrate the life and missionary vocation of our dear Sister Ann Teresa Kamachi who went to her loving God at 8:50 p.m. on July 24, 2023 in our Maryknoll Sisters Residential Care Facility. Sister was 101 years of age and a Maryknoll Sister for 79 years.
Teresa Hatsuko Kamachi was born in Shelton, Washington on October 4, 1921 to Kinji Kamachi and Mitsuye (Nakamuri) Kamachi. She had six brothers and two sisters, all of whom have predeceased her except for her brother Kazuo (Paul) who lives in California.
Teresa graduated from Olympia High School in June 1939. After graduation, she worked in a grocery store.
In 1942 during World War II, President Roosevelt issued an Executive Order mandating the forced removal of 112,000 West Coast American citizens of Japanese ancestry into isolated, fenced and guarded internment camps. Sister and her family were assigned to Manzanar Camp in California.
The experience in the internment camps had a huge impact to Sister Ann Teresa and family. Sister Ann Teresa cried looking at the photo of the barracks where the family had been located. The photo is one of the photos of the Manzanar Historical Site that her niece Lucy Kurokawa showed Sister during a visit to her sister's home.
Sometime before internment, Sister Ann Teresa had met Maryknoll Sister Marianna Akashi who had become a mentor for her. At the time of her Golden Jubilee, Sister Ann Teresa said that when she met Sister Marianna, she knew that Maryknoll was the right place for her.
On September 7, 1943, Sister entered the Maryknoll Sisters and attended Maryknoll Teachers College during her novitiate. She made her First Profession of Vows on March 7, 1946 at Maryknoll, NY and her Final Profession on March 7, 1949 in Seattle, Washington. In between those dates, she had transferred to Seattle University where she earned a Bachelor of Science in Nursing in June 1950.
Sister was then assigned to Maryknoll Sanitarium where she joined the Sister Nurses who cared for tuberculosis (TB) patients in their cottages. It was still the era of bed rest for people with TB.
In 1956, Sister transferred to Queen of the World Hospital in Kansas City, Missouri. Maryknoll Sisters had been asked by the Bishop of Kansas City to establish a hospital where black doctors could admit their private patients. Prior to that, black doctors in Kansas City were restricted to admitting patients to public hospitals only. At queen of the world, Sister joined Sister Jean Roberts in the program to train black women as Practical Nurses, helping them to earn their licenses.
From 1965 to 1968 Sister was again a staff nurse in Monrovia, California at what had become Maryknoll Hospital. In 1969, she joined the Sisters in Boston Chinatown where she did private duty nursing before joining the staff at New England Medical Center Hospital.
Sister Ann Teresa was assigned to the Central Pacific Region, in 1975. In Hawaii, she participated in ministries such as Natural Family Planning Programs; Hospital Pastoral Ministry and Hospice work until 2002. After retiring, she volunteered as a Eucharistic Minister at St. Francis Hospital and at Tripler Hospital.
In 2007, Sister Transferred from the Central Pacific Region back to Maryknoll, New York where she joined the Chi Rho community, happily participating in many activities while working part-time in the Treasury Department until 2012 when she really retired.
In August 2019, Sister Ann Teresa joined the Eden Community. Not long after, she suggested to Sister Mary Ellen Kerrigan, M.M. that it would be nice if in the afternoons, some of the Sisters could gather and share about their lives and memories. That led to the designation of an area on the 3rd floor as "The Cookie Corner" where we still find Sisters enjoying each other's' company!
Until her death, Sister Ann Teresa was a quiet, gracious member among us, always thinking of others and blessing us with her presence.
Today, we welcome Sister's family, friends, and especially Maryknoll Father David LaBuda who will preside at the Mass of Christian Burial.