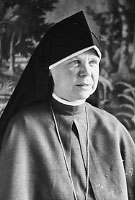 Sister Anna Anderson, MM
Born: September 17, 1914
Entered: September 6, 1944
Died: February 13, 1994
"I have loved you with an everlasting love, I have called you and you are mine." Last evening, we sang these words at the Wake and Vespers Service for Sister Anna Anderson as we celebrated Sister's final journey to her heavenly home. These words speak so eloquently of Anna's life with God and how all of us have experienced her living this gift of God's love among us in her daily life.
"I have called you and you are mine." It was early in the morning of February 13th that Sister fell ill and later died peacefully as strains of the Salve Regina were sung by her Sisters who were with her in those last moments.
Anna Anderson was born on September 17, 1914 in Salem, Massachusetts, the youngest of Jennie and Thomas Anderson's five children. Following grammar and high school studies at St. Mary's in Salem, she graduated in 1931 with a record of perfect attendance throughout her school years. For the next 13 years she worked in the Salem Municipal Purchasing Department and studied various subjects, ranging from Latin to First Aid, through the Extension Division of the University of the Commonwealth of Massachusetts. Anna had often considered entering Religious Life while she worked and cared for her mother, but it was a talk given by Father Alfred Butler, a promoter for the Propagation of the Faith Society who first awakened in her the desire to be a missionary, also. She rarely spoke of this call to mission during those years, but quietly nurtured it until, in 1944, after her mother's death, Anna came to Maryknoll. She came, though, only after first arranging for the care of her father with one of her brothers.
At the time of her Reception into the Community, Anna received the name of Sister Jane Thomas. Her First Profession of Vows was on March 7, 1947 and, soon after, she began working in the Administration offices at the Seminary and lived at Crichton House. Her friends often spoke of her generous and kind spirit in community and her ability to keep smiling through difficulties, beautiful traits that have been present and continued to develop throughout her life.
In 1959, the Hawaii Region requested her assignment to Honolulu as Regional Secretary. A few years later her skills were being asked for here at the Center and she returned in 1965 to work at the Field Afar offices. Then in 1970, Anna joyfully returned to Honolulu to begin a new career with the Hale Ho'ola'i (which is the Hawaiian name for Home of Contentment), a project with Senior Citizens, where she worked as part—time secretary and bookkeeper. This ministry also provided the opportunity for Anna to visit the elderly in their homes, in hospitals, and in Nursing Homes.
Several years later, Sacred Heart Parish in Honolulu inaugurated a Parish Outreach Program and Anna was appointed Coordinator. Under the auspices of Catholic Social Service, the program revitalized parish life and incorporated social ministry as integral to the parish. Later, Anna began to have problems with her vision and after a cornea transplant, retired to Our Lady of the Mount Convent in Honolulu. Sister Joan Gaspard, a friend of many years, was the donor that made this cornea transplant possible and Anna was very touched and grateful for this gift which improved her sight at the time.
Following these years of retirement in Hawaii, Anna returned to the Center as her eyesight and memory were beginning to fail. Her delightful wit and sense of humor were always a gift to us as she added her remarks to any conversation. A familiar response was often, "Well, fancy that!" Another reminder we have of her were the bright colored balloons pinned to the doorway so all could readily identify "Anna's room." Anna was very esteemed and loved by the nurses on Assisted Living, and it was hard for them to say goodbye to her when additional care was needed and she moved to the Skilled Nursing Facility.
As her blindness increased, Sister Dorothea Underhill, a longtime friend, faithfully accompanied her to Liturgies, to house activities and to visit with others around the house. About 4 p.m. each day, the two of them could be seen stopping by a resident's room to say hello and to take a moment to pray with each one. Despite growing limitations, Anna joyfully joined in the many activities and celebrations in Residential Care. Truly Mother Mary Joseph's call for all Maryknoll Sisters to have the saving grace of a kindly humor was portrayed in Anna's life.
Today we gather for the Liturgy of the Resurrection, a time to thank God for Anna's rich long life in Maryknoll. A few months ago while talking to one of the Sisters she said, "No matter where I was, it was worthwhile. Somebody always had a job for me to do." And so her love of mission and willingness to do any work that was asked of her will long be an example for us.
Please join us as we celebrate with our Maryknoll brother, Father Gerald McCrane.