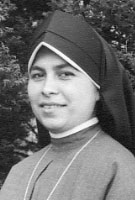 Sister Anna Marian Pavao, MM
Born: September 23, 1923
Entered: October 1, 1946
Died: December 15, 2007
Sister Anna Marian Pavao died peacefully on Saturday, December 15, 2007, in the Maryknoll Sisters Residential Care at Maryknoll, NY. She was 84 years old and had been a Maryknoll Sister for 61 years.
Ida Pavao was born on September 3, 1923, in Honolulu, Hawaii, the first of five children of Ida Arthur Pavao and William Pavao.
Ida had a great love for her homeland, an affection stemming from her happy childhood, as well as from her love for Hawaii's culture and traditions. She had an interesting family background that also influenced this love. Her father was first-generation Portuguese-Hawaiian, born of immigrant parents from the Portuguese Island of Madeira. Her mother was part Hawaiian and part New Englander. Her maternal grandmother had been a princess-in-waiting at Hawaii's last royal court of Queen Lili'uokalani, and her maternal grandfather was from Prince Edward Island, Canada.
After graduating from Maryknoll High School in Honolulu in 1941, Ida enrolled in the University of Hawaii that same year. However, her studies came to an abrupt stop with the bombing of Pearl Harbor on December 7, 1941. Schools were closed and students were asked to lend a hand at Pearl Harbor. A few days after the bombing, Ida found herself working there as a typist in a supply office. Schools soon reopened and she returned to the University, earning a Bachelors degree in Education in 1946. Later, in 1960, she earned a Master's degree in Special Education from Hunter College in New York.
On October 1, 1946, Ida entered Maryknoll. At reception, she received the name Sister Anna Marian, the name she preferred and retained throughout her life. She made First Vows on April 6, 1949, at Maryknoll, NY and Final Vows on April 6, 1952, in Honolulu, Hawaii.
Sister's first assignment in 1949 was to teach at St. Anthony School in Kalihi on the island of Oahu. For the next twenty years she served as teacher, principal and superior in missions in Hawaii: St. Augustine's in Waikiki, St. Anthony's on Maui and on the Big Island; the Marshall Islands on Likiep. It is to be noted that Anna Marian had distinguished herself at the University of Hawaii as a capable, dedicated and professionally-minded student who earned the unusual category of "honors" for her intern teaching. Years later, the Diocesan Superintendent of Catholic Schools referred to her as "one of the most skillful teachers" that he had ever seen or worked with, and he arranged for Sisters teaching in other schools to observe her in the classroom.
Sister Anna Marian's personal gifts did not go unnoticed in Maryknoll. At our tenth General Assembly in 1970, she was elected Vice-President of the Central Governing Board (CGB). She was re-elected to this position for a second four-year term in 1974. She is remembered and cherished by many for her role during those eight years. Anna Marian' s companions on the CGB speak of her "integrity" as being key to who she was, even to how she saw herself. In 1980 she described herself in these terms: "I am usually shy and quiet, more on the reflective, observant side. However, when something needs to be said, I usually say it. I am known as a person who doesn't dodge the issue.
Anna Marian's CGB teammates experienced her as a caring individual, not afraid of tough love if something was to be for the growth of the other. She always expected others to be all that they could be. They said that at meetings she did not talk a lot, but listened carefully, and when she spoke it was to keep the issue on track and to get to the core of it. At prayer she was basically a contemplative, regularly expressing a depth of spirituality.
When she completed her term of office in leadership, Sister chose to be assigned to a new mission in Indonesia. Despite difficulties she encountered learning the Indonesian language, she made many friends teaching English to teachers who were studying for their Masters degree at Bandung's Parahyangan Catholic University.
Anna Marian requested a return to the Hawaii Region in 1986 where she served as a parish coordinator on the big island of Hawaii, and was appointed by the Bishop to serve also as advocate on the marriage tribunal. She made the decision to retire in 1991, though she continued to work as a pastoral volunteer on the Hamakua Coast on Hawaii until she returned to Maryknoll, New York, in 2001.
Since 2003, the Central Pacific Region was her prayer ministry. She had the good fortune of being lovingly accompanied during these years by the Sisters and staff of both Out-Patient and Residential Care, as well as by her former companions on the CGB.
We extend our sincere condolences to Anna Marian's family who could not be with us today. We are happy and grateful to welcome Maryknoll Father Carroll Houle who will preside at this Liturgy of Christian Burial for Sister Anna Marian.