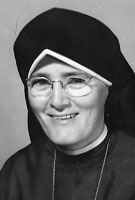 Sister Anna May Healy, MM
Born: September 17, 1919
Entered: December 7, 1941
Died: May 21, 1987
This morning we gather together to celebrate the Mass of the Resurrection for our Sister Anna May Healy. We are happy that her own priest-brother, Father Gerald W. Healy, S.J., can be with us as principal celebrant. Father Healy, who is missioned in the Philippines, was attending a Seminar in Houston, Texas when news of Anna May's death reached him. It was early in the morning, 01:30 A.M., of Thursday, May 21, 1987 that Anna May peacefully went back to her Creator. Sister Ethel was at her bedside, having kept constant vigil with Anna May during her last hours in our Maryknoll Nursing Home.
Anna May's life journey began in Buffalo, New York where her parents, John Anthony and Anna Casey Healy, settled and raised eight children after coming to the U.S. from Ireland. After having four sons, it was a day of rejoicing when their first daughter, Anna May, was born on September 17, 1919. She was followed by three more daughters. Theirs was a warm, loving and devoutly Catholic family – and not surprisingly, one son became a priest of the Society of Jesus, and two daughters chose to be Religious missionaries.
Anna May studied at St. John Evangelist Parochial School and the Mount Mercy Academy, both in Buffalo. After completing high school in 1938, she took a 1-year Commercial Course at the Chown's School of Business in Buffalo. With this training, Anna May worked in various clerical jobs for two years before coming to Maryknoll.
After her younger sister, Ethel, entered Maryknoll in 1939, Anna May seriously considered whether she, herself, could live what she saw as a life of sacrifices: that of leaving home, family and friends. Soon after coming to Maryknoll on December 7, 1941, Anna May discovered that she had become part of another home and a bigger family and always surrounded by many friends so that she could declare: "I am exceedingly happy here." Those in her novitiate group remember Anna May as one with seemingly boundless energy, matched with limitless generosity in responding to the many tasks assigned to young Sisters in those days. She had a buoyant, joyous spirit and a fine sense of humor – oftentimes her special contagious laughter could be heard in the corridors provoking smiles all around.
At Reception time Anna May asked for the religious name, Sister James Marie in memory of her oldest brother who died in childhood. She was professed on June 30, 1944 and made her Final Vows on the same date three years later.
After Profession Anna May worked in the Seminary kitchen for two years. In 1946 she was assigned to Hawaii where she spent 20 happy years teaching the Second and Fifth-graders at Maryknoll Grade School in Punahou, at St. Augustine's School in Waikiki and St. Anthony's School in Kalihi. In a letter, many years later, she would recall, "I have loved teaching from the very beginning when I was sent to Hawaii with no training. I learned so much in the 'school of experience' and, of course, so much from some really fine Maryknoll Sister-teachers." Her supervisors had observed that even without formal teacher training, Anna May "…proved to be an industrious teacher who had a deep liking and understanding of children. She showed originality in lessons and managed to evoke an enthusiasm for learning from her pupils." She felt a special compassion for the slow-learners. She was also noted for her exceptional ability to get the parents of her students involved in school activities. She made them feel important and welcomed their participation in the education of their children. Many often came to help her in the classroom as "teacher assistants" especially when the children were being prepared for First Communion.
In 1966, Anna May returned to Maryknoll for Renewal, after which she was assigned to the Bronx in New York as principal of St. Anthony of Padua School and House Superior. In 1970, she moved to Lynn, Massachusetts and taught in the Public School System there. Shortly afterwards she began having health issues that necessitated her moving to the warmer climate of San Diego, California where she found another teaching position. As she wrote at that time, "Since teaching is what I love most and can do best, I feel I have to stay in that field."
In 1975, Anna May was elected a member of the Western U. S. Regional Governing Board. At that time she also served as Regional Orientation Director. During her years on the West Coast, she was actively involved with the San Diego Diocesan Sisters Council, the Parish Religious Education Board, the Parent Sacramental Programs and other parish activities. When she resigned from teaching it was to take up a ministry with "shut-ins" – the elderly poor in Chula Vista, California.
From 1979 to 1981 Anna May did her Congregational Service work as liaison with the food service at our Retirement House in Monrovia, California. During these years Anna May's health started to decline.
After completing her assigned work in Monrovia, Anna May went with Sister Mary Schafers to Mississippi where they engaged in parish ministry. This was short-lived as Anna May's physical condition worsened making it necessary for her to return to the Center in 1983. She worked part-time in our Maryknoll Nursing Home until failing health caused her to be admitted as a patient there in June, 1986.
It is quite fitting that we bid farewell to Anna May on this lovely Spring day in May, when we are surrounded by so many beautiful signs of new life. We are certain that Sister now enjoys the beauty and the fullness of Life in God, whom she loved and served so faithfully … "Come, blessed of my Father – receive the crown prepared for you from the beginning…"
We express our sympathy to all the Healy family. We also welcome her brother Father Healy and his friends: Fr. Gerry Braun, S.J., Fr. Cal Poulin, S.J., and Fr. Bill Ward, S.J., who with him will lead us now in our Eucharistic Celebration of remembrance and thanksgiving.