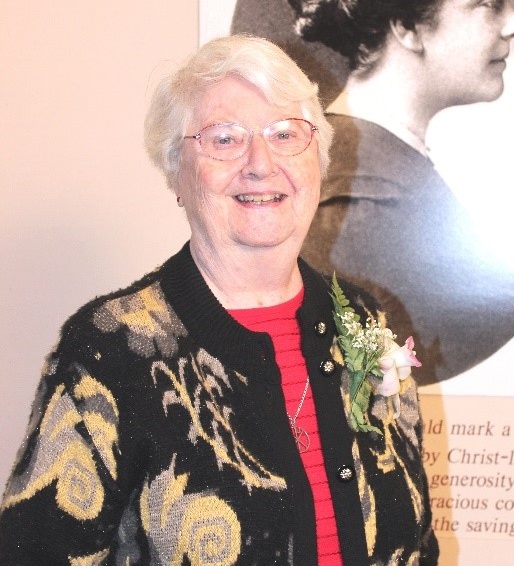 Sister Anne Callahan, MM
Born: July 4, 1935
Entered: September 2, 1955
Died: July 30, 2020
Today, we remember Sister Anne Callahan, our sister and dearly beloved friend. Anne died peacefully at the Maryknoll Sisters' Center on July 30, 2020. She had been a Maryknoll for 65 years.
Anne was born on July 4, 1935, the youngest of three children born to Leo J. and Helen (Monahan) Callahan, in Lowell, MA. She had two brothers, one of whom became a Maryknoll Father and the other became a doctor.  It was the example of the parents and the children's Catholic education that formed in the children a solid sense of service.  It was her brother John's joining Maryknoll, however, that inspired in Anne the desire to do something similar.
Anne graduated from Notre Dame Academy, Tyngsboro, MA in 1953 and then attended Emmanuel College, Boston, MA from 1953 to 1955. "I was a sophomore at Emmanuel College in liberal arts," she said, "when I spoke to John of joining Maryknoll sometime."  "Don't put it off too long, he said, and so I decided to start the process mid-college."
Anne entered the Maryknoll Sisters Congregation in New York on September 2, 1955 from St. Margaret Parish in the Boston Archdiocese. She had found the "treasure in the field". Her group was the last postulant group to have entered before the death of Mother Mary Joseph Rogers. She received the name Sister Joan Therese at her Reception. She spent her novitiate at Topsfield, MA.  After her Profession of Vows at our Maryknoll Center in New York in 1958, she continued her studies at Mary Rogers College (Maryknoll Teachers College). She then attended Columbia University taking courses in mathematics before shifting to Fordham University where she obtained a Master's Degree in Mathematics in 1962.
Sister Anne taught at Mary Rogers College until 1967, when she was assigned to Hawaii. During the decade she lived there, she served as high school teacher then as principal at Maryknoll High School, Honolulu. She rejoiced that a lay principal was named to follow her.
In 1977, Sister Anne received an invitation from our Leadership to return to the Maryknoll Center and prepare to assume the responsibility of Treasurer for the Congregation. She wrote in a Renewal Reflection that during her first term as Treasurer the four churchwomen were assassinated in El Salvador. That made her want to choose that area of the world for her ministry after completing her treasury commitment.
In 1984, Sister Anne was assigned to Mexico with Associate Sister Barbara Harrington OP and our former sister Marie Moore in cooperation with an agency which promoted the just-price sale of the handwork of the creative poor.  She then worked in the refugee camp for Guatemalans in Campeche, Mexico, and spent four years there in pastoral service. Sister Anne moved from Mexico to Guatemala in 1991 when she became part of the Regional Coordination Team.  She lived in Mesquital, west of Guatemala City, where folks were putting together their own houses near the dump. This was the famous dump project initiated by Sister Patricia Roe MM from Colegio Monte Maria. Sister Anne interrupted her Guatemala ministry when the illness and subsequent death of Sister Harriet Lum countered Harriet's preparations to become Treasurer.  Sister Anne mentioned her willingness to pick up that role again, and her offer was accepted by a grateful Leadership Team.  She again served as Congregational Treasurer from 2001 to 2005.
When Sister Anne's second term in Treasury was complete, she accepted an invitation to visit a project of Sister Margaret Donovan in Tanzania. Sister Anne welcomed opportunities to assist in handling the books, and in turn, learning the reality of Regions.  She was also delighted, in 2006, to be appointed the coordinator of the Maryknoll Sisters house in Watch Hill, Rhode Island, which is used for retreats, meetings, renewal sessions, and vacations.
In 2007, Sister Anne was assigned to Baltimore with Sister Charlotte Hobler to do pastoral ministry.  There they learned more about the Catholic Church in the USA, the role of lay expertise in building Christian community, and the fraternity that existed among the Archdiocesan groups of religious women, priests, brothers and laypersons.  Time in Baltimore trained them to recognize the needs of impoverished Hispanic and African-American communities, and of other working poor who labored without benefits and with residential needs. The Sisters went to City Hall with their parish, helped host group meetings at the parish Church, swept up leaves, got garbage and trash ready, and did errands around the neighborhood just as they had in their overseas mission sites.  The time in Baltimore placed Sister Anne in the Eastern Region grouping of Maryknoll Sisters. Here she enjoyed the Cluster meetings with D.C., PA, and MD participation, and the larger group gatherings.  Sister Anne and Sister Charlotte's return to the Center in 2015 followed the completion of the Sisters' ministry in Baltimore.
One last task for Sister Anne at the Center was to assemble the materials that would form the history of the Maryknoll Sisters' ministry in Mexico.  That history was completed by August 2019 with the help of Sister Bernice Kita.  From 2019 until her death, Sister Anne suffered from health problems, and the Sisters were grateful that she could be returned home and in peace make her last journey.  Sister Anne's path in religious life followed the attraction to God, to community, to sisterhood, to justice for the neediest, all colored by an increasing larger vision and energized by loyal service.
Sister Anne's body was interred in the Maryknoll Sisters cemetery. Due to Covid 19 a Memorial Service was held at the Maryknoll Sisters Center on August 3, 2020.