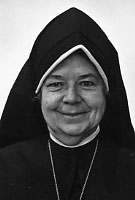 Sister Anne Clements, MM
Born: February 20, 1906
Entered: April 29, 1925
Died: December 17, 1991
On December 17th, the second day of our Christmas Novena, we prayed with the universal Church, "O Wisdom, O Holy Word of God, you govern all creation with your strong yet tender care, transform all humankind that we may share your life that lasts forever." That same evening at 7:00 p.m., our sister, Anne Clements, died in the Nursing Home where she had lived since 1980. Her transformation is now complete.
Anna Mary Clements was born of George Clements and Mary Pike, the fifth child in a family of seven children who lived to adulthood. She grew up in Uniontown, Kentucky and received her primary and most of her secondary education there. Anna didn't remember how she first came to know of Maryknoll, but in a 1981 article in the Maryknoll Magazine, she wrote that the idea could have come from a priest-uncle who, like Father Price, was a traveling pastor in the South. At any rate, she took the first steps in her journey to Maryknoll in September 1924, when she wrote on her application form: "How soon may I come? Please let me come as soon as possible and may I have a list of things needed? Am sending a check for my dowry now." In this 18-year-old's mind and heart, there were only determination and decision, characteristics that would sustain her throughout life.
On April 29, 1925, Anna Mary left her family and was on her way to Maryknoll. As recently as 1983, 58 years after the event, she recalled the experience of her entrance day in a letter to her niece, Martha, who is with us today. "When the ticket agent said: 'There's no such place as Maryknoll', I went to the Travel Aid booth and learned that in Westchester there was a society of men, called 'Maryknoll priests'!" Anna then sought the help of a priest acquaintance who also had never heard of Maryknoll, but "I told him that Mother Mary Joseph had written me from there." Together, they paged through the Catholic Directory and found a "Mother Mary Joseph" in Marymount in Tarrytown, New York. So she bought a ticket for Tarrytown! "I was dumped off the train around 4:00 a.m. into pitch darkness. There was nothing but me. So I sat on my suitcase and waited for light." At dawn, Anna located a telephone booth and cried with relief when she found "Maryknoll" listed. She was told to take a taxi. She did and she struck up quite a friendship with the driver who gave her a tour of Westchester County. She continued, "When he finally deposited me at Maryknoll it was 11:30. It didn't occur to me to explain the six hour lapse. So, that was my hallowed entrance into Maryknoll."
Anna was a postulant at the Venard until she was received into the novitiate on November 29, 1925 and given the name, Sister Mary Famula. She pronounced her First Vows on December 8, 1927 at Maryknoll and three years later on the same date in 1930 pronounced her Final Vows in Seattle, where she had been assigned upon receiving her Teachers' Certificate from Catholic University in Washington, D.C. It was from Seattle that she wrote to Mother Mary Joseph: "A straight line is the shortest distance between two points – if one doesn't lose a lifetime searching for the straight line!" Cryptically, she accounted for Mother for an irritable spell in her young life, "I was anything but a famula clemens," she conceded. With this insight, she did then what she would continue to do throughout life. She turned it over to God, "who is good," and who she knew would help her mature into a real famula clemens.
With this same candid openness and generosity of spirit, she proceded in 1931 to her new assignment in Dairen, Manchuria. While there she studied Japanese and became fluent in Japanese, a talent she would use well in Manchuria when the Japanese took over in 1931 and later when she was interned. In 1937 she was assigned to Hong Kong. When the Second World War caught up with the Maryknoll Community there in 1942, she was among the Sisters who were allowed to leave Hong Kong and live in the Portuguese colony of Macau, under what is described in the correspondence as "soft internment." Given the prevailing wartime conditions, we may safely assume that this simply means they were less confined. While in the camp, Sister served as the official interpreter between the Japanese soldiers and the many Sisters interned there. The Sisters cared for orphans, beginning with five little waifs in 1942 and having 500 by the war's end in '45.
Sister Mary Famula returned to the States in 1947 for her first leave. During that year she earned her Bachelors Degree at MTC and went back to Hong Kong where she taught in secondary school. On the side, she was involved, through NCWC, in assisting Russian people to emigrate. At the beginning of the General Chapter in 1952, she wrote to Mother Columba who had encouraged her in this work, and enclosed with her letter to Mother were a few letters from Russian people whom the Sisters had known in Dairen and she asked Mother to share them with the Sisters. In Mother's own handwriting, this letter is marked: "Read to General Chapter Delegates".
In 1956, she was appointed 2nd Councillor in Hong Kong. When her next leave came the following year, she earned her Masters' Degree in Education, majoring in Guidance, from St. Louis University. She then returned to Hong Kong to serve as Principal of Holy Spirit School in Kwun Tong, and also as 1st Councillor of the house. This school grew in enrollment until there were 1,620 children from the very, very poor Resettlement Estates. Of this experience she wrote, "The policy of our school is first of all to supply the loving care each child needs, and the teachers all do this with most admirable delicacy, far beyond the call of duty. In one year we have seen an incredible change in the whole atmosphere of the area, and our optimism is boundless." In addition to the 41 Chinese teachers, Anne shared her boundless optimism in community with Sisters Joanne Bastien, Mary Diggins and Doretta Leonard with whom she said she worked as a close-knit unity, each in her own field of health and pastoral ministry.
Sister's next leave came right on schedule in 1967. This time round, she pursued creative writing courses, always alert to develop her innate ability as a writer. Because she continued to develop this talent, she was invaluable in the Communications Department in 1973-74 when she put the Congregation's best foot forward in the many stories she produced. When she came to this work, she had been in China and Hong Kong for the better part of 41 years, in itself a tremendous reservoir on which to draw. Yet, along with her stories of South China, she also wrote of children around the world: Albert of Guyana, Three Children of Thailand, and Besa and Maria of Argentina are a few of the titles which illustrate the scope of her interest. Her imagination was as wide as the earth.
A prolific writer, but also a perfectionist, Anne was always on the lookout for a means to improve her skills. In 1975, when she first went to Monrovia, she enrolled in a creative writing course at Monrovia Adult Ed School. There she met Eleanor Humphrey, a teacher and an editorial consultant. Miss Humphrey was immediately fascinated with Anne's diary of her war years in Hong Kong and Macao and communicated her excitement to Sister Mary Lou Andrews, the Coordinator of the Senior Region: "What impressed me so much about the diary and letters she wrote to her family was the simplicity and unconscious beauty of her style, her ability to capture the events, people feelings and hardships – all colored by her deep love of God and the people among whom she lives." At Eleanor's urging this led to a proposal for a book which would be entitled Enemy To No One and in which there would be nine chapters. Within two years, a publisher had been found but by then Sister's deteriorating physical condition and progressive loss of eyesight rendered it impossible for her to see her project to completion.
Miss Humphrey had written to Sister Mary Lou Andrews, "The drama of her World War II years is crying out to be told," but we also know that the drama extends far beyond the war years. Anne Clement's story reveals a person richly endowed with grace, talent and deep compassion. Today, we say "Goodbye" to our Sister Anne who plumbed the depths of life, never satisfied to remain at the surface and we gratefully acknowledge that God has indeed transformed her into a veritable famula clemens.
We welcome our long time friend and brother, Maryknoll Father Edward Manning who will lead us in this Liturgy of the Resurrection.