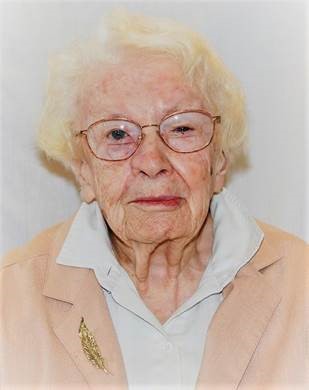 Sister Anne Karen Brannick, MM
Born: May 18, 1921
Entered: September 7, 1943
Died: April 19, 2023
"Peace I leave with you, my peace I give you" (John 14:27). This scripture verse encapsulates in a few words the life and death of our Sister Anne Karen Brannick. As gently and peacefully as she walked with her sisters on this earth, she entered into her new life with God at 11:04 PM on April 19, 2023.
Mary Catherine Brannick was born in Freeport, Illinois on May 18, 1921 to Michael and Mary Ellen (Riordan) Brannick. She had three brothers, Gerry, Tom and William, all of whom have pre-deceased her. She is survived by many nieces and nephews. Mary Catherine graduated from Aquin High School in June 1939, and four years later, in June 1943 received her Bachelor of Arts degree with a major in sociology from Rosary College in River Forest, Illinois in 1943.
Mary Catherine had long thought of religious life and a visit from a Maryknoll priest to her parish in the eighth grade planted the seeds of a mission life in Maryknoll into her heart and mind. As she wrote: "Maryknoll seemed to offer an opportunity for a total commitment to God to work among the people of the world, in whatever way God might indicate." She entered the Maryknoll Sisters at Maryknoll, New York, on September 7, 1943, and upon her reception in March 7, 1944, she received the name Sister Anne Karen, a name she retained until her death. Her first profession was two years later March 7, 1946 and she was assigned to Hawaii. In September of that year. Her final vows were in Honolulu, Hawaii, March 7, 1949.
Upon her arrival in Honolulu, Anne Karen launched right into the ministry at Catholic Social Services that would shape her life for the next eighteen years. The focus of the office was families and children and Anne Karen spent much of her time working with children in need of foster care and families who could meet this large need. She spoke of the reality of a world recovering from two recent wars. She wrote: "Things are returning to normal. Problems remain, but they are more subtle than sudden" — family breakdown, domestic abuse, mental health challenges, kids at risk — all were part of her daily work, and she loved it. She stayed on at Catholic Social Services when she was also named Superior of the large Punahou House in Honolulu from 1954-1960. At the same time, she completed work for a Masters in Social Work at the University of Hawaii in 1954 — a LOT going on at the same time, but she met the challenges head on.
In January 1965, Anne Karen returned to Freeport to care for her mother, remaining there until May 1966 when she and her mother moved to the Maryknoll house in Monrovia CA, where her mother was a patient until her death in June 1967. Anne Karen worked in admissions for the tuberculosis hospital there until 1968 when she returned to the Maryknoll Center.
For the next 35 years, Anne Karen was a pillar of life at the center — everyone knew and loved her. She was the switchboard operator for nine years. From 1968 until 1977 — years of struggle and change. Barbara Hendricks wrote this to her in 1977: "Your willingness to pitch in and give of your time and talents and energy gave us the courage to face the things we have had to face. It was a time of searching and struggling and holding on to hope in the face of much instability and unsureness in our history and the history of the Church. Because of sisters like you, we feel new hope and new life stirring up." This was a magnificent and well-deserved tribute!
From the switchboard, Anne Karen went to Research and Planning in 1977 where she served for five years as we as a Congregation learned new skills for planning for mission into the future. Anne Karen walked everywhere she could, and she knew the local bus routes by heart. Her next and longest ministry at the Center was in Rogers's Library as Administrator and also head of Research Services. She was invaluable as a source of all that could be accessed and learned in the library, and she was instrumental in the first basic computerization of the collection. She was in a very serious car accident in 1982 which somewhat limited her physically, but never quenched her spirit. She stayed in the library until 2003 when she served for three years as a volunteer in our Treasury Department.
After her renewal in 2012, Anne Karen transferred to Eden as she needed more care, and she remained there until her death. We are very grateful to the Sisters and staff of the Maryknoll Sisters Home Care at Maryknoll, New York, for their loving care of Sr. Anne Karen. We welcome Father John Lange, MM who will preside at our liturgy of Christian Burial this morning.