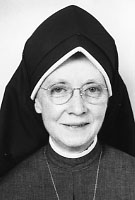 Sister Anne Lillian Layden, MM
Born: September 5, 1903
Entered: July 5, 1937
Died: July 15, 1989
On Saturday, July 15th, 1989, Sister Anne Lillian Layden died at 03:10 P.M. at Phelps Memorial Hospital.
Lillian Cletus Layden was born on September 5, 1903 in Minneapolis, Minnesota to John and Elizabeth Long Layden, originally of New Brunswick, Canada. She was the youngest of the couple's ten children.
Lillian was baptized and confirmed at the Church of the Ascension in Minneapolis, attended North High for two years and then transferred to St. Margaret's Academy where she graduated, her career in music already begun. At St. Agatha's Conservatory she gained a Certificate in Teaching Music and for the next 15 years gave piano lessons to earn her living and supplement that of the family.
During this time she became interested in Religious Life. An older sister had entered the Sisters of St. Joseph and Lillian began to reflect on what God had in mind for her. The Religious Communities serving in the States which appealed to her parents did not to her and eventually her heart and mind settled on Maryknoll. Though her parents had reservations because their daughter might have to serve overseas, Lillian moved ahead, entering on July 5, 1937. At Reception she received the name of "Sister Anne Lillian". First and Final Professions were made at Maryknoll on January 6, 1940 and 1943 respectively.
From 1939 when she was a Novice until 1954 Sister served at the Field Afar: on the Mail Desk, in the Master File,  fulfillment and Multigraph. During these same years, as many remember so well, she was the Motherhouse organist. To this day there is wonder about how this diminutive woman could reach the pedals and keys. But reach them she did and the organ came alive. Finally in 1954, Sister was assigned to the Central Pacific Region, or Hawaii, as it was then better known. The teaching of piano and sometimes organ became her full tine ministry. She was assigned for her entire tine in Hawaii to St. Ann's in Kaneohe, where twice she was First Councilor. Sister was also the parish organist at St. Ann's, faithful to the end.
Sister Anne Lillian is remembered during these years as a woman totally devoted to her students and their families. Relationships with those students who came from every nationality on Oahu were terribly important to her. For any among us who experienced the secret desire of parents for a virtuoso in their darling, it is not hard to imagine the delicate balance Sister Anne Lillian exhibited time after time as she furthered the musical talent or lack thereof of students to the best of their abilities and assisted parents to grow in wisdom and humility.
Vatican II and its subsequent changes in practices of Religious Life were hard for Sister. Clear of thought and strong of will she expressed herself and went on with life. As her health deteriorated in the late 70s, it was these very qualities of clarity and determination, along with the help of friends, that led her to leave her beloved Hawaii and to move to Monrovia and partial retirement in 1983. She accepted transfer to the Center in August 1987. A few months later she saw herself in mission praying for and with our Sisters, visiting on the 4th Floor, eating and helping in the Satellite Dining Roam.
From the beginning Sister Anne Lillian was known as extremely generous and uncomplaining and, by nature, retiring. But she was fired by a love for God and a desire to assist others however she could.
We extend our sympathy to Sister's family and friends.
Let us now join Father Edward Manning, M.M., in the celebration of the Liturgy of the Resurrection for Sister Anne Lillian.