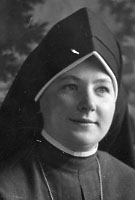 Sister Anne McGowan, MM
Born: March 4, 1924
Entered: September 6, 1944
Died: September 6, 1968
On Friday evening, September 6, word came that Sister Anne McGowan had died at Elizabeth General Hospital in Elizabeth, New Jersey.
Sister Anne McGowan was born on March 4, 1924 in Elizabeth, New Jersey. She entered Maryknoll, September 6, 1944, was professed March 7, 1947, and was assigned to South China the following year. Sister arrived to begin language study in the fall of 1948, and was one of the Sisters working in Bishop Francis X. Ford's mission when the Communist invasion resulted in their expulsion to Hong Kong. She was then assigned to Mauritius, from which mission she returned to the Motherhouse for decennial in 1957.
At this point, Sister was assigned to study. She received a Bachelor of Education degree from Maryknoll Teachers' College in 1961 and an A.A.S. in Construction Technology from Westchester Community College in 1963. After two years of responsibility for maintenance at the Motherhouse, Sister was assigned to Tanzania, East Africa, but had not completed language study when sudden illness made it necessary for her to return home. Sister made a good recovery and spoke of return to her mission.  Sister went to Stockton in the fall of 1966 where she seemed to regain much of her usual energy and strength. She was active in regional preparations for the Chapter, and was taking part in an inter-diocesan experiment, doing research on religious life. When her mother became very ill she came East in May 1968. It was during this visit that Sister progressively declined. Father Kilian McGowan, her Passionist brother, will offer a concelebrated Requiem Mass for Sister in the Motherhouse chapel on Monday, September 9, at 11 o'clock.