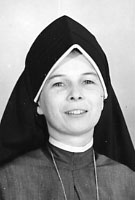 Sister Annette Mulry, MM
Born: July 31, 1918
Entered: October 31, 1947
Died: July 29, 1986
It was on this day, July 31, 1918, that Annette Mulry was born. We are gathered here then, on her birthday, to celebrate the mystery of her life, her death, and her new birthday into eternal Life, into God' s everlasting dwelling place. Each time we gather as community to pay a final tribute of love to one of our Sisters, we are compelled to reflect on the mystery of life, of death and of resurrection. We who profess to be christian also profess to believe that life has a meaning. Yet, the more we think about life, the more we realize that we cannot understand its meaning unless we are willing to confront the mystery of death. It is this mystery we contemplate in our Sister Annette this morning. It is at moments such as these that we best realize that every moment of life is precious, that each moment is, in some way, a moment of dying for at every moment we advance towards death, the moment of new life and resurrection. This is Annette' s resurrection moment, the moment when God, through infinite mercy and compassion is wiping away every tear from her eyes. It is the moment when she has the assurance that for her, there is no more death, no more mourning nor sadness. For Annette this is the moment when the old world has passed away and the voice of the God she served so well and so long is heard in her land saying, "Come, my beloved, come and behold, for you, I make all things new."
Annette Mulry was born in the Bronx, New York. She entered Maryknoll on October 31, 1947 at the Valley Park Novitiate in Missouri; she
was 29 years old. She made her first profession of vows on May 8, 1950 and her final vows on the same day in 1953. At her reception she was given the name "Sister Rese Michele".
Annette graduated from St. Brendan's High School in 1936. She received her BA degree cum laude from Our Lady of Good Counsel College, White Plains, New York, and an MA from Fordham University in 1941.
Much of Sister Annette' s religious life was spent at the Center. In 1950 she was assigned to teach at Maryknoll Teachers College; in 1952 she became Postulant Mistress at the Motherhouse and then she went to the Topsfield Novitiate in Massachusetts where she served as Assistant Novice Mistress until 1956. She returned to the Center in order to serve as Assistant Dean and Registrar of Maryknoll Teachers College. In 1964 she was assigned to Hawaii where she taught at Maryknoll High School, Punahou. In 1968, she again returned to the Center to be a staff member of a new Maryknoll Sisters' undertaking, the Mission Institute. She remained on the Mission Institute staff until she was appointed to organize the first Office of Social Concerns for the Maryknoll Congregation. She kept this post until 1982 when poor health forced her to terminate her work before the completion of her contract which extended until October 1983. In early 1985 Sister went to Monrovia, California.
Sister remained at Monrovia until 1986, battling serious health concerns. As Sister's condition worsened, it was recommended she return to New York for care. Sister Sylvia Elaine Postles, her good friend, went to Monrovia and brought Sister Annette back to New York in April 1986 where she remained until her death on July 29th at approximately 7:55 in the morning. She had served her Lord generously, loyally and effectively for more than 38 years and in the end she had been molded into the pattern of His suffering and death.
Although Annette was a gifted teacher, the work for which she was eminently suited was Social Concerns. In 1973, in response to increasing oppression in the areas where the Maryknoll Sisters worked, Sister Barbara Hendricks, President of the Maryknoll Sisters Congregation at that time, had asked Sister Annette to organize and open the Desk of Social Concerns. Annette was well prepared for this position. She was well acquainted with various social theories; she was cognizant of diverse political idealogies and theological orientations. She had a rare gift of in-depth understanding into social problems and their relatedness to the Christian message. She conscientiously invested long hours in careful research. This enabled the Congregation to make balanced judgments in taking stands on many issues. It is as a result of her work and initiative that other Communities have come to look to Maryknoll for a model in responding to issues of Social Justice.
We extend our prayerful sympathy to Sister Mary Mulry, Sister Annette's sister, a Sparkill Dominican, who has lovingly spent long hours at Annette's bedside since Annette returned to Maryknoll – a beautiful testimony of her sisterliness, her caring and her love. We also extend our sympathy to other family members and friends.
Gratefully we welcome Maryknoll Father Stephen DeMott, our Celebrant for the Eucharistic Liturgy this morning.
And to our Sister Annette we say, you who served the cause of justice so well, you who loved justice so deeply, you, just woman of God, rest in peace for "Blessed are they who thirst after Justice, the Reign of God is theirs."