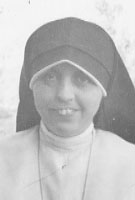 Sister Antonia Maria Guerrieri, MM
Born: December 9, 1907
Entered: August 15, 1935
Died: February 13, 2008
She was here one moment and then gone the next! That is how our Sr. Antonia Maria Guerrieri passed from us to enter her new life. She died quietly and quickly the evening of February 13, 2008, in Maryknoll Residential Care III.
A newspaper article once described Sister Antonia Maria as "a small, clear-headed woman who has spent her life doing something she enjoys." This doing something she enjoyed earned Sister Antonia Maria recognition beyond measure. The recipient of numerous citations from the government of Taiwan for her long years of service to the sick-poor, Sister Antonia Maria, was also given the highest national award from the government, "Good Person, Good Deed Award." In 1999 she was made an honorary citizen of Taiwan. Sister was chosen Alumnus of the Year in 1984 by the Marquette Medical Alumni Association, because of her many unselfish years administering to the sick as a medical missionary. In 1986 Pope John Paul II conferred on her the Cross Pro Ecclesia et Pontifice in recognition of her "zeal and work for the Church and the Holy Father." These are just a few of her many awards.
The story of this valiant woman, a Maryknoll Sister for 72 years, who ranked first in her graduating class from medical school, began more than one hundred years ago. Sister Antonia Maria Guerrieri was born Arcangiolina (little archangel) Veronica Guerrieri on December 9, 1907, the third of seven children of Antonio and Anna (Vivore) Guerrieri, in Stockbridge, MA. Lena, as she was called, earned a Bachelor of Arts degree from Mount Holyoke College in South Hadley, MA in 1929, and was conferred a Doctor of Medicine Degree from Marquette University College of Medicine in Milwaukee, WI in 1934. After a year of residency Lena entered the Maryknoll Sisters on August 15, 1935. She professed her First Vows at Maryknoll, NY on January 6, 1938 and her Final Vows three years later in Hong Kong.
Sister Antonia Maria was assigned to China in 1939. After two years of language study in Hong Kong she went to Kweilin, Guangxi Province. China was in turmoil because of the war with Japan and Kweilin was filled with refugees. She and her Maryknoll Sister companions eventually joined other refugees in pushing farther inland. Sister spent the duration of the war in Chaotung, Hunnan Province, at a small hospital that needed a doctor. By 1951 when missioners were no longer able to work in mainland China, the Sisters left for Hong Kong. For Sister Antonia Maria these years in China were ones of great personal renunciation and loss. Precious possessions were looted. The bombed out convents, the clinic, rectory and church, left her with an aching sense of "loss of place."
Sister continued to work with refugees, first in Hong Kong for two years, and then for a short time in Korea. A new assignment in 1953 sent Sr. Antonia Maria to Taiwan. She founded Our Lady of Maryknoll Clinic in Changhua. After taking a look around, she decided that outpatient work with a mobile clinic was the best way to provide medical assistance. She and her co-workers traveled to villages by truck and set up their lab and treatment room under a tree or in one of the mud-brick farm houses. She was happy for opportunities to cooperate with medical workers of other religious denominations, and grateful for assistance from volunteer doctors from the US and from a nearby US Air Force Base. With financial support from grants that she solicited, Sister Antonia Maria undertook extensive research on treatments for TB and drugs suitable for the control of hookworm.
With the turnover of the Clinic to another religious congregation in 1987, Sister Antonia Maria began a new phase of ministry, doing pastoral care in hospitals and medical outreach to people in need. "The longer I did medical work," she said, "the more aware I was of the many opportunities there are to speak of Christ and His love for all people." For her, pastoral ministry was "doing rounds for spreading the Good News."
Changes in religious life after Vatican II and the Maryknoll Sisters 1968 Chapter of Affairs were extremely difficult for Sister Antonia Maria. She was concerned about the direction the Maryknoll Sisters were taking, worrying that we were not living as Mother Mary Joseph envisioned. As recently as 2005 she wrote about praying to Mother Mary Joseph and Mother Columba "…to help us return to the rules they began and passed on to us. Times may change," she believed, "but not our vows and what they mean!"
Sister returned to Maryknoll, NY in 2000 and joined the Eden Community three years later. She was determined never to let age get in her way. In her late 90s, Sister Antonia Maria visited patients at Phelps Memorial Hospital in Sleepy Hollow, NY. Her prayer ministries were the Eastern US Region and Maryknoll employees and volunteers. Although leaving Taiwan was not easy, Sister eventually found a home at Maryknoll. She felt "…completely spoiled here at the Center. Everyone is so thoughtful and kind."
Sister Antonia Maria commented once about a certain award, "This award is for God, not me… I will serve as long as I can still draw a breath." Today, we your Sisters, honor you and thank you, Sister Antonia Maria, for your determination, your independent spirit, for not giving up on us even during the hard times, for caring for so many of us when we were sick, and for making God's love visible. You have achieved the final glory. "Come," Sister, "inherit the kingdom prepared for you from the creation of the world! (Matthew 24:34)
We welcome our guests and our celebrant, Maryknoll Father John Moran, who will preside at this Liturgy of Christian Burial as we celebrate the life of Sister Antonia Maria.