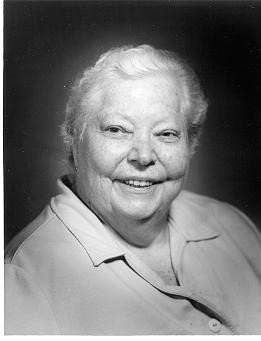 Sister Barbara Barr, MM
Born: August 12, 1928
Entered: March 7, 1948
Died: August 27, 2022
On the evening of August 27, 2022, Sister Barbara Francis Barr very quietly slipped into the loving embrace of the God whom she had so loved. Barbara Frances Theresa Barr was born August 12, 1928 to Mary Frances (Westberg) Barr and Robert Warren Barr in Ancon, Balboa Canal Zone, Panama. She had one sister, Helen E. and four Brothers: Francis R, John R., Peter J. and Thomas, all who have predeceased her.
In 1946, after graduating from Balboa High School, Panama, Barbara proceeded to study at the Canal Zone Junior College where she received an Associate in Arts degree on May 9 of the following year. On September 6, 1947, she entered Maryknoll and was received on March. 7, 1948. She made her First Profession of Vows on March 7, 1952. After finishing her studies at Maryknoll Teachers College in 1952 and receiving a Bachelor of Arts Degree, she accepted her first mission assignment to Bolivia in October 1952 where she made her Final Profession of Vows on March 7, 1953.
When asked by a fellow passenger on the boat taking her to Latin America what she would be doing in Bolivia she responded, "I'll probably be teaching art/drawing", since she had occasionally substituted for Sr. Giovanni at Maryknoll Teachers College. She quietly acknowledged to herself "the truth was that I didn't even know how to say art/drawing in Spanish". However, this was not a drawback for the natural gifts she would share in mission including singing, drawing and painting inherited from her parents, familiarity with Spanish Language, culinary arts, etc.
After language school in Cochabamba, Barbara was assigned to Guayaramerin on the border of Brazil, where Spanish was mixed with Portuguese. However, because a need presented for a teacher, she was assigned to Riberalta on the Beni River in 1954. The people were very simple and loved helping her express herself. From 1955 – 1959, she moved to Lima, Peru to teach in our Maryknoll Primary School, however, 1959 brought her back to Bolivia to teach in the Santa Ana Parish School in Cochabamba as well as to work with a youth group. It was from 1959 – 1964 that she returned to teaching art at the local high school.
For one year from 1970 – 1971, she was asked to return to the Maryknoll Sisters Center for Mission Education.
Besides the teaching skills, she admits that she learned many other skills for living in mission. These included how to use a mosquito net, foot-pedal a dentist drill, start a light motor, light the wick on a Kerosene refrigerator, use a jelly pad to make ditto copies, teach typing to 25 students with only 15 typewriters, Mechanical Art Drawing, etc.
In 1989, from Yatamoco, Bolivia, she wrote "Signs of Hope – Skills Learned Then, When and Now" in which she promotes personalized education, "phasing out skills" both in formal school education as well as programs for radio work in rural education in Santa Cruz. It was at this time that she organized 'Equipos Moviles' (Moving Teams). Her contribution of pamphlet drawings, for use in popular education, were used especially by CEPRIFEM (Center for Integral Promotion of Women).
Other gifts she shared especially in Bolivia/Peru Region were teaching techniques, educations methods based on group dynamics, workshops for rural women, redacting radio scripts for IRFA (Institute of Radio-Phonics Program), and translating for CLAR (Conference of Latin American Religious).
Other talents included 'culinary skills':  making ice cream from powder, hand beating mayonnaise, making tough Beni meat chewable, and worthy of special mention is her "chocolate to die for cake".
As she was returning to the Center for Congregation Services, she was aware that she would need to learn the new skills that awaited her. These skills would be tested when she accepted the position of ministry of Communications Office Staff Writer from 1990 – 1993.
From September l, 1991 to October 15, 1994, she was a Center Council Member for a period of three years.
In 1994 she returned to the Bolivia Region where she quickly became involved in ministry in the Santa Cruz area caring for the poor people who needed a shoulder to cry on, an ear ready to listen or a group that appreciated group dynamic skills.
Returning to the Maryknoll Sisters Center in 1999, she began her new ministry position as Development Mail Desk Supervisor until 2005, but continued as a volunteer for another four years as Mail Desk/Donor Services Coordinator.
In June of 2006, Sister Barbara was assigned from the Bolivia Region to Rogers Community at the Maryknoll Sisters Center, Maryknoll, NY. Having been an active and an involved member of the Rogers Community for many years experiencing increasing loss of vision, she applied for membership in the Eden Community in 2016 where she remained a wonderful community member, contributing her joyful spirit and singing voice!