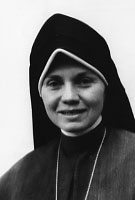 Sister Barbara Hendricks, MM
Born: September 4, 1925
Entered: September 6, 1945
Died: October 12, 2010
Our dear Sister Barbara Hendricks went peacefully home to her God on October 12, 2010 in our Maryknoll Residential Care IV Unit where she had resided since 2005. She was 85 years of age and had been a Maryknoll Sister for 65 years.
Today is a very special moment in our history as we gather to celebrate and remember our Sister Barbara, who was President of the Maryknoll Sisters from 1970 – 1978. Barbara's leadership during the critical and turbulent period following the Second Vatican Council is often credited with keeping the Community united. Because of the role she played at that time and because she reflected the qualities and mission vision of Mother Mary Joseph, Sister Barbara is sometimes viewed as our second founder. It is fitting, therefore, that Barbara left us in October, the month that we celebrate Mother's birth and her death, as well as the feast of our patron, Teresa of Avila, to whom Barbara had great devotion.
Writing on the feast of St. Teresa in 1990, Barbara reflected on our history: "In the ceaseless flow of seasons… we have journeyed through the fruitful years of the foundation, the explosive years of expansion and, more recently, the chaotic years of critical change. But in all these times, God has enabled us to keep on going and to keep on going together. And that, dear Sisters," she added, "is something for which we must be deeply grateful." I think we all echo that gratitude today as we give thanks for the gift that Barbara has been to us and to the wider ecclesial and international community, which also felt her influence.
From the outset of her time in leadership, Barbara steeped herself in our Maryknoll history and the writings of Mother Mary Joseph, grounding us in our heritage while liberating us from an institutionalized, pre-Vatican II model of religious life. "We dreamed new dreams and articulated new visions of mission," she said enthusiastically of the period following the Second Vatican Council. "We broadened our understanding of ministries and plunged into things we were hardly prepared to do. We reflected and studied and set up new structures." Looking toward the future, Barbara concluded: "All of this newness needs to be assimilated and connected to our roots."
She had a vision of what this would entail as we discerned how to live out our mission charism at a new moment in history, a moment that she called a "time of re-rooting, calling us to dig deeply into the soil of our history." She described what this would mean for us: "Re-rooting is nothing more nor less than re-appropriating our common call, our common heritage and our common history so that we can indeed have a common future." It is appropriate that we are undergoing a similar time of re-rooting now as we prepare for our centennial and embark on a process of planning our future together.
Barbara Clare Hendricks was born on September 4, 1925 in Detroit, Michigan to Marguerite Reynolds Hendricks and Charles Hendricks. She had two sisters and one brother. In "My Pilgrimage in Mission", an article written for the International Bulletin of Missionary Research (April 1987), Barbara explained the characteristics she had inherited from her parents that had served her well throughout her life: "From my mother, [who was Catholic], she wrote, I received a secure grounding in spirituality, prayer, worship, and sacramental practices. From my father, [who was Baptist] I inherited a solid, down-to-earth, rational kind of Christianity that encouraged intellectual freedom coupled with a high degree of moral integrity and an adventuresome spirit that opened out spontaneously to new people, places, and ideas."
Barbara attended Visitation High School in Detroit where she was deeply influenced by Msgr. John Hunt, pastor of Visitation parish, and the Adrian Dominican Sisters, who were active in the parish and the school. She graduated in 1943 and went to the University of Detroit where she encountered the Jesuits, whose Ignatian spirituality would become the very ground of her own spirituality. Of the influence of Father Francis Wilson, S.J. – her adviser and her religion professor – she wrote, "He bore with my ups and downs for the first year at college, until one day he asked me, 'What will your major be Barbara? For what are you preparing yourself?' Surprising even herself she answered, 'Religion, Father. I want to be a foreign missionary.' And his answer: 'I have been waiting for you to tell me that.'"
The influence of the Jesuits continued throughout her life. She developed rich friendships with a number of well-known Jesuits, including Father Yves Raguin, noted scholar and author of many works on contemplation and director of many contemplative communities throughout the world; Father Thomas Clarke, her life-long friend and spiritual director; and Samuel Rayan, the Jesuit Scripture scholar, through whom she imbibed the spirituality of mission within the Asian context. His work on the decolonization of theology resonated with her mission experience in Latin America. She introduced him to the congregation, encouraging us to become familiar with this new thinking.
Barbara entered Maryknoll on September 6, 1945, in Ossining, New York from Visitation parish in Detroit. At Reception she received the religious name Sister M. Ann Claudia. She made her first profession of Vows on March 7, 1948, and her final Vows on the same day in 1951, both at Maryknoll, New York.
She completed the work she had begun at the University of Detroit by finishing her studies at Maryknoll Teachers College receiving a B. Ed. in 1951. She loved theology and read profusely on the many theologies developing during the 60s and 70s. Barbara's light burnt late into the night during her term as President as she diligently absorbed the strong winds of change in the various theological currents popular at the time. She furthered her theological studies at Maryknoll School of Theology, Fordham University in New York City 1979 – 1981, and Catholic Theological Union in Chicago, Illinois, receiving an M.A. in Theological Studies in 1982.
Barbara's first assignment took her to Transfiguration School, New York City (1948 – 1953), rekindling a lifelong love of China. She attended courses at the China Institute, expecting to be assigned to China. The borders of China were closed in the late 1940s, consequently Barbara was assigned to the Bolivia/Peru Region in 1953. She arrived in Peru in the pre-Vatican II and pre-Medellin era, and immediately got caught up in what she described as "the secure, energetic and enthusiastic mission movement of the mid-twentieth century." Barbara taught grade school in Lima, Puno and Arequipa, Peru. She served as Principal in Arequipa and in Lima, and as Superior of the Sisters in Arequipa and Lima, 1957 to 1966.
"We missioners in the 1950s knew we had come to shore up a church whose structures were crumbling," she reflected many years later. Maryknoll missioners had designed and implemented all kinds of programs and social services. As the 1950s moved into the 1960s it became clear to Barbara that it was no longer feasible to transplant pastoral models from the North American church to the south.
"It was the faith vision and pastoral creativity of a small group of Peruvian priests, who had trained in Louvain that brought light and guidance to the local church and so many of us missioners," she recalled. "I count it one of the great blessings of my life to have known, studied under, and collaborated with people such as Frs. Gustavo Gutierrez, and Jorge and Carlos Alvarez-Calderon." Barbara brought these outstanding theologians in the spiritual and pastoral renewal of the Peruvian church and missioners from Europe and North America to meet the other Sisters. She always kept the wider community in mind as she was exposed to new ideas and a new vision of Church that led to new structures such as basic ecclesial communities Speaking of her own transformation at this time, she recalled: "I came to Latin America in 1953 with a clear idea about the mission task. We were sent to teach Christian truth, to give moral instruction, to perform charitable works, and to revive the sacramental participation within a church long in decline. But unexpectedly and most powerfully, it has been the voices of the poor during the last three decades that have urged us missioners to reinterpret the vision for our missionary activity. The evangelizing message of the poor has communicated to us an urgency to stand in solidarity with them." This realization stayed with her and she became a powerful advocate for a new way of being church and a new way of doing mission that begins with those at the bottom of society.
Barbara was involved in activities far beyond the school and parish where she served in Lima. She encouraged the insertion of religious into the ever widening slums surrounding the city. She was consultant for the Sister Formation Research Team involved in the determination of the needs of religious communities in Peru (1961 – 1964); a member of the Apostolic Nuncio's Committee for the Placement and Orientation of North American Women Religious Missionaries, Lima, Peru, (1961-64); and moderator for the Young Christian Workers (Women's Groups) Arequipa, Peru, (1966 – 1969).
She was also busy with congregational affairs, serving as a delegate for the Peru Region to the General Chapter in 1964, and Chairperson of the Regional Governing Board for the Peru area 1969-1970. She attended the congregational meeting of April 1970, where she became known for her clarity of vision and her ability to articulate and summarize the views of the group.
Looking back on her rich mission experience, Barbara singled out relationships rather than works or ministries as the most significant influences in her missionary pilgrimage: "When all is said and done, and we look back over our lives," she said, "a clear, basic, and remarkable truth emerges: Christian commitment is communicated through people. Scripture, doctrine, and other tradition can be lifeless without the living, breathing, inspiring, challenging and loving gift of friendship experienced in a willingly shared responsibility for the transformation of people and of our world." ("My Pilgrimage in Mission", International Bulletin of Missionary Research, 1987) As a member of the Peruvian Conference of Religious Women, Barbara realized that the most dynamic energies for renewal in the Latin American Church came from the women religious who had responded quickly to the call of the Second Vatican Council and of Medellin.
She represented the Peru Region as Delegate at the 1970 General Assembly. There she was elected President of the Maryknoll Sisters Congregation and served two 4-year terms in this position, 1970-78. She was an example of servant leadership in the early post-Vatican period when so many changes were taking place in the Church and in religious life. She continued to grow in her appreciation and understanding of the critical role of women in Church and society. Looking back on this period, she said:
"As president of the Maryknoll Sisters Congregation from 1970 to 1978, I would continue to recognize this growing strength of women's creativity in the church and I would also find it again palpable in the Leadership Conference of the Women Religious (LCWR) in the USA, and among my own missionary sisters working in twenty-two countries of the world. ("My Pilgrimage in Mission")
In 1995, her dream of going to China was fulfilled as she gave retreats to the Sisters in Hong Kong and visited Shenyang (Manchuria), Beijing and Xian. "Those eleven days have made a strong impact on me." She wrote in her Christmas letter of 1997. "I feel that I have seen the birthing of a new Church in China, one that was presumed to have been destroyed, but which is now emerging from the ashes of persecution and is full of life, enthusiasm and faithful witness."
During her two terms as President of the Maryknoll Sisters, Sister Barbara was often called upon to be the public face of the Congregation. Her wisdom, her belief in the universal call to mission, and her total dedication to the mission of Jesus as well as her ability to verbalize her convictions made her a popular speaker.
She was active on various national and international boards and committees such as the Dominican Leadership Conference, the Leadership Conference of Women Religious, the U.S. Catholic Mission Council, the US Catholic Mission Association, and SEDOS (Missionary research and documentation Service).
Regarding her own community, Barbara was confident and optimistic of the future. As her second term in leadership came to an end, she wrote:
"I think that all of our Maryknoll communities are in the process of rediscovering our heritage and identifying new forms and symbols for its realization today. Intuitively, we know we are all called to the universal mission of Jesus and His Church. By our charism, we have a strong tradition based on the mystique of martyrdom and the experience of a faith community of brothers and sisters. Our challenge today is to touch our roots and create meaningful ways of being a community which is truly personal and communal in the way of our founders." ("Maryknoll is Our Home," Channel, 1978) Barbara was a woman of prayer and a true contemplative in action. She wrote:
"Mollie Rogers had described a missioner as 'a contemplative in action' and these words were often in my mind and heart. I began to read the works of St. Teresa of Avila and St. John of the Cross, the Spanish mystics, searching for the inner resources which seemed so necessary to me … They have been lifelong guides."
John S. Dunne was one of her favorite theologians. In his book, The Peace of the Present, Dunne talks about finding the deepest desire of your heart… "[T]he only way to follow your heart's desire is contemplation," he wrote. Reflecting on this Barbara says, "The more I think about this view of the deepest desire of the heart, the stronger is my belief that contemplation (or mysticism) in our lives is greatly needed in a new time of mission. Reconciliation is a model of mission from the heart; our challenge is to grow in mysticism, praying from the heart and doing mission from our hearts as a community of memory and hope." ("Mission, Mysticism and Community", Maryknoll Affiliate Conference, 1997)
Following her terms on the Central Governing Board, Sister Barbara returned to South America to become the Director of Orientation for new missioners at the Maryknoll Language Institute in Cochabamba, Bolivia, 1982 – 1987. She was assigned to the Maryknoll Center in 1988 becoming the Manager of Communications and then the Director of the Mission Institute from 1990-93
Two years of research on Mother Mary Joseph's spirituality, 1993 – 1995, led her to writing a series of essays on Mother's life and charism, and to giving retreats on this topic to Maryknoll Sisters around the world until 1999. Barbara was converting these essays into a book on the life of Mother Mary Joseph when her health began to fail. We can rejoice that a revised version of these essays and her biography of Mother Mary Joseph will be published for our Centennial.
Those who worked with Barbara and knew her best describe the gifts and skills that made her such an ideal leader during difficult times: "She was able to unite opposites and celebrate the diversity in the community." they recall. "She had the gift of focusing on essentials while articulating the vision which people understood and to which they responded."
Sister Barbara accomplished a great deal for the Church and Maryknoll during her two terms in office. She did this through the qualities of her person and the witness of her life. "Barbara was a truly self-disciplined person, intellectually gifted with an orderly mind and a marvelous sense of humor. It was fun to work, pray, and play with Barbara," her friends attest, adding that Barbara was also an inveterate optimist. They point out that her optimism was firmly rooted in the belief that always and especially during our most difficult times, "The Spirit had been with us all along as we groaned and struggled, rejoiced and moved into new times."
The Spirit is with us today as we bid farewell to this incredible woman who touched each of us with her vision, humor, optimism, faithfulness to our heritage, deep spirituality and commitment to mission. The Spirit enabled us to move into these new times and will continue to lead us into the future.
We welcome Barbara's family and friends and extended our condolences to them.
We are happy to welcome our Maryknoll brother, Father Michael Duggan, who will preside at our Liturgy of Christian Burial.