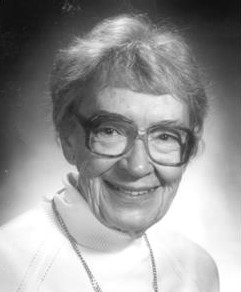 Sister Barbara Masterson, MM
Born: August 20, 1928
Entered: October 5, 1946
Died: July 3, 2018
Sister Barbara Masterson was born in Syracuse, New York on August 20, 1928 to Florence (Lesnan) Masterson and Charles Masterson. She had one brother, Charles Jr., and three sisters, Irene, Genevieve, and Mary.
Sister Barbara graduated from St. Michael's High School in Springfield, MA in 1946. For some time, she had been aware that she wanted to be a missioner and had read of Maryknoll in the Maryknoll Magazine. She entered the Maryknoll Sisters Congregation on October 5, 1946 from Holy Cross Parish, Springfield, MA. Six months later, at her Reception she was given the name Sr. Rose Christelle, which she retained until Vatican II when she returned to her baptismal name. She made her First Profession of Vows on April 6, 1949, and her Final Vows on the same day in 1953, both at the Maryknoll Sisters Center.
Her friends remembered her joy at being sent to study nursing at St. Francis Hospital in Hartford, CT from 1949 to 1951. She was then assigned to Bethany, our Maryknoll nursing home, until 1953. Her next assignment was to the Sisters' hospital in Monrovia, CA from 1955 to 1959. She was then assigned to Hawaii where she worked at the Children's Home in Paia until 1961 when she was re-assigned to Wailuku, both on the Island of Maui. She returned to the Motherhouse in 1968 to complete her education at Mary Rogers College and Brockport State University in New York where she received her Bachelor of Science in Nursing in 1973.
Since Sister Barbara had expressed an interest in mission in Bolivia, she was very happy when she was assigned to nursing in Riberalta Hospital. She was loved by her patients and often visited them when they were discharged. She was also loved by all the Sisters with whom she lived and always eager to be helpful.
In 1979 she moved to Cochabamba and spent the next eight years working in the Archdiocesan Family Life Center (CEVIFA). In 1987 she returned to the Maryknoll Sisters Center where she gave Congregational Health Services until 1990. In 1991 she returned to Bolivia where she worked with women in health services as well as in formation of Basic Christian Communities in the parish of Cristo Rey in Cochabamba until 2001.
After 27 years in Bolivia, she decided that the time had come for her to retire in Monrovia. In 2008 she returned to the Maryknoll Sisters Center where she remained until her death on July 3, 2018.
Sister Barbara once wrote a line that best sums up her life: "Mission is where we are and I'm willing to serve wherever I can".
Father Martin Lowery, MM presided at the Liturgy of Christian Burial on July 6, 2018.