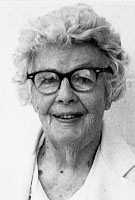 Sister Beatrice Stapleton, MM
Born: May 24, 1903
Entered: July 5, 1932
Died: October 1, 1990
At 7:00 P.M. on October 1, the feast of St. Therese of Lisleux and on the eve of the Chinese Moon Festival, Sister Beatrice Stapleton died in our Maryknoll Nursing Home. As with Therese, Bea had intense family love and a love of the missions; these strands blended with a vibrant love of the people of Hong Kong and became threads woven into a life lived wholly given to God through Maryknoll.
Matthew and Alexia Brady Stapleton had seven children of whom two became Maryknoll Sisters, Bea in 1932 and Helen in 1938. Bea was born in 1903 in Rhinelander, Wisconsin, into the home of the large and loving Stapleton family. Their father served as mayor and postmaster in their small town and their mother was the focus of home and of Church life in the parish. Bea was educated at Milwaukee State Normal and at Marquette University where she completed advanced courses in Education. While teaching in the Milwaukee Public Schools, a friend, Betty Hirschboeck, later our Sister Mercy, spoke so enthusiastically of Maryknoll that Bea entered the Novitiate in 1932 and at Reception received the name, Sister Matthew Marie. Two statements from her novitiate days encompass in a succinct way the realism and strength of this woman. When she was asked if she had any special difficulties, she responded, "Just plain lonesome at times;" and, asked if she was happy, she responded, "I have never been happier in my life." Her first vows were made in 1935 here at Maryknoll and, immediately after vows, she was assigned to Hong Kong where, except for the war years of 1942-46, she remained until 1971.
How does one telescope thirty-five years of teaching and living? Bea listed the work part herself: "Homeroom and Religion and Art classes all morning; afternoons, home visiting, Young Christian Student Groups, consults with parents, special help for children who need me, lesson plans and making tapes, and notebook corrections!" Her love of teaching was contagious and many of her students are now teachers themselves. In the Community, she was a joy, entering with enthusiasm and zest into the daily work, the community entertainments and even the mandatory Hong Kong hikes through the hills. Those who lived with her over the years, friends from the Region, speak of Bea often, and always with a laugh of remembrance say, "She was wonderful to live with!"
At the age of 68, she was, as she said, "superannuated" by the British and, as she had not studied Chinese, she wasn't sure what would be next for her. It became clear to her during her Renewal in 1971, that her much-loved elder brother, needed her presence in the family home. He was a retired District Attorney and judge and very well-known in Door County. The gift that integrated Bea's life was her sense of humor, and it is evident in her request to Sister Barbara Hendricks: "Help, Help! One retired judge wishes an extension of the leave of his Sister-sister. He is willing to tolerate an overdose of Hong Kong, morning, noon and night." Her request was approved and Bea spent nearly ten years in Wisconsin, caring for her brother, showing slides of Hong Kong "to anyone who would watch", ministering in the parish and the school and in general, being a mission presence, leavening the community with her wholeness and holiness. And throughout it all, she never lost her wonderful sense of humor – keeping all things in proper balance. At one point, she was told to go on a special diet and in a letter she writes, "When Sister Mary Lou visits me during the year, I trust she can report some shrinkage!"
After her brother's death, Bea was here at the Center for five years, at Monrovia for five years and she returned here in April of this year to take up residence in the Maryknoll Nursing Home. When asked how she saw herself in Mission here she responded, "Eat without complaining; take what is given; welcome those who knock". The mission life she lived so well is summed up in that response and in one she made to a question regarding our continued Maryknoll Sisters presence in the instability of Hong Kong: "We give the best we can as long as we can." It was a creed that guided her whole life.
Bea's Final Vow ceremony was in Hong Kong in 1938 with Bishop Francis Ford presiding. Her letter to Mother Mary Joseph noted that the altar rail had been removed for the ceremony and she comments: "So there was no one in the way, no one to prevent me from going straight to God". Today we pray in grateful joy with Bea who has now gone "straight to God," and with all the Stapleton clan now gathered in heaven. We pray in thanksgiving for the gift of this woman's life which has graced us with a fire for mission, a hunger for God and "the saving grace of a sense of humor".
We extend our sympathy to Bea's family, especially the Brady cousins who have been her family these many years; to her former students whose lives were shaped by Bea; and to the people of Sturgeon Bay, Wisconsin, who loved her and whom she loved in abundance.
We welcome Father Ron Saucci, M.M., another Hong Kong missioner, who has come to be with us and lead us in our celebration of the Eucharist, as we give thanks to God for the gift of Life given us through Jesus and through our sister, Beatrice Stapleton.