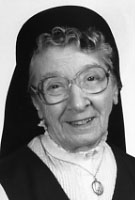 Sister Benedicta Deichelbohrer, MM
Born: August 30, 1903
Entered: April 5, 1929
Died: September 2, 2000
"I chose this life because I wanted to walk hand in hand with Jesus and all that I do is done for Him." These are the words that Sister Benedicta wrote regarding her vocation to Maryknoll and the religious life. They correspond with the words Jesus speaks to us in today's Gospel: "Do not be troubled; trust in God and trust in me." Sister Benedicta lived out this commitment to walk hand in hand with Jesus and to put her trust in God for seventy-one years as a Maryknoll Sister, until she died suddenly in our Assisted Living Unit on September 2, 2000. She had just celebrated her 97th birthday on August 30, 2000.
Rose Susan Deichelbohrer was born in Cleveland, Ohio on August 30,1903. She was one of seven children born to Lawrence V. and Bertha Tillman Deichelbohrer. She was one of seven children. Her brother, Brother Fidelis was one of the first Maryknollers to serve in Tanzania.
When Rose was about eleven years of age, the family moved from Winnipeg Manitoba, Canada to the Saskatchewan Prairie. Since there was not much possibility of farming, the family turned to raising livestock.
Rose attended a one-room school house but the education was faulty. It was not until five years later, when her family moved back to Detroit, that she completed the eighth grade.
At eighteen years of age, after a Mission in her parish church, Rose wrote: "I began to wish to live my life for God alone in His Vineyard." However, at this time, she was ill. After receiving treatment, Rose began her long mission journey. Inspired by the needs in the missions, she worked for the Propagation of the Faith going from door-to-door begging support for missions around the world. During this time, a friend mentioned that she was applying to Maryknoll and Rose requested admission also.
Rose, at twenty-six years of age, entered Maryknoll from Saint Paul's Parish in Wyandotte, Michigan on April 5, 1929. At Reception, she received the name Sister Mary Benedicta. She made her First Profession on June 24, 1931 and three years later made her Final Profession.
All of Sister Benedicta's religious life was spent in and around Maryknoll, New York in a variety of jobs "to help to keep the home fires burning." She worked in the seminary kitchen for eight years and in the post office full-time for two years continuing to help out when needed until 1962. Sister also worked in the Promotion Department Offices and was the sacristan at the Center and at Saint Teresa's Convent.
Sister Benedicta's ministry as Extern Portress for the Cloister began in 1937 when she was substitute Portress. She was the Extern Portress at the Cloister for some thirty-six years. In an interview for the celebration of her Golden Jubilee, Sister described this time as Extern Portress for the Cloister "as a great privilege" and stated that "it helped her spiritually." The Cloistered Sisters in talking about Sister Benedicta and her time there commented that: "She was Deichelbohrer a woman of deep faith and simplicity who filled her role as Extern Portress with great fidelity and love for thirty-six years. She adapted readily to the various companions who joined her in this service and was a welcoming presence to all who came for retreat or to visit the Sisters. The chaplains, many who became her life time friends, appreciated her hospitality and service as sacristan."
From 1974 untill 1987, Sister worked in the care of our Maryknoll grounds and gardens. She possessed a great love of nature. In a note she wrote about her family and her younger years, she mentioned: "I have always been a nature lover. At the age of five, my mother said that when given a chance to pick out a gift, I always chose a horse or any other animal rather than a doll. I have always tried to defend speechless, abused animals and birds." In reflecting on her relationship with God she wrote: "I just cannot thank God enough for His trees, His flowers and all the beautiful scenery throughout our world. Praise be to God our bountiful Father!"
In reflecting on her fifty years in Maryknoll, Sister Benedicta stated: "I think that everyone has a mission vocation to help every person in need. We should be all things to all people, especially those who are exploited and downtrodden. I thank God for my vocation and I thank my beloved Maryknoll for putting up with all my blunders! They have been wonderful years."
In 1983, when Sister asked to change from the Senior Region to the Center Community she stated: "I am usually full of aches. Anacin and Bufferin keep me going. After working for a few hours, I find myself very tired and have to rest. I would like to discontinue any indoor work, and without a definite schedule, work outdoors when I feel equal to it, especially during the cooler weather. Because of the above and my age, I would like to semi-retire." This request for a change of Region and semi-retirement was written just a few days before her eightieth birthday! Sister Benedicta loved her work and always continued to strive to serve the community in the best way possible. All at the Center can attest to the fact that Sister Benedicta continued to tend to our grounds by supervising her friends, David and Mary Hoysic, as they worked landscaping the Center's many gardens.
When speaking about her life at the Center, Sister Benedicta mentioned: "The Center is quite suitable for me. I do not mind a large house, though I do like enough quiet time. The presence of God's beautiful creations outdoors, His plants and all living things speak to me of His loving care for us." She loved Maryknoll and her mission vocation.
Sister Benedicta was assigned, along with two other Sisters, to the Prayer Ministry for Vocations. Since we had three women enter Maryknoll just a month ago, we can see that her participation in this mission assignment has born great fruit.
In a note regarding her burial wishes, Sister Benedicta wrote: "I am very grateful for every kindness expressed to me. All of our Sisters are kind and wonderful. If I have at any time unknowingly injured anyone, I hope they will forgive me. I ask your prayers for my soul." Today, as we begin to celebrate Sister's entrance into new life, we wish to thank her for all her kindnesses expressed to us, her Sisters, and her friends, and for keeping "the home fires burning" during the past seventy-one years. We promise to remember her in our prayers.
I wish to extend a welcome to our brother Maryknoller, Father John Hudert, who will preside at this Eucharist Liturgy of Christian Burial for our friend and sister, Sister Benedicta Deichelbohrer.