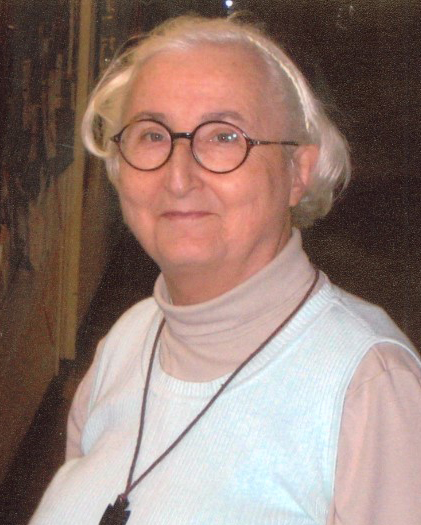 Sister Bernadette Cordis Duggan, MM
Born: September 30, 1937
Entered: September 2, 1958
Died: May 6, 2020
Sister Bernadette Cordis Duggan died peacefully on May 6, 2020, at the Maryknoll Sisters Center. She was 82 years old and had been a Maryknoll Sister for  almost sixty-two years.
Sister Bernadette Cordis was born Barbara Eileen Duggan, on September 30, 1937, the second child and second daughter to Peter Duggan and Elizabeth (King) Duggan in Malden, Massachusetts. Three months premature, Bernie's first "home" was an incubator and there she stayed until her 2 lb. 6oz. tipped the scale at 5 lbs.  She was a sickly child through childhood, only blossoming into health when she began high school.
Both parents were born in Ireland, each having emigrated to the United States in the early 1920s. They were gentle and loving with the children, hardworking and deeply committed to their Catholic faith. Bernie's only sibling was Mary who was a year older, yet the girls grew up with two boys, Paul and Donald, foster children whom their parents welcomed and whom Bernie always referred to as her brothers.
Bernie began Cheverus Primary School in Malden, MA in  1943, graduating in June, 1951. It was in 8th grade that she became acquainted with Maryknoll through The Field Afar and made regular visits to the Sisters in Boston Chinatown. After graduating from Cheverus High School in 1955, she applied to enter Maryknoll. Advised to wait a year, she decided to pursue her professional interest at Catherine Laboure School of Nursing in Boston where she earned her Registered Nurse Diploma.
After graduation in June 1958 she applied again to Maryknoll and entered on September 2, 1958 at Maryknoll, NY. At Reception, on June 24, 1959, she was given the name Sister Bernadette Cordis, a name she retained for the rest of her life. She made her First Profession at Maryknoll, NY on June 24, 1961, and her Final Profession also at Maryknoll in 1967.
Immediately after First Profession, she was assigned as a staff nurse at Bethany Convent, the Maryknoll Residence for ill or elderly Sisters, until 1965. That fall, she attended Salve Regina College in Providence, RI, and in two years completed the requirements for her Bachelor of Science degree, awarded Magna Cum Laude. She then worked for a Master's degree in public health at the University of Minnesota where she was inducted into the Sigma Theta Tau National Honor Society of Nursing, Zeta Chapter, May 19, 1969.
Bernie's first overseas mission assignment was to St. Joseph's Hospital in Manapla, Philippines from 1970-1974 where she supervised a TB outpatient clinic and taught student nurses. From 1975-1985, she worked in Mindanao where she initiated a paramedic training program for volunteer health workers, preparing them to return to their villages with basic skills and practical knowledge of herbal medicine. Throughout her mission life, Bernie made it a practice to prepare local co-workers to take over her work.
In 1983, the Catherine Labouré College nominated Bernie for the Distinguished Graduate Award, to which Bernie typically responded: "Rather than distinguished, I would call myself ordinary, but steadfast in service by the grace of God and support of my community."  Because Bernie would not be available to accept the Award personally in 1983, they kept her name on file and conferred it on May 10, 1986. The citation reads in part: "Indeed, by her steadfast . . . and devoted service to the [neediest] of God's children, she has distinguished herself and most truly deserves to receive the 1986 Distinguished Graduate Award."
From 1985 – 1988, Bernie did Congregational Service in the Center Health Unit. In a previous community-wide survey, she had indicated her availability for new mission fields and was assigned to Bangladesh and prepared for it by taking a quarter of Clinical Pastoral Education at New York University Medical Center in 1989.
Bernie arrived in Bangladesh in October 1989 and, following three months of language study, began work in January 1990 at St. Paul's Hospital in Shelabunia where Sister Marion Puszcz was the doctor in residence. After Sister Marion completed her contract in 1994, Bernie stayed on another ten years to serve the people in Shelabunia together with the local Sister Associates of Mary, Queen of Apostles with whom she lived.
Following her fifteen years in Bangladesh, in 2005, Bernie was asked to consider Cambodia for her next mission.  She recognized that it was time she re-insert herself into a Maryknoll Community and felt welcomed in Cambodia to pursue a ministry she knew she could do.  The Maryknoll Sisters in Bangladesh blessed her as she departed in 2006, and thanked her for her incomparable dedication. They specified how much they would miss her Irish story-telling gift.
All along in mission, Bernie's greatest cross had been her inability to learn the local language — in Philippines, in Bangladesh, and now in Cambodia. Although she was professionally able to minister at the "Seedling of Hope Hospice for AIDS Patients," the dying looked more for her compassionate counsel on their final journey, and increasingly she recognized the critical difference her lack of language made at this time of their lives.  After two and a half years of really giving her best, Bernie decided it would be more gracious of her to return to the Center, a decision with which the Regional community concurred.
Bernie's service at the Center was deeply appreciated. The Sisters she accompanied to the hospital remember how kind and tenderly solicitous she was, sitting with them for long hours, helping them understand the doctor's instructions, and ensuring they were comfortable, even in the waiting rooms. In short, their appreciation summarizes Bernie's life of total commitment, not only as a nurse, but especially as a religious. Bernie gave everything she had in thankfulness. The year before she was to conclude her mission in Cambodia, in 2007, Bernie celebrated her Golden Jubilee with her entrance group at the Center. "All this year," she wrote in her Christmas letter, "I have been thanking God for the gift of my vocation."
Much more could be written about Bernie. She had a habit of serious reading, of taking courses and workshops to update herself in her field, in theology, and in self-knowledge. The virtue that stood out most in her, however, a virtue so essential in community, is that she was always extremely charitable in her opinion and comments of others. Bernie always had a kind word for and about everyone.
Bernie was interred in the Maryknoll Sisters cemetery with her Sisters who had not survived the Covid 19 pandemic of 2020.