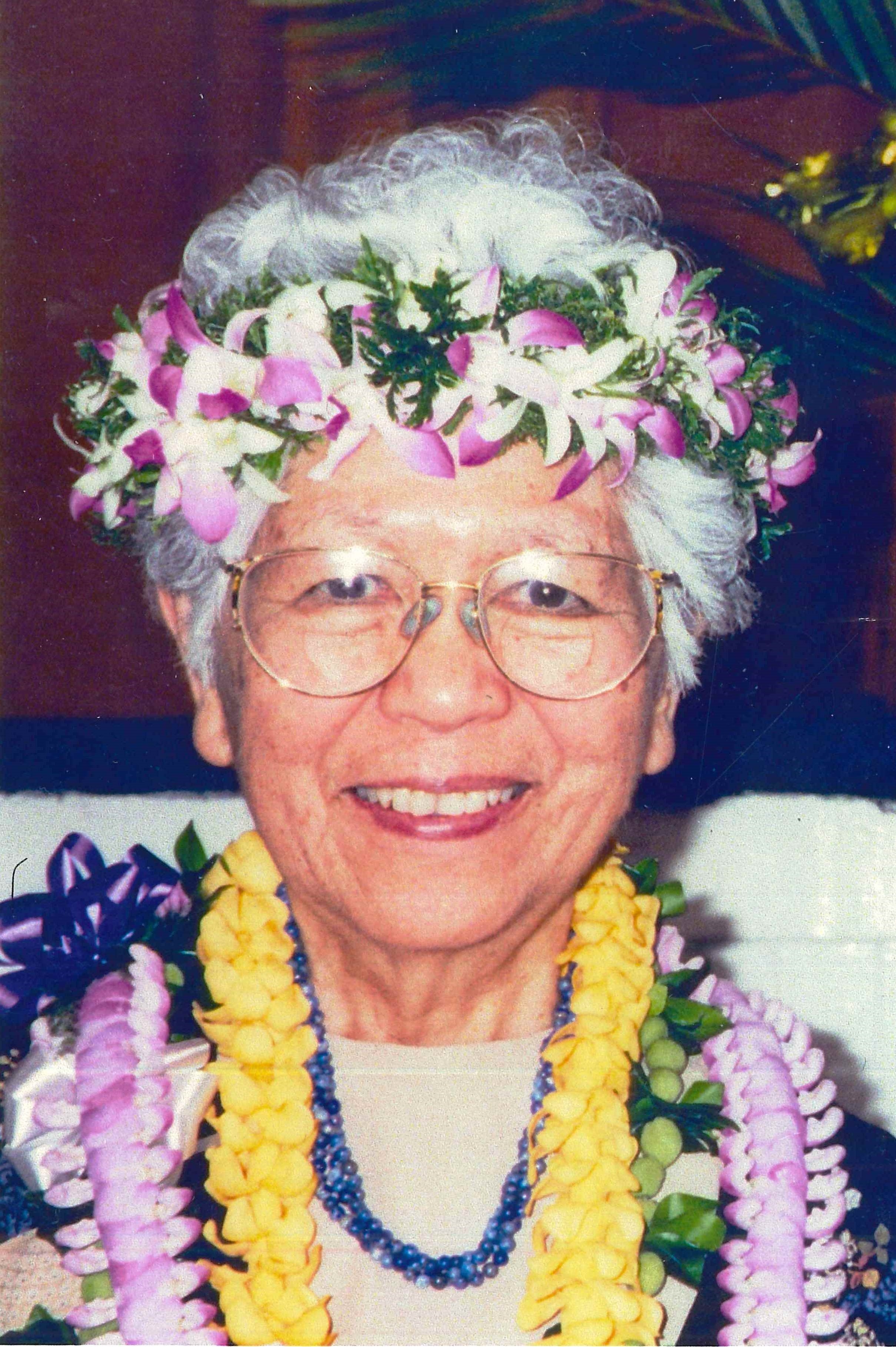 Sister Bernadette Higa, MM
Born: October 12, 1925
Entered: February 1, 1951
Died: March 12, 2019
"My vocation had its beginning with my conversion," Bernadette said, in answer to the priest who questioned her at her canonical examination. When our Sister Bernadette Shigeko Higa died on March 12, 2019 at the Maryknoll Sisters Center at Maryknoll, NY, she was 93 years old and had lived that vocation lovingly and faithfully for 68 years.
Born Shigeko Higa in Kaupakalua, Maui, Hawaii, on October 12, 1925 to Kame (Miyashiro) Higa and Ushi Higa, she had two brothers and seven sisters. She is survived by her sister, Sr. Mary Louise Higa, a Maryknoll Sister, and two other sisters, Theodora and Mildred, and one brother, Harry.
Shigeko attended Makawao and Kaupakalua Elementary School on the island of Maui. Release Time Religion Classes were offered to Catholic students in public Schools in Hawaii. The children in eighth grade had a choice: either attend Release Time classes, or help clean up the school yard. Shigeko was not interested in catechism, but she was even less interested in cleaning the school yard so she join the class that would change the course of her life. Shigeko loved the bible stories. Her favorite, she said later, was the story of the two travelers on the road to Emmaus. She quoted the words, "Didn't our hearts burn within us when Jesus explained the Scriptures to us?" She realized, she said, that deep in her soul, she had felt the same burning desire and wanted to share that joy with others.
After Shigeko graduated from Grade 8, she went to Maui High School for one year and then joined her sister Edna, who worked as a domestic worker in Honolulu. There she enrolled in McKinley High School and found work as a domestic worker with the Hargrave family who lived on the Punahou School campus. On December 7, 1941, Japan bombed Honolulu. About a week later, a soldier came to the Hargrave residence insisting that Mrs. Hargrave dismiss her maid because she was Japanese and not allowed to live on Punahou School property. No amount of argument could persuade the soldier that Shigeko was as American as he was. Shigeko had to move out losing her job and a home. Mrs. Hargrave, her employer, was very kind and found living accommodations with a friend in Manoa where Japanese were permitted to live. Two years later Shigeko was allowed to return to work for the Hargrave family on the Punahou campus.
This move proved providential for Shigeko. The Punahou School Campus was across the street from Sacred Heart Parish Church and Maryknoll Schools. One day, Shigeko found the copy of the old Baltimore catechism she had kept since her 8th Grade Release classes. She gathered up all her courage, walked across the street, rang the doorbell clutching her catechism and asked to see the priest, "Is this the church that teaches this religion?" she asked Fr. Coulehan, MM, showing him the catechism. "It was indeed," he said and welcomed her. He introduced her to Sister Francis Regis (Anna McAnany) who helped Shigeko complete her studies for baptism. Shigeko was baptized Bernadette Shigeko Higa on August 14, 1943. She transferred to Maryknoll High School graduating in 1945. She wrote in a little autobiography, "My instructor in Catholic Doctrine was a Maryknoll Sister. I was just as interested in this Sister as I was in the faith. I wanted to be like that Sister… and to teach what she was teaching." She found out she was a Maryknoll Sister and a missionary. "Maryknoll was for me!" she wrote.
That same year, Bernadette began studies at St. Francis Hospital School of Nursing in Honolulu. She became a Registered Nurse in 1949 and worked at St. Francis Hospital before entering the Maryknoll Sisters' Novitiate at Valley Park, MO on February 1, 1951 from St. Stephen's Parish in Honolulu. At her Reception she received the religious name Sister Marie Bernadette. She made her First Profession of Vows on September 8, 1953 at Valley Park, MO and spent the rest of the year working in the Out Patient Clinic at the Maryknoll Sisters Motherhouse, Maryknoll, NY.
In 1954 she was assigned to Queen of the World Hospital in Kansas City, MO where she made her Final Vows on September 8, 1959. Queen of the World Hospital was an integrated hospital where African American and white doctors could work together and treat their patients in this integrated hospital. This was a new experience for Bernadette. She said, "This was the first time I met African Americans…. the [Black] nurses on our staff were very kind and gentle—just the type you'd want when you are sick." Sister Bernadette noticed that some doctors working in the hospital were skeptical at first of the sincerity of the Sisters working for integration. "Two things convinced them," Bernadette said, "our Sisters in the march in Selma and a visit from Sister Geneva Lassiter, our African American Sister, who came to visit for a few days. They were amazed that she lived in the convent with the Sisters." So powerful was this witness at the time that one of the doctors, who was most outspoken and skeptical about nuns in general, became a Catholic and brought his whole family with him.
Bernadette was assigned to Taiwan in 1959. After language study, she worked from 1960 to 1972 with aboriginal people in a pre and post-natal clinic, well baby clinic and held nutrition classes.
In 1973 Bernadette returned to St. Francis Hospital in Hawaii for a refresher course in General Nursing, and studied at Chaminade College of Honolulu from 1973 to 1976 where she obtained a Bachelor's Degree in General Studies. After doing Congregational Service at Maryknoll, NY from December 1976 to December, 1978, Bernadette was assigned to the Congregation's new mission in Bangladesh. While waiting for her visa to Bangladesh, she returned to Honolulu and worked in a Surgeon's clinic for a year.
Religion had always had deep meaning for Bernadette and she was very sensitive to the influence religion had on people's customs and lives. She had lived in Taiwan, a Buddhist nation; now she would experience life in a Muslim nation. Bernadette knew there was something to learn from all religions. "The Muslim calls to prayer five times a day," she said, "made me think more about my obligation to pray."
In Bangladesh, Bernadette was involved in Natural Family Planning for three years. In 1984 she requested to join the Hawaii Region. Her request was granted. She wrote, "I returned to my native land in 1984, 33 years after I had left home." In Hawaii she did volunteer work in the Regional office, visited the sick in hospital and in their homes. She was an Assistant Chaplain at Hawaii State Hospital where she studied Clinical Pastoral Education (CPE). She visited and counseled patients in a mental hospital and provided religious services until 1994. Then she returned to Maryknoll, NY where she worked as a clerk/typist in the Admissions Office until her assignment to the Sisters' retirement house in Monrovia, CA in 2006. Sister Bernadette returned to the Maryknoll Sisters Center in New York in 2013 due to health needs. There she resided until her death.
During her last illness, Sister Bernadette was lovingly cared for not only by the nurses and aides but also by the consoling and compassion presence of her sister, Mary Lou and her devoted niece Karla Brenner, who spent long days and vigils at her side.
In 2002 on the occasion of her Golden Jubilee as a Maryknoll Sister, she wrote "Fifty years as a Maryknoll Sister have been years of learning about people, languages, customs and religions. Our sharing has brought us closer to the God we worship. In some mysterious way, God has touched everyone—we are all children of God and therefore sisters and brothers."
We are happy to welcome here this morning Sr, Bernadette's family and friends. We are also pleased that Fr. Robert Lloyd, MM will celebrate the Mass of Christian Burial.