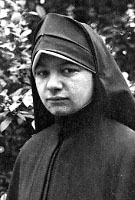 Sister Bernadette Mathieu, MM
Born: January 21, 1905
Entered: April 30, 1925
Died: October 24, 1999
Today is Mother Mary Joseph's birthday and it seems fitting that we gather this morning to celebrate and remember the life of our Sister Bernadette Mathieu who was the sole remaining pioneer of the Maryknoll Contemplative Community, dear to Mother Mary Joseph's heart. Sister Bernadette died peacefully on Mission Sunday morning, October 24, 1999, in the Residential Care Unit at Maryknoll, New York. She was 94 years of age and had been a Maryknoll Sister for 74 years.
Marie Bernadette Mathieu was born in Terrebonne, Province of Quebec, Canada on January 21, 1905 to Albert and Albertine Huberdeau Mathieu. She was the youngest of seven brothers and one sister. Her youngest brother, Charles, was a Brother of Charity in Canada and was missioned in Peru for many years.
Marie Bernadette's father died in 1908, when she was three years of age. When she was ten, she was taken to live with her Aunt and Uncle in New Bedford, Massachusetts. The couple had no children and so adopted Marie Bernadette. She attended grammar and high school in New Bedford, Massachusetts which was a difficult adjustment since her primary language was French.
Her aunt was a friend of the mother of Maryknoll Father John Considine, so the Field Afar magazine found its way into her new home and thus her attraction to Maryknoll began to unfold. Marie Bernadette entered Maryknoll on April 30, 1925 at Maryknoll, NY. At Reception she received the Religious Name of Sister Ernestine which she kept until the option was given to return to her Baptismal name. She made her First Profession of Vows on December 8, 1927 and her final Profession of Vows on the same date in 1930. After First Profession she was assigned to Bethany Guest House.
It was during the time of her Novitiate in 1926, that her strong desire to the contemplative life began to grow. She chose St. Therese as her model as she quietly followed her simple way of life and love for all missioners. In preparation for Sr. Ernestine's assignment to the Contemplative Community she attended chant classes at Pius X Institute of Liturgical Music at Manhattanville College, New York from October 1928 to June 1929.
On October 4, 1932 Sister Ernestine was formally enclosed with nine other Maryknoll Sisters in the little farmhouse, known then as Regina Coeli, to begin this new venture within Maryknoll. She liked everything about this new way of life—the contemplative rhythm, austerity, prayer, silence and liturgical life. After a period of orientation to the contemplative life a dedication name was added to her religious name — Sister Ernestine of Mary Immaculate. In one of her reflections about her dedication name she writes: "I have been Mary's little Bernadette all my life and I am receiving many graces."
In an interview on the occasion of the 60th anniversary of the Contemplative Community, October 1, 1992, she was asked to share some of her reflections on her lived experience. Sister Bernadette notes: "I love the contemplative life so much that a certain joy and peace have prevailed even through times of physical suffering… The particular way God has drawn me to life is a very simple way. I have tried to live in love, to be faithful to a life of prayer, remembering our Maryknollers in a particular way and to do God's will lovingly. I would never have voted for the many changes that have come about in our contemplative way of life but through God's grace, I have been able to live above the changes in love, unity and peace."
Sister Bernadette's gifts in music and singing enhanced the liturgical life of the Community. She became the Choir Mistress and always found joy in accompanying the Community at the organ during the Office and at the Eucharist. She was involved in our Altar Bread Department from the very beginning which ranged from baking altar breads, cutting hosts, to packing and making out bills sent to our Patrons. For more than a decade she was also involved in the Sacristy work which she loved. Like St. Therese, she was drawn to a more obscure life of service behind the scenes. Her simple and peaceful presence were special gifts to the community. Added to these beautiful qualities were her spontaneous expressions of love and radiant joy which blossomed over the years.
Because of her failing health she was transferred to Residential Care in January 1997. Her beautiful spirit of joy and acceptance of her limitations permeated these years and blessed all those who came in contact with her. Perhaps Sister Bernadette's life of prayer, of love and great simplicity can be summed up in her experience of Easter 1974 in which she writes: "…after dinner I could not hold it anymore so I went to chapel in tears of joy because all I could say was 'Christ is risen—alleluia' yet how painful on earth it is to say 'Christ is risen-alleluia' and still be alone here! But in faith, I believe we all feel the same 'our life is hidden with Christ in God'. It is my emotions that cry out! This Easter day is not over and my heart still sings 'Christ is risen-alleluia' and the words touch me deeply each time." Yes, Christ is truly risen, Sister Bernadette, and with you we rejoice and give thanks to our Gracious God for blessing us with your faith and joy.
We extend our deepest sympathy to Sister Bernadette's family and friends and welcome our Maryknoll brother, Father Thomas McDonnell, who will preside at this Eucharistic Liturgy of Christian Burial.