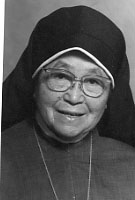 Sister Bernadette Yoshimochi, MM
Born: October 5, 1901
Entered: September 21, 1928
Died: December 25, 1989
If someone had told me just one month ago that I would be writing this life appreciation of Sister Mary Bernadette Yoshimochi today, I would have scoffed at the idea. But Sister Bernadette had a way of cutting across the frills and making straight for the heart of the matter. So we all stand back and bow deeply to her own way of doing it.
On October 5, 1989, Sister reached the grand and notable age of 88. About a hundred of people came to greet her, and she reveled happily among them and their offerings of good food, a gigantic cake, balloons and just pure joy. But shortly thereafter we noted a gradual withdrawal and a period of frequently feeling sick. Having been a particularly healthy person for the greater part of life, sickness was a stranger to her and a very unwelcome companion.
Sister Bernadette was born in Japan on the 5th of October, 1901. Her father died when she was 15, and her mother during the war in 1945. Both had been born, lived and died in Japan. Though she was named "Sute" at birth, when Bernadette was baptized she chose the name "Rose".
As a young woman, she traveled to Vancouver, B.C. Later she crossed the border into Seattle where she became a companion/housekeeper to a fine Catholic French-American woman. About this time or shortly thereafter, Sisters Mary Gerard Gallagher and Mary Gemma Shea, newly arrived in Seattle to work with Japanese, sought out Catholic Japanese and were told that there was a 'Rose' working in the area who was a good Catholic. For days and weeks they searched and finally they were rewarded. It was a mutual encounter, and soon Rose moved in with the Sisters and helped care for the Japanese children. She was a neat, orderly and very meticulous worker, and whenever she finished a job you knew it was well done.
In September 1928 at the age of 27 Bernadette went east to Maryknoll, N.Y. to begin her postulancy as a Maryknoll Sister. At her formal Reception on April 30,1929 she received her religious name "Mary Bernadette". On January 6, 1931 Bernadette made her First Profession of Vows and was assigned to Monrovia to do practical nursing and meal preparation of Japanese food for several Japanese tuberculosis patients. On January 6, 1934 she pronounced her Final Vows at Monrovia.
In 1936 Bernadette was assigned to Peng Yang, Korea, as a catechist among the Japanese living there. In 1938 she was reassigned to Monrovia where she again took up her nursing/cooking work/and being a friend to her ailing Japanese. In May 1942 it was necessary for all Japanese to either enter an internment camp or go far enough east to be out of the so-called danger areas of retaliation, etc. She could have gone to Maryknoll, New York, and enjoyed all of the freedom which that indicated. However, she chose to go to Camp Manzanar, California, together with Sister Susanna Hayashi. Several hundred of 'her people' occupied her days for the next three years. Though the idea of internment is not a happy one, you got the idea that these were some of the happiest days of her life. Bernadette often boasted of 'her converts' but she more often loved to remember the happy friendships formed there.
When internment ended she again returned to her work at Monrovia, but only for a year. As Japanese began to resettle back in Los Angeles there came the need for pastoral workers among the people. So to St. Francis Xavier parish she went where she served devotedly until 1982 when she retired to Monrovia.
Bernadette was a hard working woman and boasted–with good cause–of the many food supplies she collected in her station wagon and used for the school and distributed among her older Japanese tucked away in little homes and rooms around the area. When St. Patrick's Day neared we all prayed particularly for the good merchants who would be much poorer at the end of the day for having donated pounds of food: apples, cabbage, etc., for the fundraising dinner. Though in later years she could not lend her talents, she re-lived the days when she had made 650 pies each time to swell the profits.
Bernadette rarely ventured off the property once she reached Monrovia. A good part of her day was spent in prayer, and she often enjoyed the fresh air and sunshine in front of the grotto of Lourdes which her good friend, Mr. Kado, had created on the Monrovia grounds.
On Thursday, December 28th, after a short visitation of the body at the Monrovia Convent, Sister was taken to St. Francis Xavier Church in Los Angeles where the Mass of the Resurrection was celebrated in her name by the Rev. James Habenicht and Thomas Golden, Maryknollers, and Father Yoshi Kameura, with her old friend, Arthur Hiraga, permanent Deacon, assisting. Chairperson was Mr. Joji Taketa. A standing-room only attendance attested to the love for this valiant woman and for the love which she bore her people.
On Friday morning, she was returned to her Monrovia Chapel where Fathers Steve Woods and Thomas Golden, Maryknollers, concelebrated a 10:00 A.M. Mass in the presence of neighborhood friends, Guild members and the Sisters. Bernadette was then taken to our Maryknoll plot at Queen of Heaven Cemetery in Rowland Heights.
In 1978 Sister Bernadette celebrated her Golden Jubilee with a very great observance, attended by local dignitaries as well as scores of her people. On the back of the Jubilee Program was a presentation called Today from which I cite one stanza:
"My life is a gift of God given, not in years, but a day at a time. Today is the day that the Lord has made for me and He planned it to be the most important day of my life."
Two of her nephews and their wives had visited from Canada only weeks before her illness, and it was truly a red-letter day in Sr. Bernadette's life.