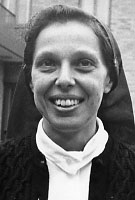 Sister Blaise Lupo, MM
Born: December 23, 1933
Entered: September 2, 1954
Died: May 2, 2010
Sister Blaise Lupo died peacefully at about 7:40 a.m. on Sunday morning, May 2, 2010, at Maryknoll Sisters Residential Care IV. She was seventy-six years old and had been a Maryknoll Sisters for fifty-five years.
Barbara Anne Lupo was born December 23, 1933, in Brooklyn, NY. Her parents were Philomena (Minnie) Scavone and Philip Lupo. They had three daughters: Rosemary, Patricia and Barbara. She completed her high school years in 1952, graduating from Fontbonne Hall in Brooklyn. She then studied for two years at St. John's University at the New York City Queens campus. On June 14, 1958, as a Maryknoll Sister, she received a Bachelor of Education degree from Maryknoll Teachers College. After teaching seventh grade for a year at St. Anthony of Padua School in the South Bronx, she returned to St. John's University in 1959 and in September of 1960 she was awarded the degree of Master of Science in Sociology.
Barbara entered Maryknoll from Our Lady of Angels parish, Brooklyn, on September 2, 1954. She made her canonical year at the Topsfield, MA, novitiate and made first profession of vows at Maryknoll, NY, on March 7, 1957, receiving the name Sister Mary Blaise. She made final vows on March 7, 1963, again at Maryknoll. In 1961 Sister Blaise, while teaching at Maryknoll Teachers College at the Center, was assigned as Assistant Postulant Mistress. She served two years in this ministry. Several who were then postulants remember early evidence of the creative caring leadership which marked a whole life spent in diverse ministries. In 1963 she was assigned to the Philippines. Her first assignment was to Panabo, Davao, where she taught for a short period in the high school. She quickly moved on to Maryknoll College in Quezon City where she taught sociology, presently becoming head of the Department of Sociology. During the late 1960s she also served as Junior Mistress for the newly professed Sisters of the Philippine novitiate.
Sister Blaise was delegate from the Philippine Region in 1968 to the special Chapter of Affairs and again to the Chapter which followed in 1970. At a time when many changes were occurring in the Sisters' lives and ministries she served two consecutive terms on the Philippine Region Governing Board, 1969 to 1974. This enterprising and caring woman also directed an adult literacy program for the poor in the barrios around Maryknoll College. In 1975 she returned to Maryknoll to give Congregational Service for three years in the Promotion Office of the Development Department. Once again, in this ministry she drove herself to find the resources the Congregation needed in order to continue its far flung work for the people of God's Kingdom. A Kingdom of peace and justice.
In 1979 she became a member of the Eastern United States Region. This membership lasted for the rest of her life. During this time she became National Co-Director of Clergy and Laity Concerned (CALC), an ecumenical association founded to educate and organize Americans to address global concerns on human rights, peace and justice. Later she volunteered at HOPE, a service offered by Beth Israel Medical Center in New York City to the home-bound sick elderly who had no relatives. Until very recently she made twelve to fifteen calls every week to ask how these persons were doing and whether they needed anything. There were other volunteer activities as well. She worked in the kitchen of a non-profit organization that prepared food for people with terminal illnesses. She performed as a clown for the Big Apple Circus, a not-for-profit performing arts institution.
All of the above gives you a picture of this awesome and unique woman and of the passion, intelligence and creativity she brought to her varied ministries. Neither may we forget her wit nor her generosity to others which neatly paralleled her own personal frugality and simplicity of life. Her loyalty to Maryknoll was life long. A former student's recent e-mail said in part about her: Sister Blaise was one of my favorite teachers. She taught the sociology courses but not just the material. She had a way of approaching an issue, thinking about a problem, and a way of discussing it in a group setting. Later in my professional life I was very much shaped by her way of interacting with students. She made us feel we were competent adults. I can still see her face, hear her voice.
We welcome our Maryknoll brother, Father Ernest Lukaschek, who will offer this Eucharistic liturgy in loving farewell to our dear Sister Blaise.