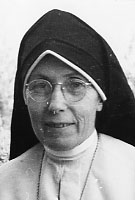 Sister Camillus Reynolds, MM
Born: August 27, 1889
Entered: September 20, 1921
Died: March 8, 1958
Once again and within a very short space of time the Angel of Death has visited us, this time to call our dear Sister Mary Camillus to her eternal reward. During Saturday noon period the Nurses noted a decline. The bell called the Sisters who gathered in the corridors about 1:45 and sang the Salve. Rosaries and prayers for the dying were offered from then on until she slipped off very peacefully at 8:35 P.M.  The Requiem Mass is scheduled for 9:30 A.M. Tuesday.
Sister Camillus, born August 27, 1889, is well known to many of you as she has been at Maryknoll since September 20, 1921, and labored for souls both as nurse and teacher in various corners of the globe. She was professed on April 19, 1924 and later that very year assigned to Hong Kong. After internment in Stanley Camp during the Japanese war she was repatriated via the "Gripsholm", arriving at the Motherhouse in August of 1942. She assisted in the Infirmary here until August 1944 when she was assigned to California and after that time, cheerfully gave of her best at San Juan Capistrano, Koror in the Caroline Islands, and finally Chicago Chinatown. She had been ill off and on through the years but made good recoveries. At our Kansas City hospital, where she went in July 1957 for a check-up, she was found to have an serious illness. At that time she wrote Sister Colman: "I have never received an assignment that I did not like so I am sure I shall be happy at Bethany, especially if I am well enough to be of service. Right now that seems remote but rest and treatment and the loving care that I am receiving can do much. Thank you for many things. My prayers and little pains go for Maryknoll but I am a poor weak little creature when the pain is a little more than ordinary."
Upon arrival in New York she was found to be critically ill and it was decided best for her to remain in the Motherhouse Infirmary where she has been ever since. It was thought she might wing her way home to heaven for Christmas, but God's ways are not ours. Her state became so extreme that for some weeks it has been a very difficult time. She valiantly and cheerfully offered a great deal "more than ordinary" to God for souls.
Sister Camillus has always been outstanding for her simple, devoted, generous and youthful spirit. May she even now be in full possession of Him who "giveth joy to our youth". May our suffrages help to insure this.