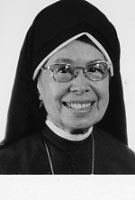 Sister Candida Marie Basto, MM
Born: November 25, 1900
Entered: April 26, 1929
Died: January 25, 1989
Our Sister Candida Maria Basto went quietly home to God at 9:35 on Wednesday evening, January 25th.
Casimira Catharina de Senna Fernandes Basto was the 10th and youngest child of Casimira Carolina de Senna Fernandes and Jose Maria Baste. Born in Macau to a prominent Portuguese family on November 25, 1900, Casirima (or Mila as she was known to her family and friends) was sent at 17 years of age to California in the United States where she studied until she was 21.
After completing her studies, Casimira felt she had a religious vocation but decided to work for a time as a proofreader in the family-owned printing and publishing company in Hong Kong. As the "call" however seemed strong and persistent, she entered the Maryknoll Sisters Congregation in New York on April 26, 1929. She received the name "Sister Candida Maria" and on June 24, 1931, she made her first profession of vows.
Sister remained at the Motherhouse in New York studying at Maryknoll Teachers College until 1934. That year she earned a teacher's certificate, made her Final Profession of vows and was assigned to Hong Kong where she taught in Maryknoll primary schools for five years.
During the Sino-Japanese hostilities in 1939, Sister Candida Maria taught catechism on Sancian Island, China and later spent four years in Yeung Kong, Kwangtung Province teaching and working with the blind. From 1944 to 1945, because of the Second World War, Sister went to Calcutta, India where she taught with the Loretta Sisters. From there she went back to New York where she earned a Bachelor's degree in Education at Maryknoll Teachers College in August, 1946.
That same year, as the war had ended, she returned to Hong Kong. She was again assigned to Yeung Kong and later to Loting where, in 1951 along with other Maryknoll Sisters and Fathers, she was imprisoned by the Communists for three months before being expelled from the country. After leaving China, Sister was assigned to the Philippines and for 11 years taught at the Maryknoll Grade School in Baguio Mountain Province. In 1963, Sister Candida Maria was again assigned to Hong Kong where she taught at Maryknoll Sisters School primary section until 1978.
On a form filled out when she was 77 years old, Sister indicated that she would like to spend her retirement years helping to alleviate the suffering of hospital patients, doing gardening, listening to good music and corresponding with her many friends. At 78, Sister moved to Our Lady of Maryknoll Hospital convent where she made this retirenent plan a reality.
For the past 10 years she has visited the hospital patients and in her own words, "brought the love of Christ to them and came to know Christ better through them."
At the same time she did urban gardening, kept in contact with her family and friends both here and abroad and had some private students both for English and catechism.
Just before last Christmas, Sister was to have begun yet another phase in her life with a move to our Kwun Tong convent. She was looking forward to being part of the community there while continuing some private tutoring and keeping in contact with her friends and relatives. This did not happen.  Illness came and she approached this preparation for her eventual death as she did everything else during her life – with peace and hope.
We, her Sisters, family and friends will miss her. We gather today to thank God for the gift of life and the special gift Sister Candida Maria's life has been to each of us here and to all those whom her life touched throughout these 88 years.
In her person, Sister has taught us how to live with gratitude and love; how to grow old graciously and how to die peacefully. For this we thank her and we thank God.
In the name of the Maryknoll Sisters, I extend our condolences to her family, as well as to her many friends who were so dear to her.
We welcome Maryknoll Father Mike McKeirnan, our other Maryknoll Fathers and other priests, including Sister's relative Jesuit Father Bautista who will celebrate the Liturgy of the Resurrection with us.