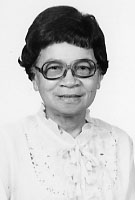 Sister Carmen Eser, MM
Born: April 5, 1920
Entered: September 22, 1947
Died: November 14, 1997
Good morning and welcome. We gather this morning to remember and celebrate the life, death and entrance to eternal life of our sister and friend, Sister Carmen Eser, with whom we have shared faith, mission and our Maryknoll vocation. Sister Carmen Eser, M.M., died peacefully at Maryknoll Residential Care Facility, Friday, November 14, 1997, the first snowfall heralding winter. Sister was seventy-seven years of age and had been a Maryknoll Sister for fifty years.
Carmen Eser was born April 5, 1920 in Manila, Philippines, one of six children, four daughters and two sons, to Ambrosio Eser and Dolores Lopez. She received her early education at Malabon Normal Elementary and High School, Malabon, Rizal, Philippines, and continued her studies at Maryknoll Normal College, receiving a Teacher's Certificate in 1938. After graduation, while teaching at Maryknoll School in Lucena, Quezon, Philippines, she became interested in foreign mission work "through seeing the tireless efforts of the Maryknoll Sisters with whom she had been teaching."
Nine years later at the end of World War II, Carmen applied to enter Maryknoll on August 18, 1947. Carmen and Melecia Mercado, (later known as Sister Miriam Jose who died in the Philippines in 1981) sailed from Manila for New York and entered Maryknoll on September 22, 1947. At Reception, on March 7, 1950, Carmen received the religious name of Sister Carmen Dolores and three years later on the same date, made her First Profession, also at Maryknoll. Later that year, she received a Bachelor of Education degree from Rogers College, Maryknoll, New York and returned to the Philippines where she served for forty years as teacher and administrator in schools staffed by Maryknoll Sisters and as a catechist in government schools.
In May 1968, Carmen wrote to Mother Mary Colman on her transfer from Pakil to Lucena: "My new assignment delights me no end for I love children. I am very much at home with them. With the experience of having lived with various Sisters I learned how a principal should not concern herself too much with how to run the school but more on what opportunities to give the children to enrich their lives." During these years Sister Carmen also continued her education and received a Master of Arts degree in Education from Ateneo de Manila, a Jesuit university.
In 1992, Sister returned to the United States and the following year retired at Maryknoll Convent, Monrovia, CA. Two years later, due to failing health, she returned to the Center and remained active in community life until several weeks before her death. The consummate educator, she was still teaching others to do Shibashi, an ancient Oriental exercise.
In 1980, when asked by our Communications Department to name a person you know in the country where you live and work who has helped your understanding of another culture, someone with whom you have shared faith, or someone who has helped you in some way, Sister Carmen wrote:
"Since I've never been assigned outside the Philippines, except the time when I was assigned to serve at the Center in 1977 and my novitiate in the States in 1947, I should revise this question somehow. It is an American Maryknoll Sister or Sisters that helped me understand another culture – first our own different tribes in the Philippines, then learning to love the Japanese, Chinese, Koreans, South Americans, etc. Later, a Japanese Maryknoll Sister showed me more deeply what it meant to be a Christian – shared faith with her – made me realize Christianity transcends differences in nationality; made me see what Christ meant when He said, 'Love one another as I have loved you.' This year some teachers in Marishan School (Baguio, Philippines) are showing me what our 1978 Assembly documents are challenging us missioners to do in anyplace we are sent to – that in our relationships we have 'to be compassionate and allow for imperfections.' For it is in our weakness that God's goodness is revealed."
That last line seems prophetic. During the last weeks of her life, the illness that finally overtook her gnawed at her spirit and laid bare her vulnerability. However, "it is in our weakness that God's goodness is revealed." God's goodness, Carmen's goodness, is what we marvel at and celebrate today. Carmen loved beauty, especially the beauty of nature. Her window sill was lined with blooming African violets. Carmen had an almost insatiable thirst for learning and therefore an eager openness to life, to experiencing God in new ways. About this time last year, she participated in a Mission Institute program, "Spirituality in Human Relationship: Partnership in Mission." She learned that yearning for intimacy is integral to what it means to be human and Christian.
Carmen also enrolled herself in a correspondence writing course, "How to Write Almost Anything." She wrote in a composition about her retirement, "I developed two interests: calligraphy and watercolor painting." A third interest was added to this in 1996. "After my two surgeries, I lacked the energy to do some exercise. When Sr. Marisa, a Filipina Maryknoll Sister, came in 1996 she gathered a group of us to do Shibashi… Because of the inspiration given me by a seventy-nine year old Sister who just had surgery, I persevered daily in coming to this exercise… Some Sisters returning to their missions have asked me to teach them Shibashi so they can teach this exercise to the people they serve all over the world." This is another characteristic of Carmen – her generosity. In October, about the time of the Bazaar, she was wrapping some of her golden jubilee gifts to share with the nurses on the fourth floor and last but not least, Carmen had the truly saving grace of a sense of humor.
As death drew near, Carmen longed more for Filipino food, for the companionship of the Filipina Maryknoll Sisters and friends, but most of all for her own family and her homeland. However, it was not just Filipina Sisters who kept vigil with her for three nights and had been her faithful companions during her illness. Carmen knew her Sisters loved her and during her more lucid moments she kept saying, "together, together" longing for intimacy, community and communion. Tessie, her faithful niece, in her leave-taking, whispered to Carmen, "Go now. Your mother and father, your friends, Sisters Miriam Jose and Claver, are waiting to welcome you." Carmen let go. She died half an hour after a prayer service prepared by the Sisters from the Philippine Region and other Filipina Sisters. She died in the arms of Tessie, her devoted companion, assured that another niece, Julieta, was on the way from the Philippines to be with her. Carmen died in the embrace of her blood family and her Maryknoll family. Carmen at long last was at peace. She had made her peace with death. As the Gospel of today proclaims: "In my Father's house there are many dwelling places; otherwise, how could I have told you that I was going to prepare a place for you?" Carmen is home now.
We welcome and offer our deepest sympathy to Sister Carmen's family and friends. We welcome and thank our Maryknoll brother and friend, Fr. Bill Donnelly, for presiding at this Eucharist of the Resurrection as we celebrate and thank God for the life of our Sister Carmen.