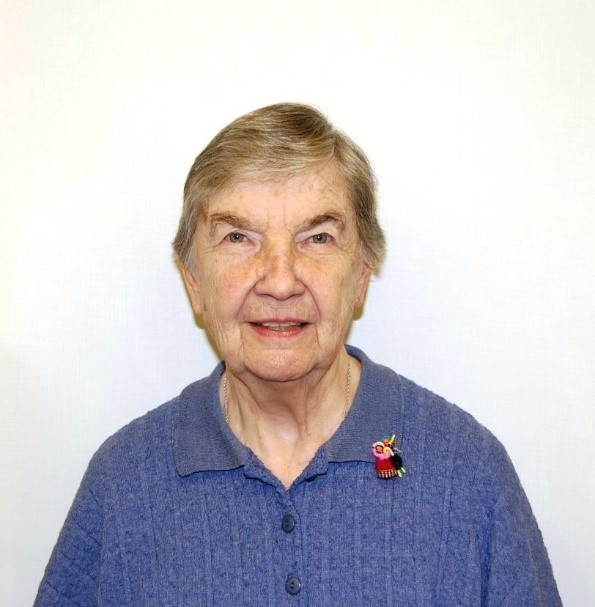 Sister Carol Hassey, MM
Born: June 30, 1930
Entered: December 30, 1956
Died: July 13, 2023
Welcome dear Sisters, Family and Friends – those with us in person and those who are joining us on livestream.
As Carol herself said, when speaking to Sister Bernice Kita from the Maryknoll magazine: "I have to keep remembering that, whatever I'm supposed to do, God's grace will be there." Carol believed this and trusted her God to be with her, right to the end. Early in the morning, of July 13, 2023, Carol slipped into her new life with God surrounded by her sisters in the Maryknoll Sisters Home Care at Maryknoll New York.
Carol (her legal name was Carola) Hassey was born on June 30, 1930 in Columbus Ohio, the daughter of William Edward and Mary Theresa Worch Hassey. She had four sisters, all of whom have pre-deceased her. Her brother-in-law Frank Battocletti is joining us on livestream today. Carol attended Rosary/Wehrle High School in Columbus, graduating in June 1948. From there, she went to Mt. Carmel Hospital and received her diploma in nursing in 1951, later adding a Bachelor of Science in nursing from St. Mary of the Springs in Columbus two years later in 1954. In 1977, she received a certificate in Public Health from the Ministry of Public Health in Bolivia. Her final degree was a Master of Science from Loyola Baltimore in pastoral counseling in 1983. Carol loved to learn and completed many other short courses throughout her life.
Carol's Maryknoll journey began with a chance encounter with Sister Maria Rieckelman. Carol was working at Mt. Carmel Hospital and teaching in the nursing school, and seeing this as her life path. In a brief exchange with Maria on All Saints Day, Carol said, "Saints aren't for me." And Maria responded "If you're not working at it, you're wasting your life." A bolt of lightning struck! In 1956, Carol entered the Maryknoll Sisters Congregation at Valley Park, MO; at her reception, she received the name Sister Rose Dominica. In 1959, Carol pronounced her First Vows at Valley Park, MO. After six years at Queen of the World Hospital in Kansas City, Carol went to Bolivia, making her Final Vows there in 1965. Carol served in Riberalta in nursing education, moving to Santa Cruz (Hardeman) to run a rural clinic there as well as train health promoters until 1974. She then taught in the school for practical nursing in Montero until 1977. From 1977-1983, Carol was Director of Health Services at the Maryknoll Sisters Center and the sisters both  in the house and the regions looked to her for care and advice—she never failed them.
Carol served many times over the years in regional governance and also, from 1984-1987, she was administrator of the Center House in Cochabamba. Her next assignment, as Director of Orientation at the Language Institute in Cochabamba, brought her latest degree in counseling to the fore. She was loved by the students and staff alike and guided her charges through the pain and joy of being in a new culture. She held this position from 1987-1993 when she returned to the Center. At the Center, her kind and welcoming ways served her well as renewal coordinator from 1994-2000.
Carol's life after this was made up of a variety of service roles–in the choir, in the Health Services Office and Treasury as a clerk, and manager of the CO-OP shop with her dear friend, Mary Anne O'Donnell.  She transferred to the Chi Rho Community in 2016 and to Eden in 2020.
We have heard this morning what Carol did, but what of the woman she was? Her words about Mother Mary Joseph tell us a lot about Carol: "the core of her (MMJ) spirituality reflects an absolute trust in God and a deep love for all creation. For me, there is also a hint of humor. If we could all laugh at ourselves and with each other, life would be much easier." (MMJ Booklet). Carol always had skits and songs ready to share on "simplicity" nights, and never refused a request to sing. She was a calm presence in every kind of situation. Her hobbies were bridge and every kind of craftwork, even making complicated jewelry and dried flower arrangements—neither one easy to master!
For those of us who have lived at the Center, we remember with joy the fact that Carol's voice called us to liturgy, to special celebrations, and to laughter as she took over the paging system to sing: "When I'm calling you…" Carol donated her body to science, one more gift she, always generous, could give to those in need. We give special thanks today to those Sisters and staff in our health services who cared so lovingly for Carol these past years.
We welcome Father David LaBuda, MM who will preside over our memorial service.