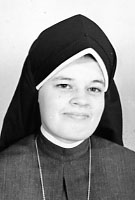 Sister Carolyn Macdonald, MM
Born: March 14, 1927
Entered: September 6, 1950
Died: October 27, 2008
Our Sister Carolyn Macdonald entered her New Life very peacefully in the Maryknoll Residential Care IV, on October 27, 2008. Sister was 81 years of age and had been a Maryknoll Sister for 58 years.
Carolyn Bernadette Macdonald was born March 14, 1927, in Somerville, Massachusetts to Regina (Gage) and Leo Macdonald. Carolyn was one of eight children. She graduated from St. Clement's high school in Somerville, Massachusetts in 1944. She then attended Regis College in Weston, Massachusetts, receiving a B.A. in English Literature in 1949. During high school and throughout her college years, Carolyn worked as a sales girl and junior clerk in the Massachusetts Department of Insurance. After college she taught for one year in a public school in Somerville, Massachusetts.
Carolyn entered Maryknoll from the Archdiocese of Boston, Massachusetts, on September 6, 1950. At Reception, she received the religious name of Sister Mary Joseph Regis. She made her First Profession of Vows on March 7, 1953 at Maryknoll, New York and her Final Profession on the same date in 1959, in Manila, Philippines.
Sister Carolyn was assigned to the Philippines in 1953. Her first mission was in Baguio City where she taught primary grades at the Maryknoll Convent School. In 1956 she went to the Maryknoll Fathers' High School in Pakil, Laguna, where she taught English Literature, History and Music. Sister continued as a high school teacher and class advisor at St. James Academy in Malabon, Rizal in 1965. Then she was assigned to Maryknoll College in Quezon City in 1966 for one year. She was professionally competent and liked teaching and advising her students. She had a sincere interest in and concern for people and was selfless in her service to them.
In 1967, Sister Carolyn returned to Maryknoll for Congregational Service, where she did clerical work at Bethany for one year and later worked in both the Education Department and Physical Plant at the Center. While studying at Fordham in 1970, she continued giving at the Maryknoll Society as Receptionist and received a Master's Degree in English Literature in 1972.
Sister Carolyn returned to the Philippines in 1972 and went to Lupon, Davao in southeastern Mindanao where she taught and did pastoral work, focusing on Adult Education. In 1973 she was in an auto accident and returned to the States. After she recuperated and while discerning another assignment, she helped out in the Education Department and the Language Laboratory of Mary Rogers College at the Center. Sister was assigned to the PANISA Region (Panama, Nicaragua, Salvador) in 1975 and taught in San Vicente High School in the Canal Zone. She was also the Regional Coordinator from 1977-1979.
In 1980, Sister Carolyn studied at the Maryknoll School of Theology, Maryknoll, New York receiving a M.A. in Religious Studies. She then transferred to the Western U.S. Region where she engaged in pastoral work in St. Mary's Parish, Gilroy, California. Sister relocated to Sacred Heart Parish in Waterflow, New Mexico in 1982 for three years, teaching weekly scripture classes to Navajo Indians and Mexican Americans. She also coordinated the Crisis Program on alcoholism. She was always searching for ways to enable others to appreciate their own dignity.
Sister Carolyn returned to the Center in 1986, and worked in the Mail Room and also as telephone receptionist. She returned to the Philippines in 1987, however, the following year poor health necessitated that she return to Maryknoll, and during this time she helped with secretarial work until 1994 when she was assigned to our Maryknoll Residential Care Unit, where she remained until her death. Her prayer ministry was for the Philippine Region.
In 1983, Sister Carolyn wrote the following, which summarizes her life: "The beauty and mystery of life as a Maryknoll Sister deepens with each new call to mission. To be chosen and sent to walk with God's people, to journey with them on the road to the Kingdom is replete with new and wondrous vestures. The economically poor and/or spiritually deprived have so much to teach us by their suffering, endurance and hope. The way of the cross is so real to us, but the struggle to find truth, justice and love in their lives is in itself a joyful sign of the Resurrection."
Sister Carolyn will be remembered for her generous service to Mission.
We offer our condolences to Sister Carolyn's family and welcome, and thank, our Maryknoll brother, Fr. Clyde Phillips, who will preside over our Liturgy of Christian burial.