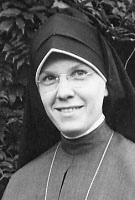 Sister Carolyn Puls, MM
Born: January 14, 1909
Entered: October 15, 1929
Died: June 14, 1992
Sister Carolyn Puls went home to God at 5:30 a.m. on June 14, 1992, Trinity Sunday. She was 83 years old. Saturday evening, June 13, Carolyn was once again anointed by Father Norbert Rans, M.M. We rejoice that Carolyn is now at peace.
Carolyn was born in Cincinnati, Ohio, on January 14, 1909, and baptized Elizabeth Mary, but known as Lillian. Her parents John and Caroline long preceded Carolyn to heaven in 1948 and 1968 respectively. Carolyn had four brothers and two sisters. There are only three brothers living, one of which is our Maryknoll Brother Carl Puls who resides at Maryknoll and whom we welcome here this morning.
Despite the wrench of leaving her loved family, Carolyn, at age 20, entered Maryknoll October 15, 1929. She had attended 2 years of a commercial high school and completed her other high school requirements through the program established at the Venard. Together with courses at Maryknoll College, Quezon City, and courses at Maryknoll Teachers College (MTC) at Maryknoll, Carolyn graduated from MTC in 1957 with a Bachelors of Education degree. Carolyn made her First Profession in January 1932 at Maryknoll followed by Final Vows, also at Maryknoll, on January 6, 1935.
Carolyn worked at our Bethany guest house for three years beginning in 1932 and then at the Center offices from 1939 to 1940. In 1940 Carolyn was assigned to Manchuria, but was quickly interned. She was repatriated to the United States in 1942 and worked in the fundraising department and the local superior's office until 1946 when she again returned to Fushun, Manchuria. From there, in 1948 Carolyn went to Lucena and Malabon in the Philippines where she taught English and religion, was principal, and assistant superior and superior at the Malabon convent. In 1967 Carolyn returned to the Center and worked in the Direct Mail office until her retirement in 1983.
Carolyn's moved into the nursing home in 1985 where she remained until now. In her patient acceptance of suffering, Carolyn said that "what she treasured most was the consciousness of God's abiding and supporting love in all the ups and downs of life."
An indication of the quality of the person of our Sister Carolyn is given by the warm communications she received from friends, sponsors and former students of her teaching days in the Philippines. Such may be seen as the fruit of efforts expressed in Carolyn's own words of "trying to make the classroom a happy learning place." Carolyn had a knack for sharing her experiences, including travel to Asia. We might consider her summaries as mini-diaries which contribute to an accumulation of Maryknoll history. As a long-term missioner, Carolyn had that enviable characteristic of openness to change. At her Diamond Jubilee in 1989 she said: "There is no living without growth and change… I see the desirability of being open to new ideas, new methods, new ways of being truly human, while preserving what is good and useful in the old."
As members of Maryknoll we can rejoice in the faithfulness and example given to us through the life of Sister Carolyn Puls. We remember her life as a whole, its beauty and suffering. Part of the reading from Romans (5: 1-5) for Trinity Sunday, the day Carolyn entered her new life, seems fitting: "…we can boast about our sufferings. These sufferings bring patience, as we know, and patience brings perseverance and perseverance brings hope, and this hope is not deceptive, because the love of God has been poured into our hearts by the Holy Spirit which has been given to us."
In the hope and joy of the Resurrection, let us now join in prayer as we celebrate our Eucharistic Celebration. We welcome our Celebrant, Jerry McCrane, M.M. We express our sympathy with Brother Carl and the family members who are with us in spirit.