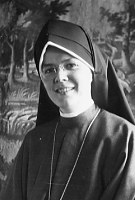 Sister Catherine Carden, MM
Born: March 27, 1920
Entered: December 9, 1939
Died: July 25, 2013
On July 25, 2013, Sister Catherine Carden, lovingly known as Kitty Carden, passed very peacefully in Maryknoll Sisters Home Care to her New Life with God. Kitty was 93 years old and had been a Maryknoll Sister for 73 years. Today we are gathered to celebrate her life.
As we all know, Kitty was always concerned about making things easier for others. It is not surprising, then, that she left us some "Ideas for a Letter (To save someone time!)" Her undated letter begins:
Dear Friends,
"Someone named God comes to my fragments and asks with twinkling eye: 'May I have this dance?' The voice stretches into me, a stirring leaps in my heart. Then I offer my waiting self to the One who's never stopped believing in me – and the Dance begins."
This piece by Joyce Rupp touched me deeply and says to me now why I love being a Maryknoll Sister for 73 years and I'm so grateful to our gracious God for the gift.
I was born Catherine Margaret, March 27, 1920 in Carbondale, PA to Marcus Carden and Gertrude Corrigan Carden. I was the third of five children. (Kitty's siblings were: Patrick Francis who died at birth, Rosemary Boccuzi, Gertrude Cotter, and John A. Carden.) We moved to NYC and I grew up in Riverdale, St. Margaret's Parish. I attended Cathedral High School and as a student, I was chosen as part of a small group to attend the funeral at St. Patrick's Cathedral of Bishop James Anthony Walsh, MM. I remember seeing Maryknoll Sisters but I knew nothing about them. I wanted to be a missionary. A neighbor, a relative of Sr. Margaret Mary Bradley, told me about Maryknoll and Mr. and Mrs. Ray Carroll, Sr. Janet Carroll's parents also neighbors, invited me to visit the Motherhouse. After a year at Grace Institute, I entered Maryknoll on December 8, 1939. At Reception in 1940 I received my Dad's name – Sr. Marcus Marie. I made my First Profession on June 30, 1942 and my Final Profession on June 30, 1945, both at the Motherhouse. I then worked at the Venard (Maryknoll's Minor Seminary).
In 1946 the Dance continued in Honolulu where Sr. Patrice Cadden and I were privileged to start the C.C.D. Program with Hawaii's first native priest, Fr. Benedict Vierra. Our Maryknoll Sisters had many wonderful Catholic schools but there were thousands of children in public schools. We trained dedicated Lay people to be catechists. It was such a beautiful ALOHA part of the Dance.
In 1951, I was sent to Stockton, CA. There were three Parishes and one Parochial School. Archbishop Mitty asked Mother to send sisters to do social and catechetical work in this rapidly growing city in the San Joaquin Valley. We worked hard in both areas and when I left in 1958, there were 10 parishes and a very active Laity. Then I went to Maryknoll to finish two years of College, and received a B.E. in 1960.
Then the Dance took another turn to Peru in 1960. The Maryknoll Fathers opened a new parish in Ciudad de Dios (City of God) on the outskirts of Lima. Father William McCarthy had been in the Philippines and concentration camp with Mother Colman. He asked her for a nurse, a social worker, and a catechist. Hundreds of Indians came from the mountains and squatted there. They hoped to be near the City and better their way of life. Sr. Joseph Mary (Sr. Joan Toohig) and I were sent to do social and catechetical work. A wonderful papal volunteer, Ethel, joined us to open the clinic. Meager beginnings turned into a heavily populated, thriving place.
When Sr. Mary Xavier was elected to Maryknoll's General Council in 1964, Mother Colman asked me to go to Cuernavaca, Mexico, to take her place on the staff there. Imagine that! In no way did I fill her place but had a marvelous, challenging time just by being there. Students came from the United States and Canada and interesting professors and guests came at the invitation of Msgr. Ivan Illich. He was a companion to Dom Servico Mendez, Bishop of Cuernavaca at the Vatican II council. They brought back many tales and famous visitors. Those indeed were dancing days with a briefly Mexican tempo.
In 1966 Maryknoll was asked to staff a catechetical institute in Colombia. Fr. Richard Quinn, MM and I started in an unfinished building in Manizales – gift of the local Archbishop Dom Duque Villegas. They were frantic, busy but very interesting days preparing for our first students. The purpose was to offer courses to update Religious and Laity after Vatican II. My time at Cuernavaca helped in course planning and Fr. Quinn visited many Bishops to interest them in sending students. They were such happy days. As I write this, my heart is filled with memories of so many people. Sr. Rosemary Healy stands out and so does dear Fr. Quinn who has died, plus the hundreds of students who came to us.
In 1970 I received an M.A. in Theology at Manhattan College in NYC. Then, in 1971, I came to the Eastern U.S. Region so I could have quality time with my mother. I was offered a job as an E.S.L. (English as a Second Language) teacher in the Public School system in Haverstraw, NY , from which I retired in 1988. Upon retirement, I did volunteer work in Nursing Homes and with elderly neighbors. For more than 25 years many special people touched my life. Being part of the Eastern Region, New England Area, has enriched my days of busy retirement.
I thank you my Sisters and my family who are here to bury me today. I was blessed for having known you – all my Maryknoll Sisters – and my dear family, who taught me the first steps of the Dance.
Kitty's letter ends here. After she wrote it she continued her volunteer ministry in Nyack and at Maryknoll, where she volunteered in the Mission Institute and at Watch Hill. In 2007, her health required that she move to Maryknoll, first to the Chi Rho Community and then to the Eden Community in 2009, where she received the loving care of her Sisters and the Maryknoll Sisters Home Care Staff. Her Prayer Ministry was Peru/Ecuador.
Let us now celebrate the life and friendship of Sister Catherine Carden in this Liturgy of Christian Burial. We are happy to welcome so many of Kitty's family and friends. We also welcome, Father James Madden, our brother in Maryknoll who will preside at this Liturgy.