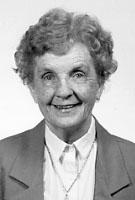 Sister Catherine Cussen, MM
Born: August 15, 1922
Entered: September 7, 1945
Died: October 17, 2007
At 12:15 a.m. on October 17, 2007 Sister Catherine Cussen peacefully transitioned into her life of glory, from Maryknoll Residential Care IV. Earlier this year Kay was diagnosed with an illness. Her failing health was a great trial for her, but her enthusiasm remained intact. Further weakened by another illness a couple of weeks ago, Kay was still able to appreciate the visits of faithful friends. She was 85 years of age and had been a Maryknoll Sister for 62 years.
Catherine will forever be remembered for her warmth and compassion, her optimism, her sense of humor, and her unwavering dedication to evangelization. She had given up a promising career in opera to enter the Maryknoll Sisters, but always shared her magnificent voice with music lovers everywhere. Her signature pieces were "Granada" and "Indian Love Call." While working in Nicaragua and Guatemala, Kay sang in the town hall and led the singing at processions. Kay also played the piano, and wherever she found one or an organ she was drawn to the keyboard.
Catherine Genevieve Cussen was the youngest of three children born to Catherine A. Hart Cussen and Edmund J. Cussen on August 15, 1922, in South Boston, Massachusetts. Kay had a sister, Mary (Gannon) and a brother Rev. Aloysius Cussen, CSC. Kay's father died when she was four years old and her mother when she was twenty. Her mother's siblings quickly filled in, as best they could, and were ever attentive to Kay, by writing, calling, and sending gifts.
Catherine entered Maryknoll on September 7, 1945 and was given the name Miriam Aloysius. She made her First Profession of Vows on March 7, 1948 and her Final Vows three years later, both at Maryknoll, New York. After receiving a Bachelor of Education form Maryknoll Teacher's College in 1951, Kay was assigned to Nicaragua. For sixteen years she worked as a teacher and pastoral agent in Nicaragua and also in Guatemala for eighteen years. During this period she returned to the States and served as a Maryknoll Mission Promoter and Educator from 1967-1968. In 1970 she received a Master's Degree in Education from St. John's University, Jamaica, New York. Kay taught at Mary Rogers College, Maryknoll for two years, and then went back to Guatemala.
Catherine returned to Maryknoll in 1990 to do service again as a Promoter/Mission Educator. From 1995 to 2000 she did pastoral work at Sr. Cecilia's Parish in Waterbury, Connecticut. The following year a new assignment took her to Oaxaca, Mexico where she did volunteer work with women, until her retirement to Monrovia in 2004.
From Nicaragua to Guatemala, to Connecticut, to Mexico, to Monrovia and finally at the Center, Kay never missed an opportunity to evangelize. Nothing was too good for her students; she bought posters, bulletin boards, books, bibles, notebooks, the finest teaching materials she could afford. Or they would be purchased before she realized she really could not afford them!
Kay often played the damsel-in-distress role. There was the time when she left her car in a no parking spot and when she returned to it with her purchases a police officer was waiting for her. Kay discovered her keys were locked in the car and instead of being cited for the violation the officer ended up retrieving her keys! In airports someone was always available to carry her luggage. She had a wonderful way with people.
Those who worked with Kay in Central America will remember the comedy presentations she did with Sister Loretta Spencer. She and Loret lived, worked and prayed together in Guatemala City. They usually said three rosaries a day, but were just as likely to be practicing centering prayer or studying recent theology.
Kay liked nice things. During her time in Siuna, Nicaragua, when outreach to the villages meant as many as 10 hours on horseback, she would refer to the town of Siuna as Paris. She was known to dress for the opera on Friday evenings and then put on a record! In Qaxaca, the older women in her literacy class, who never were able to read and write, still loved coming to class because of her tea parties.
Still, Catherine had the ability to take things as they came. When she and Sr. Rose Corde McCormick began their mission in Oaxaca, they set up housekeeping in the social service house amid stacks of used clothing and food for the poor. When the 1976 earthquake destroyed her little school in Zone 10, Guatemala City, she offered the two rooms that remained standing to young workers from up country who came looking for a place to put down their sleeping bags in the badly damaged city.
Kay went back and forth between the humble homes of the poor, to the homes of the well to do, a true friend to all. With her "Robin Hood" ways, but always with the greatest regard for each of her friends, rich or poor, she would manage to get for the poor what they needed.
Alighting at any given time where she could do the most good, Catherine was/is a joyous butterfly.
We extend a warm welcome to Kay's family. We also welcome our celebrant, Maryknoll Father Michael Duggan, who will preside at this Liturgy of Christian Burial.